Wide Leg Trousers: THE Most Flattering Item In Your Wardrobe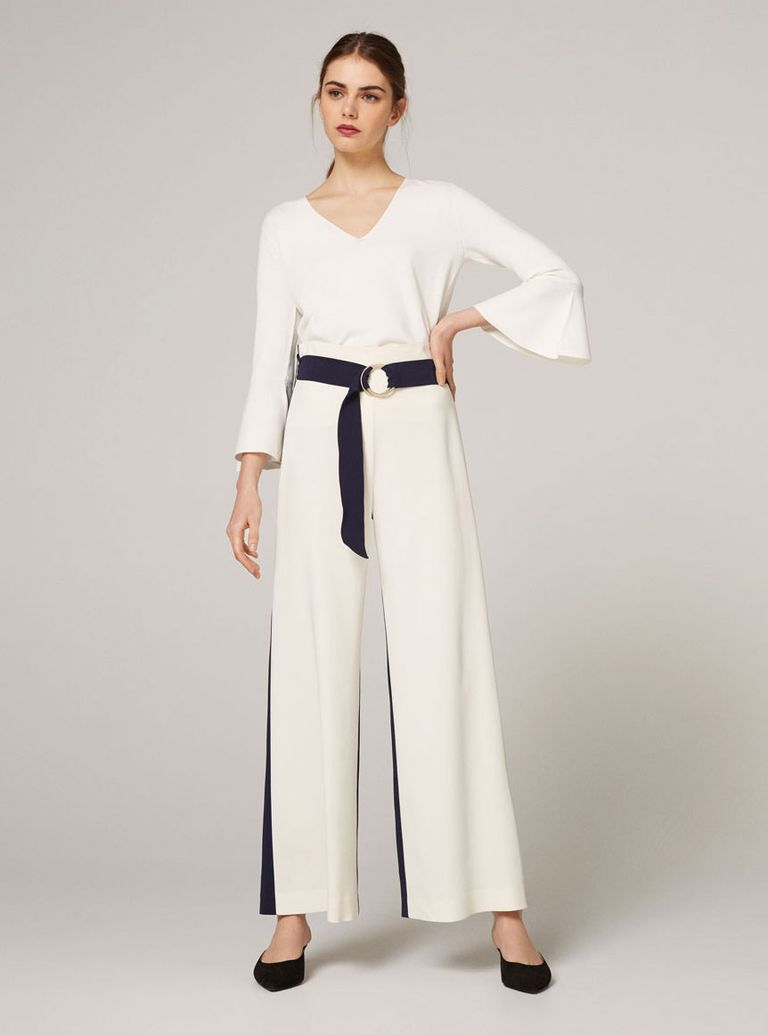 Easy and always flattering, wide leg trousers are our new wardrobe essential. Shop our edit...
Find your perfect pair of wide leg trousers
Ladies, ditch your tailored trousers because we've found a new, more figure-flattering wardrobe staple: the wide-leg trouser! They're perfect for those days when you just don't know what to wear, or nothing feels quite right (because a few too many desserts won't even show!).
The good news is that wide leg trousers are everywhere for spring/summer 2017. And whatever your shape or preference, there's a wide leg trouser style to suit. Whether you prefer to embrace the minimalist trend with plainer styles, or you prefer the more forgiving patterned variety, you can find your perfect pair in almost any high street shop right now.
Look for high waistlines, they lengthen legs and nip in your tummy. Petite ladies should try a slightly more fitted wide leg trouser style because oversized styles will takes inches off your legs in an instant. Choose your colours wisely too - pear shapes will be more suited to darker colours on their bottom half, whereas apple shapes will look fab in the boldest of prints.
We've rounded up our favourite wide leg trouser styles on the high street this season, so you can shop without even leaving the house. Click through the gallery for our edit and for more style tips and advice.
Starting off the list are this two tone pair from Uterque. With the front side cream and the back side navy, they combine two classic shades in a much more trendy way.
Buy now for £125 at Uterque
Stripe Wide Leg Trousers, £25.99, Zara
Give your wide leg trousers that sporty spin with this pair from Zara. Stripes are so in season at the moment, plus vertical ones will make you legs look endless. Pick up on the red and wear these with a matching knit and white trainers for a casual weekend look. Dress them up with some gold strappy heels, a cami top and tailored blazer by night. Buy now for £25.99 at Zara
Floral Wide Leg Trousers, £79, Finery
Big and graphic florals are the new way to wear this print for SS17. We love the super flattering high waist on this pair from Finery. The touches of black along the bottom make them so easy to style, simply throw on a black top that you already own. Wear with some pointed heels to give you that extra height. Buy now for £79 at Finery
Blue Wide Leg Trousers, £59.95, United Colors of Benetton
Avoid classic work wear colours like grey and black, and subtly step into spring shades, like sky blue. This small swap will lift your entire look and make it feel more modern. Partner these wide leg trousers from Uniqlo with an on-trend white shirt with sleeve details. Buy now for £59.95 at United Colors of Benetton
Printed Wide Leg Trousers, £49.99, Mango
Thanks to the MaxMara SS17 collection, tropical prints are going to be huge this season. Stay ahead of the trend and wear it now by choosing darker shades. We love this pair from Mango as the print isn't too over powering. Wear now with a navy knit, then re-work on your summer holiday by teaming with a white kaftan top and shiny sandals. Buy now for £49.99 at Mango
Yellow Wide Leg Trousers, £127, Jaeger
Another big trend this season is yellow. Trust us, it's the colour that everyone will be wearing, so make sure you do it right. Citrus tones can sit badly on certain skin tones, darker golden shades will certainly complement more. Style this pair from Jaeger a beige blouse in a luxe silk fabric for an expensive finish. The large tie waist is also very forgiving and will flatter a rounder tum. Buy now for £127 at Jaeger
Blush Wide Leg Trousers, £40, Wallis
For a great pair of wide leg trousers that you can re-wear for years to come, look no further than this blush pair from Wallis. Ideal for a special occasion as you can mix it up at each event with a new top and accessories. Team with a soft cashmere poncho and flowy blouse for an easy going but glamorous look. Buy now for £40 at Wallis
Flared Jeans, £30, Next
Flared jeans are also incredibly flattering way of wearing wide leg trousers: plus they are a lot easier to style on a day-to-day basis. Make sure the waist on your jeans sit higher for the smoothest line on your centre. For the longest leg line, choose a pair that finish all the way to the floor. Buy now for £30 at Next
Orange Wide Leg Trousers, £42, River Island
Full, flowy and in an eye popping orange tone, these trousers are total show-stoppers. The super loose shape is ideal for a pear shape as they won't cling to your sides. Team with an off the shoulder blouse and add a printed bag for a pop of pattern. Buy now for £42 at River Island
White Wide Leg Trousers, £89, Coast
With a drawstring belt and soft pleating on the side, these white wide leg trousers are ideal for your next holiday. Style with a Breton tee and think San Tropez, rather than Saturday Night Fever. Buy now for £89 at Coast
Navy Wide Leg Trousers, £24.90, Uniqlo
Make a navy pair of wide leg trousers a necessity for your work wear wardrobe. They go with almost anything and are far more flattering (and comfier) than a super slim cut. For the smartest and most stylish office look, wear with a longline sleeveless jacket and printed blouse. Buy now for £24.90 at Uniqlo