What celebrities wore to meet the Queen
An audience with the Queen requires the finest attire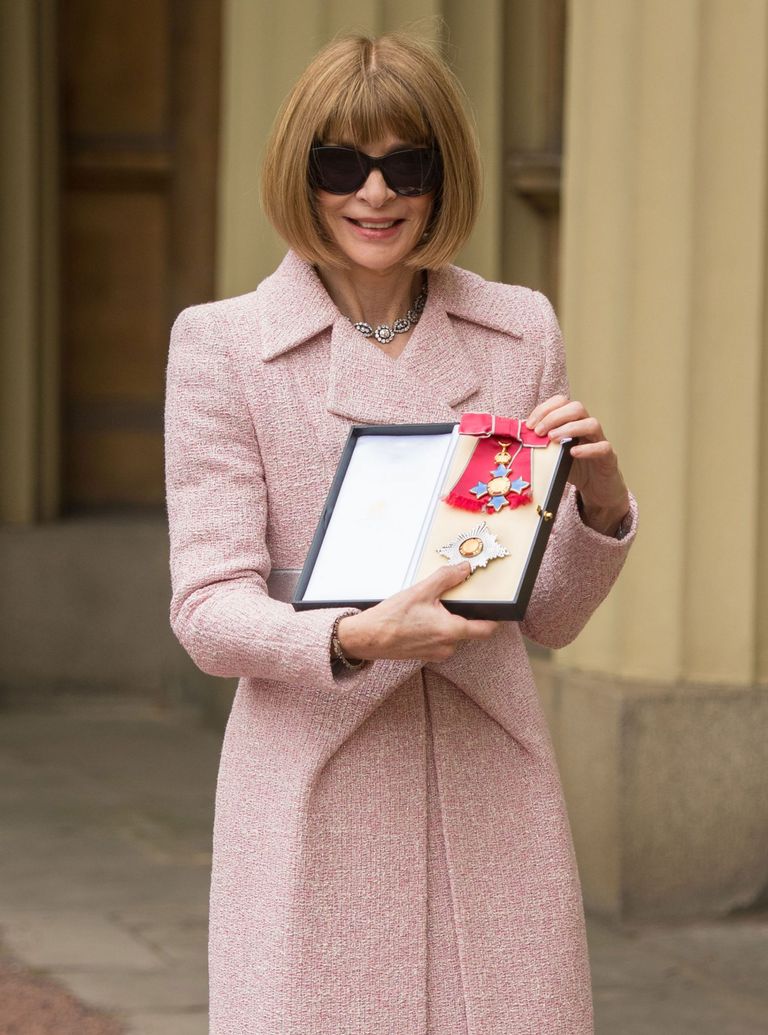 (Image credit: PA Images)
Meeting the Queen is a once in a lifetime occasion that most celebs dream of - whether it's an a special event or receiving an OBE. On a day that will stick in your memory for the rest of your life it's important to nail your outfit as the pictures from the event will last a lifetime.
However dressing for such an occasion is difficult - do you go sophisticated or stylish? Do you cover up? Or do you just stick to your signature style regardless of who you're shaking hands with? Every celebrity adopts a different approach. From Kate Winslet and Gillian Anderson to Lady Gaga and Helena Bonham Carter, the variation of outfits ranges from demure dresses to statement outfits.
Take a look back at what other celebrities have worn to meet Britain's longest serving monarch.
Anna Wintour
The editor-in-chief of US Vogue was awarded a Damehood at Buckingham Palace on 5th May, in recognition of her services to fashion and journalism.
The 67-year-old, British-born journalist later thanked Prince Philip, who has recently retired from royal duties, for his "inspirational" service. Of course, Wintour looked chic and sophisticated for the important meetin, dressed in nothing less than head-to-toe Chanel couture. The editor co-ordinated the outfit with her signature blacked-out sunglasses, and a pair of subtle beige heels.
Ant and Dec
The comedic duo were given OBEs at Buckingham Palace in recognition of their services to Broadcasting and Entertainment. The honour rounded up a stellar week for the nation's most-loved TV pair, as they were earlier handed their 16th consecutive award for Best Presenter at the National Television Awards. They were both accompanied by their wives Lisa Armstrong and Ali Astall for the special occasion, and decided on matching outfits to compliment their paired-up career. Both wore a pair of pin-striped trousers with a simple blue waistcoat and black jacket to meet Prince Charles - although they did collect their awards separately.
Ant's wife Lisa and Dec's wife Ali stuck to a demure, sophisticated look, with Lisa donning a floor-length sapphire gown and similar coloured fur jacket, while Ali wore a flared black coat and matching black head-piece.
Eddie Redmayne
Eddie Redmayne received an OBE today for services to drama, following the release of his latest film Fantastic Beasts and Where To Find Them. Eddie looked dapper as he picked up his award in a bespoke Alexander McQueen suit, consisting of a tailcoat, pinstriped trousers and a grey waistcoat. He was also joined by his wife Hannah who wore a black Chanel peplum dress.
Rod Stewart
Sir Rod Stewart was knighted by Prince William in recognition of his services to music and charity. The veteran rocker, who was joined by his family for the occasion, was bestowed the title at a ceremony at Buckingham Palace after being listed on the Queen's birthday honours. The Maggie May singer wore funky tartan trousers characteristic of his rock star nature for the occasion as he celebrated his career that has spanned more than 50 years. He said of his meeting with the Duke of Cambridge "We talked about music and he said 'It's great that you're still going' and I said: 'I have to - I've got eight children!' .He congratulated me on my long career - and I said how happy this made me. I just wish my mum and dad had been here to see it.'
Angelina Jolie
Angelina looked stunning in a Ralph and Russo couture suit as she received an Honorary Damehood from the Queen in October 2014.
Carey Mulligan
Carey was told last minute she was going to meet the Queen in person. She was so unprepared the hem of her dress was falling down and she had to borrow a safety pin to fix it.
Elizabeth Taylor
The two Elizabeth's sported similar outfits when they met in 1976.
Henry Holland and Agyness Deyn
Model Agyness Deyn and designer Henry Holland met the Queen in 2012 at an event at the Royal Academy of Arts
Gillian Anderson
Queen Elizabeth met Gillian Anderson at a reception at Buckingham Palace to celebrate the 200th anniversary of the year Charles Dickens was born.
Kate Winslet
Kate wore a fit and flare skirt suit by Alexander McQueen as she received her OBE at Buckingham Palace.
Fearne Cotton
Fearne met the Queen, Prince Charles plus William and Kate at a reception for members of the media at Buckingham Palace.
Benedict Cumberbatch and Sophie Hunter
Benedict was given a CBE in November 2015 and wore a dapper tail suit, whilst his wife Sophie sported a gorgeous Burberry lace dress.
Lady Gaga
Lady Gaga opted for scarlet PVC and eye masks when meeting the Queen at the 2009 Royal Variety Performance - slightly less conventional but reflective of her signature, unique style.
Helena Bonham Carter
Helena famously won a Bafta for her performance as the Queen Mother opposite Colin Firth in The King's Speech. She was invited to Buckingham Palace in February 2012 to collect a CBE and wore an eye-catching tartan outfit - fitting in with her eccentric style.
Jennifer Lopez
J-Lo wore a emerald Marilyn Monroe inspired dress to meet Queen Elizabeth in 2001, at the Dominion Theatre.
Helen Mirren
Helen Mirren won an oscar for the portrayal of Her Majesty in the 2006 film The Queen, so she must have felt the pressure when she met her in real life in 2011 at a reception for the dramatic arts at Buckingham Palace.
Kylie Minogue
Kylie wore a daring cut-out gold, sequinned dress at the Royal Variety Performance in London in 2012.