Stylish nude heels for every occasion and budget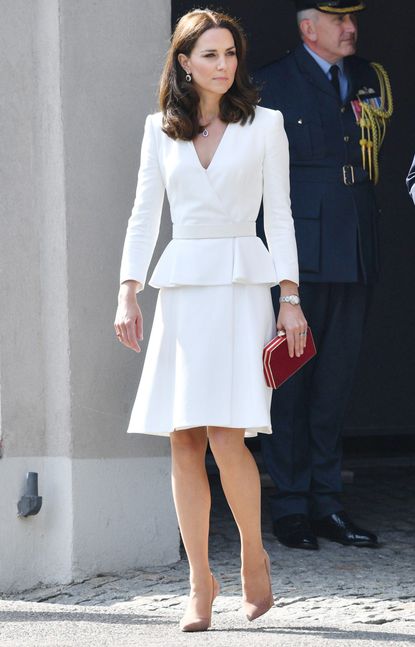 Nude shoes were made a wardrobe classic by the Duchess of Cambridge, meaning more styles are still popping up all over the high street all the time. Browse our favourite versions here...
It's a well know that the Duchess of Cambridge used to adore LK Bennett nude court shoes. And now, she regularly steps out in different, elegant nude heels that go with almost any outfit.
And her never-ending chic fashion choices inspired us to have a careful trawl through the high street to bring to you the best nude shoes available, so that you too can pair your nude heels with anything and everything.
Whether you're attending an event that requires formal occasion wear - a wedding or Christening - or you're looking for a shoe that will take you from the office to the bar, a nude court shoe is the answer. Not only does it work fabulously well with smart, tailored trousers, if worn with bare legs, it will elongate your legs, giving you instantly longer pins!
Another advantage is that nude shoes will go with anything. They are incredibly versatile, will work with every colour or pattern you team them with and are a real investment piece you can wear time and time again.
Looking for a shoe style that'll work with all your wardrobe andlast for seasons to come? Click through our selection of the best nudeshoes out in shops now...
Next nude leather courts, £35
Next's gorgeous nude court heels are not only uber-stylish, but the lower heels also guarantees comfort. They also feature the stores' 'Forever Comfort' padding, made to mould to your feet to ensure a snug and non-painful fit. Buy the shoeshere
Aldo court shoes, £75
These chic suede heels with a Meghan Markle-esque pointed toe are the epitome of sophisticated. From Aldo, they come in 10 different shades and would add an elegant, stylish look to almost any casual outfit. Buy the shoeshere (opens in new tab)
M&S Stiletto Court Shoes, £39.50
These wide-feet heels allow a little extra room for your feet to breathe, as well as being totally elegant. Pair with any outfit to dress it up immediately. Buy the shoeshere (opens in new tab)
Office Mimosa Sandal heels, £59
Mix it up with a strappy pair of nude heels, which add a fun twist to these wardrobe basics. Reserve these for a fun night out with the girls, or date night with your other half! Buy the shoes here (opens in new tab)
Jimmy Choo Nude Lace Pumps, £495
If you're looking to spend a little extra on a pair of reliable nude shoes that will last a lifetime, this lace pair of Jimmy Choo (opens in new tab) heels are the way to go. There's never been a prettier way to step out in style!
Kahmune Becky pumps, £220
These may be slightly more on the pricier side, but British brand Kahmune are one of the only companies offering a wide range of colours when it comes to 'nude' shoes - after all, nude means something different to everyone, dependant on your skin tone. They offer a variety of shoe styles, each available in 10 different shades, to match to different skin tones. These are the Becky pumps - a 90mm perfect for work. A laidback option that'll work almost anywhere, we're adding these to our wish-list ASAP. Buy the shoeshere
Dune Catelyn Studded Court Shoes, £85
Nude shoes don't have to be dull - just take a look at these show-stopping Dune heels if you need more convincing! At £85, they're not cheap, but we reckon they're worth the investment for a no-brainer addition to a night out outfit. Buy the shoeshere (opens in new tab)
Kurt Geiger Britton Nude Court Shoes, £149
These gorgeous heels offer an amazing twist on the nude heel, with the fierce, thin metal heel. Though they're slightly more expensive, they're guaranteed to wow. Buy the shoeshere (opens in new tab)
Topshop SAMMY Court Shoes, £29
A brilliantly affordable option, these Topshop nude court shoes are super glamorous. They're a modern take on the nude heel, and we'll be picking these up before they sell out. Pair with jeans and you're good to go! Buy the shoeshere (opens in new tab)
Gianvito Rossi suede pumps, £505
From one of Meghan Markle's favourite shoe designers, these are the perfect nude heel option if you're looking to splurge a little, at £505. But these will last you a lifetime. Buy the shoeshere (opens in new tab)
Gianvito Rossi suede pumps, £505
From one of Meghan Markle's favourite shoe designers, these are the perfect nude heel option if you're looking to splurge a little, at £505. But these will last you a lifetime. Buy the shoeshere (opens in new tab)