These customer shapewear reviews will help you find the perfect underwear solution
We've scoured hundreds of shapewear reviews and its full marks for these reliable pieces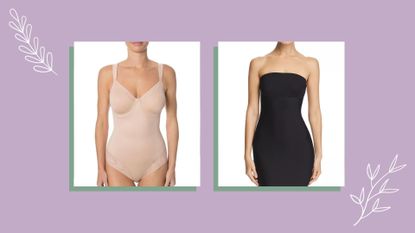 (Image credit: Future)
With hundreds of five-star shapewear reviews per product, these are the great shapewear buys that will transform how you feel in fitted clothes and become a staple in your underwear drawer.
Long gone are the misconceptions that shapewear is some thinly-veiled torture device, dramatically changing your shape while forsaking all notions of comfort. Today's best shapewear pieces slip on easily and fit like a dream, leaving you feeling both confident and comfortable.
We've sifted through hundreds of online shapewear reviews and tested a range of products ourselves to find you the top-rated pieces from some of the biggest shapewear brands.
How to choose the right shapewear piece for you
We asked Katie Weir, underwear expert and "bra whisperer" for Curvy Kate, what to consider before shopping for slimming underwear based on customer shapewear reviews:
Invest in a premium bra: Always start your foundations with the best bras, as they will lift and sculpt your bust. You may even find this adds an extra few inches to your torso, which will elongate your silhouette.
Don't size up: Stick to your base brief size, as this will allow the right amount of hold.
Opt for fine-knit sculpting briefs or shorts: The finer the knit, the firmer the hold, and the less bulk it adds to your frame.
Evaluate torso length: To ensure a streamlined look, find shapewear briefs that are long in the torso and can be tucked into the band of your bra.
Breathable fabric: Lightweight materials guarantee comfort, without sacrificing support.
The top reviewed shapewear you can buy right now, according to customers
Discover your perfect match with a little help from shoppers who've already invested in these top picks. These options leverage quality fabrics, imperceptible seams, and an inclusive size range. Comfort and support, as always, are guaranteed.
(opens in new tab)
1. Miraclesuit High Waisted Slip
The best shapewear for most people
Specifications
RRP: $62/£52
Sizes: S-XXL
Control level: Firm
Machine washable: No
Reasons to buy
+
Comfortable and elegant
+
Stays put
+
Whole-body control
Reasons to avoid
-
Limited range of colours
This has to be one of the sexiest pieces on shapewear we've seen, with an elegant design and glowing customer reviews.
What the reviews say:
"The thought of having to wear a control-lingerie item has long been a dread, but I was pleasantly surprised and it worked, which is fabulous."
"Excellent fit and perfect under my floaty (wedding guest) outfit. It doesn't ride up or sag once in place. I suspect it might be warm on a hot day, but I'll risk it."
"This item is amazing quality and so comfortable once on. I wore it underneath a very fitted dress and it really slimmed my tummy area and stayed in position all night – I couldn't feel that I was wearing it. Absolutely fantastic, and looks and feels very expensive – worth every penny!"
(opens in new tab)
2. Leonisa Slimming Braless Body Shaper in Classic Panty
Best luxury shapewear piece
Specifications
RRP: $85/£72
Sizes: XS-4XL
Control level: Firm
Machine washable: No
Reasons to buy
+
Excellent control
+
Versatile strap options
+
Bum-lifting
Is it possible to slim your waist and hips without flattening your bum? It might be slightly pricier, but this zip-up bodysuit has received rave reviews from almost all of its critics and was said to be the best shapewear for wedding dresses by one reviewer.
What the reviews say:
"A marvelous shaper that controls where I need it to – in the abdomen and lifts my rear – plus I don't feel like I'm drowning in it. I love it!"
"I never write product reviews, but I couldn't help myself after wearing this garment! I had a tummy tuck about six weeks ago and I started wearing this two weeks out. It's the perfect amount of compression and is comfortable enough to wear 24/7. Don't try to size down on it or you'll never be able to zip it up."
"The compression body shaper was exactly what I was looking for after having a tummy tuck. The size chart was right on. The garment is comfortable and is very sturdy. I love it and will be back to order another one as my body continues to recover from surgery and gets smaller."
(opens in new tab)
3. John Lewis & Partners 100 Denier Body Shaper Opaque Leggings
The best budget shapewear
Specifications
RRP: £10 / unavailable in the U.S.
Sizes: S-XL
Control level: Medium
Machine washable: Yes
Reasons to buy
+
Great value for money
+
Comfortable and soft
+
Aids circulation
Support tights that will tone the hips and thighs, but don't resemble surgical stockings? We're in.
What the reviews say:
"I've been buying these for years and they're fabulous footless tights. The best out there and well worth the money!"
"Bought instead of leggings, as I hate the baggy knees you get with leggings, and these tights are good quality, and nice and thick. Buy your size, as I sized up, which I usually do to make sure they're opaque, but I didn't need to."
"I've now purchased several pairs of these footless tights and they are comfortable, durable and wash really well."
(opens in new tab)
4. Maidenform Comfort Endlessly Smooth Firm Control Slip
The best shapewear for all-over control
Specifications
RRP: $39.99/£52
Sizes: 34C-38D
Control level: Firm
Machine washable: No
Reasons to buy
+
Full-body streamlining
+
Flawless foundation
If you're after a minimal-effort, budget shapewear option, this may not be the product for you. But if you want an all-singing, all-dancing, multi-tasking piece of underwear kit, you're exactly where you need to be. Shoppers loved how this multiway slip took care of every undergarment concern, from lifting the bust to smoothing the tummy area. This piece was particularly popular with mature brides, who commented that it gave them an extra confidence boost on their big day.
What the reviews say:
"Perfect! Shapewear that smooths and is comfortable! The hook and eye gusset is also perfect – saves the danger of popper fastening popping open! I was nervous about sizing, but my usual size was perfect fit."
"Brought to wear under wedding dress as an older bride – love the fact it is one-piece and holds all the wobbly bits to a smooth contour."
"Very comfortable to wear and gives a great result beneath a close-fitting dress. Would definitely recommend. Bought it when it was reduced. The original price would have put me off buying it."
(opens in new tab)
5. Marks & Spencer Cool Comfort™ Anti-chafing Shorts
The best shapewear for thighs and bum
Specifications
RRP: $21/£12
Sizes: 8-22
Control level: Light
Machine washable: Yes
Reasons to buy
+
Anti-chafing and smoothing
+
Lightweight
+
Wide size range
A smoothing pair of shorts that's the ideal choice for hot weather. They come in a good range of sizes making them one of the best plus size shapewear pieces.
What the reviews say:
"Lovely thick waistline that sits nice and low on me. Thin stretchy fabric, really smooth and flattering under clothes."
"These are brilliant when in a hot country/weather. I got them to wear with dresses – perfect! Plenty of give in them, no bulge marks or anything."
"They're so stretchy and comfortable, they don't roll up or down and, best of all, they don't make you sweat. I purchased three pairs already, but think I'm going to get more!"
The best shapewear for most occasions
Specifications
RRP: $148/£132
Sizes: XS-XL, equivalent to bra sizes 30C-40D and dress sizes 4-18
Control level: Firm
Machine Washable: Yes
Reasons to buy
+
Multi-purpose solution
+
Comfortable and supportive
Reasons to avoid
-
The built-in bra may be ill-fitting for certain body shapes
From the masterminds behind the best leather leggings, the Spanx Suit Your Fancy Plunge Low Back Mid Thigh Bodysuit smooths the tummy, hones thighs, and enhances the bust with a built-in bra. It's undeniably flexible, yet hardwearing for long-term wear and use.
What the reviews say:
"If you are like me staring at a pair for $140 Spanx and thinking "I'll go get the same thing at Target and pay $30 for the off-brand," you're wrong. I don't know what it is about this exact one or Spanx in general, but the off brands don't even compare. I bought about 5 different ones for my wedding gown (ranging $30-140), and these are the only ones I kept. They are worth EVERY SINGLE PENNY. Just buy them. You're welcome."
"Love that the strap on the back allows for two adjustments, so depending on the width of your garment back exposure, you adjust accordingly. It also felt very natural, it gave me the control I needed without feeling restricted/controlled. It's definitely worth its price tag."
"I love this bodysuit! A perfect option if you're wearing a dress with a plunging neckline. Love the fact that it has an underwire bra built-in."
7. Skims Maternity Sculpting Short Mid Thigh
The best maternity shapewear
Specifications
RRP: $34/£34
Sizes: XXS-5X
Control Level: Light
Machine Washable: Yes
Reasons to buy
+
Inclusive size range
+
Non-compressive core for a growing baby
+
Durable fabric
Though relatively new, Skims has rapidly ascended the ranks of great shapewear brands with a legion of loyalists.
Thanks to a non-compressive core, the Skims Maternity Sculpting Short Mid Thigh adapts and adjusts to your body as it fluctuates. Even so, this pair offers a secure hold, all while minimizing rolling and chafing. Double this with one of the most comfortable bras, and you'll be golden.
What the reviews say:
"My baby and I both love it! Yes, I say my baby because the belly section stretches so much you don't feel any pressure on your bump. This shapewear is more compression on your back and sides which helps tremendously."
"I really love these sculpting shorts! Comfortable, supportive, sleek, sexy - honestly the perfect maternity short! I highly recommend."
"These help with support a lot! I like to go hiking and do outdoor activities. As my baby bump gets bigger, it makes it soo much more difficult to do the things I love. Hell, grocery shopping for an hour is difficult. When I wear these Skims, it makes it so I can continue to do the things I need to do and love to do. If I didn't have them, I couldn't do any of it, bottom line."
The best shapewear bodysuit
Specifications
RRP: $107/£62
Sizes: 34B-42DD
Control Level: Firm
Machine Washable: Hand-wash only
Reasons to buy
+
Premium fabric
+
Conceals well beneath clothing
With soft silky fabric and "peek-a-boo" mesh paneling, the Triumph True Shape Sensation Bodysuit is designed to smooth and shape your frame. It creates clean lines, meaning it can be easily camouflaged under the slinkiest, most form-fitting of ensembles.
What the reviews say:
"Love this bodysuit. Holds all my lumps and bumps in and gives a smooth line under clothes. Long in length and has two sets of hook and eye under gusset."
"Dream bodysuit that holds you in all the right places and is super sexy. I've been looking for years for the perfect bodysuit and finally found it."
"Absolutely shaping bodysuit. I wear it daily. Easy to wash. Flexible and stretchy to provide a hugging fit."
9. Commando Two-Faced Control Strapless Slip
The best strapless shapewear
Specifications
RRP: $98/£89
Sizes: S-L, equivalent to UK sizes 8-18
Control Level: Light
Machine Washable: Yes
Reasons to buy
+
Could be worn over your own bra
+
Non-restrictive
The Commando Two-Faced Control Strapless Slip offers enough hold to hone your shape without any tell-tale rolling. Best of all, it can be layered under a variety of garments, especially mini, midi, or maxi dresses. (You can even pair it with one of your best strapless bras.) Not to mention, the design's raw-cut edges and minimal seams eliminate any signs of a visible panty line.
What the reviews say:
"Hard to believe I've gone this long without discovering this slip! What I love is its' wearability. The bust is very forgiving so you are not smashed into it. It doesn't have a problem with rolling up, and the color is true black."
"This is an excellent slip. No problems! Just not what I needed."
"This strapless slip is a fantastic option to wear under sundresses."
10. Heist The Outer Body
The best plus size shapewear
Specifications
RRP: $136/£95
Sizes: 6-22
Control Level: Firm
Machine Washable: Hand wash only
Reasons to buy
+
Targets the bust, waist, tummy, and lower back
+
Can be worn with or without a bra
Made of second-skin microfiber fabric, Heist's The Outer Body features seam-free bonded edges and sculpted HeroPanels™, which smooth the breast, lower back, waist, and tummy areas (much like the best bras for back fat). In other words, a sartorial mainstay of the lingerie drawer.
What the reviews say:
"I love how this felt on; it's so soft, so smooth, so comfortable, and not once did I end up perspiring in it."
"'I've been looking for a bodysuit with a bit of "shapewear" qualities forever and after reading all the raves about the Outer Body, I sprang for the investment – and now happy I did so! Tried it on immediately and it felt great – materials feel deliciously firm and fitting without suffocating and looks great on."
"What I instantly loved was the feel of the fabric – it feels very soft and compared to some other shapewear brands it doesn't feel too thick."