Get the look: high street versions of royal hats with convincing look-a-likes from £9.50
Do we *need* to buy a hat...? But do we *want* to buy a hat? Always!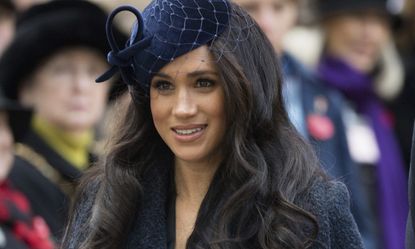 Wedding season is almost upon us, and with high street stores already flooded with chic occasion wear, there's no better time to get ahead in the style stakes. Occasion dressing can be a style minefield but there's one look that never goes out of style: the hat!
From fedoras to fascinators, trilbies to berets, the Spring/Summer 2020 catwalks were brimming with trendy toppers, with designers including Jacquemus, Dior and Chanel featuring must have hat styles in their new season collections. The royal hat choices seen on our favourite duchesses also serve as regular reminders of how stylish headwear can be too.
It's not just on the runways and at posh fucntions where we're seeing fashion's most timeless accessory. In fact the global hat market has reached a whopping £11 billion annually, whilst year after year the Queen keeps the bookies busy as they give odds on what colour hat she will wear at Royal Ascot.
The Royal Family have become synonymous with hats, with The Duchess of Cambridge and Princess Eugenie setting the tone for emerging hat trends thanks to their love of the look. And the Queen's eldest granddaughter Zara Tindall famously said "I love hats; I love putting hats on. They are artwork." We couldn't have said it better ourselves!
So whether you're the mother of the bride, mother of the groom, or a wedding guest, find your hat-spiration here with our pick of affordable headwear. We selected styles that resemble memorable royal hats, those famously doffed by our favourite members of The Royal Family. It will be hats off to you in the style stakes this summer.
High street versions of royal hats
The Duchess of Cambridge's disc corsage fascinator
The Duchess of Cambridge attended Royal Ascot last year wearing a gorgeous corsage detail hat. Get the look with Phase Eight's fascinator which will look perfect with pastels
SHOP: Phase Eight disc fascinator at Debenhams, £65 (opens in new tab)
The Duchess of Sussex's felt hat
Meghan the Duchess of Sussex took her style cue from Audrey Hepburn at the Remembrance Sunday Service in November. Zara's timeless style will tick the trend for just £25.99.
=
SHOP: Zara wool hat, £25.99 (opens in new tab)
Princess Anne's aqua hat
Princess Anne is an accessory addict just like us (you should see her sunglasses collection!) and this bluebell hued hat will nail her Ladies Day look and suit all skin tones.
SHOP: John Lewis & Partners flower detail occasion hat, £95 (opens in new tab)
Princess Eugenie's yellow pill box hat
Princess Eugenie of York looked super summery in her pill box style hat at Royal Ascot last year. Wear Phase Eight's version with florals but be quick – it's currently in the sale for just £39.
SHOP: Phase Eight plait pillbox fascinator, £59 (opens in new tab)
Zara Tindall's teal topper
Zara Tindall proved why she's the Royal family's chief hat lover in her teal creation at Ladies Day. Head over to Phase Eight where their statement style is also available in plum. Decisions, decisions.
SHOP: Phase Eight Karlen fascinator, £55 (opens in new tab)
Princess Eugenie's pretty plaited hairband
Hairbands have emerged as a more contemporary take on the hat trend, and Princess Eugenie struck the right cord with her plaited number at the Royal Maundy Service. Pick up M&S' style steal with your weekly shop and wear it all year round!
SHOP: Marks & Spencer plaited hairband, £9.50 (opens in new tab)
Princess Anne's trendy trilby
Princess Anne reigned in purple as she attended the Christmas Day service at he Sandringham estate - we love how she's picked out the colour with a printed scarf. Tom Dick & Harry's trilby is worth a style curtsy and can be worn dressed up or down.
SHOP: Tom Dick & Harry purple felt hat, £95 (opens in new tab)
The Duchess of Sussex's fashionable fascinator
Proving that some things just never go out of style Meghan the Duchess of Sussex wore an elegant netted fascinator to the 91st Field Of Remembrance at Westminster Abbey. Phase Eight's version will look super chic worn with a polkadot dress to nail monochromatic styling.
SHOP: Phase Eight veiled pillbox fascinator, £55 (opens in new tab)
Which one will you be wearing for wedding season?
Hannah Eichler is a fashion stylist, writer, and currently deputy editor at MailOnline's Fashion Finder. She has extensive fashion styling and writing experience across multiple editorial platforms.
Hannah has also lent her extensive editorial expertise as an associate lecturer of Fashion Media, Beauty Promotion, Fashion Promotion, and Fashion Graphics at Solent University. This is as well as being an associate fellow of the Higher Education Academy, where she leads units specializing in content strategy, marketing, PR, and event management.