Our favourite Lorraine Kelly high street dresses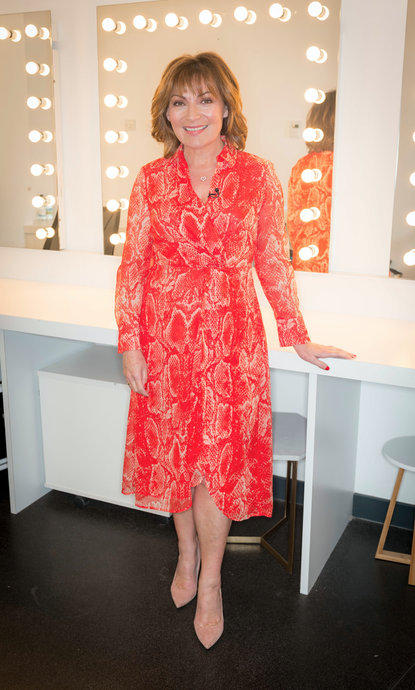 Nab the presenters style with these super stylish dresses.
TV Queen Lorraine Kelly is known for her impeccable style. Day after day she dazzles our screens with her stunning ensembles. From fabulous suits, to swishy skirts and slogan knits, we think the stand out pieces for Lorraine's style is definitely her dresses. From flared to fitted, punchy prints to bold colours, the presenter's collection is as varied as it is fabulous. But the best part of all… is that they're all from the high street.
Yes you read it right. The Scottish presenter shows us that you don't need a designer tag to look priceless. Never a dull day, Lorraine always steers towards bright hues and prints that make an impact when presenting her morning show. Standing out and looking sophisticated all at the same time.
There are three key things that she does in order to make all of her dresses look more expensive than what they really are. Number 1, she knows her body shape and how to enhance it. Usually she opts for a dress that emphasises or defines her waist, creating a womanly hourglass silhouette. Number 2, she knows how to accessorize, or more importantly how not to over accessorize. She always keeps things minimal when it comes to her jewels, letting the dress be the scene-stealer. And finally number 3, she wears pointed heels. Lorraine elongates her legs everyday with a pair of pointed toe heels or boots. Usually with a bright colour as well to make her outfit look even more trendier.
So without further ado, here are some of her top high street dresses.
Wrap dress, £45, Miss Selfridge
Animal print dress, £346, Warehouse
Stripe dress, £99, Karen Millen (opens in new tab)
Polka dot dress, £169, Hobbs (opens in new tab)
Shirt dress, £65, Monsoon (opens in new tab)
Print twist shirt dress, £119, Mint Velvet (opens in new tab)
Black spotted wrap dress, £119, Mint Velve (opens in new tab)t
Samantha Rnic is a fashion stylist and writer from Colchester. She has worked for titles such as Grazia, The Sun and Look magazine. She is currently studio bookings manager at Matches Fashion.