How to get your old winter coat looking like new again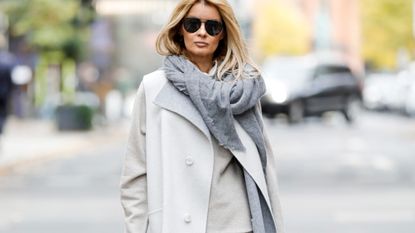 woman&home newsletter
Sign up to our free daily email for the latest royal and entertainment news, interesting opinion, expert advice on styling and beauty trends, and no-nonsense guides to the health and wellness questions you want answered.
Thank you for signing up to Woman & Home. You will receive a verification email shortly.
There was a problem. Please refresh the page and try again.
It's that time of year again – the start of coat season. Now's the time to pack away those summery pieces and rediscover the joys of outerwear.
With a plethora of covetable styles currently in shops, this season there's a cover-up to suit all. But whichever silhouette you opt for, the key thing to remember when looking for the best winter coats is longevity. Choosing a good-quality coat that is easy to care for means it can be worn for many years to come, making it a smart investment. "Before investing in a new winter coat, do check the labels on your clothes," says Ludovic Blanc, founder of award-winning natural artisan garment care specialist, BLANC. "Know what materials they are and how easy they are to clean and keep." On the back of this advice, he recommends styles constructed from durable cotton and wool.
If you already own your dream coat, the time has come to dust it off and give it a spin. However, after months left hanging in the wardrobe, chances are it might be looking a little tired. The good news is that with a little TLC, even well-worn styles can be refreshed. Here's how to get your old winter coat looking like new...
How to get your old winter coat looking like new
Give it a new-season deep clean
At the start of the season, it's a good idea to take stock of your coat collection and treat the styles you'll be wearing this year to a deep clean. Not sure how to get your old winter coat looking like new? Enlist the help of a professional. A trip to the dry-cleaner's will ensure pieces are fresh and looking as good as possible. Woollen and padded coats should only need one dry-clean per season, while lighter weight coats such as macs and pale coloured styles might need an additional service midway through to keep them looking pristine. Blanc also advises getting coats professionally cleaned at the end of winter so that they're dirt-free ahead of storing.
Remove small stains
If you've brought your coat out of storage only to discover it has a stain, don't panic. It's especially common on light camel coats. Simply dab at the area with a damp cloth. Just ensure you don't soak the fabric, and allow enough time for drying to prevent a watermark. For heavy stains, Blanc recommends investing in a natural stain remover (such as this eco-friendly soap for textiles, £6.90). Dampen the fabric and soap, then rub the stain the leaving for a few minutes before wiping down. Repeat if necessary.
Use steam
When clothes are packed away it's easy for them to get crumpled –and nothing quite kills a new season look like creases. Giving coats a steam before wear will work wonders. Fashion editors swear by The Steamery hand-held steamers, from £110. Though pricey, they distributes steam evenly across the garment to effectively banish wrinkles in a matter of seconds. They're also supremely lightweight, making it good for keeping clothes in perfect condition when travelling. Never steamed your clothes before? No problem. Hang your coat on a coat hanger on the back of a door and, holding the steamer at an inch distance, run it from top to bottom.
Banish bobbles
If your go-to coat is one made from wool, it's likely you will have noticed bobbles forming. They're normally found under the arms and where your handbag rubs against your side. This is caused by broken fibres bunching together to form little balls, and is most common in garments made from wool mixed with synthetic fabrics such as polyester. Fuzzy pilling will make your coat look older than it really is, so it's a good idea to stay on top of it. Use a fabric comb (try The White Company's wooden pilling comb, £8) or an electric razor (look to Philips' fabric shaver, £15) to gently shave them off. If you have a very steady hand, you can even use a regular razor by pulling the fabric taught and carefully nipping off the bobbles. If your coat is cashmere try using a velcro hair roller for extra-gentle removal.
Brush faux fur
Fuzzy faux fur and shearling are key winter coat trends, so if you already have one, now's the perfect time to start wearing it again. Even better, many of these coats are machine washable. Check the care label first and if so, turn it inside out and put it on a cool 30 degree wash using a mild detergent. Allow to air dry on a broad hanger, removing any excess water by rolling it between two towels. Once dry, fluff up the fibres using a soft, natural bristle brush to get that just-bought look.
Dry puffers with tennis balls
One of the warmest coats going, puffer, quilted and down are having a serious fashion moment this season. Meaning staying toasty has never looked so chic. These can be hand-washed using a mild detergent such as Woolite and, unlike most other coats, are best dried in the tumble dryer. Use a low heat setting (high heats will melt the insulation) adding a couple of brand-new tennis balls into the drum. The movement of the balls will redistribute your coat's filling making it fluffy and keeping it in shape. You're welcome.
Update details
When a coat starts to look dated, it's easy to fall out of love with it. However, instead of resigning it to the recycling bin, a few easy updates can bring it back from the brink. Switching old buttons for new ones is the quickest way to breathe life into an outdated style and can be done at home with just a needle and thread. Etsy and Amazon's haberdashery department both have a wide selection of styles. You can also try changing fabric belts for stylish, wide leather iterations –a key look on this season's catwalks.
Protect against moths
Moths are attracted to coats as much as they are to flames, and there's nothing like moth holes to make a good coat look shabby. Prevent attack by placing naturally repelling cedarwood balls in the pockets of your coats – try BLANC's 20 pack, £4.90. Eschew plastic hangers which attract dust (and therefore moths), instead storing coats on cedarwood options. Preparing and storing coats properly at the end of winter means, come next autumn, they should look pristine. Rather than packing them away in cardboard boxes (which again attract moths), Blanc recommends folding coats away into vacuum-sealed bags.
What are your top tips for how to get your old winter coat looking like new again?
Sign up to our free daily email for the latest royal and entertainment news, interesting opinion, expert advice on styling and beauty trends, and no-nonsense guides to the health and wellness questions you want answered.
Frankie Graddon is a fashion and beauty journalist and co-founder of @thewingwoman, a weekly podcast and newsletter about thirty-something life, honestly.
Frankie has over a decade of experience working as a writer, editor, podcaster and consultant. She has been a regular contributor to a number of high-profile publishers including The Telegraph, The Times, Grazia, You Magazine, Glamour and woman&home.
Frankie has interviewed numerous industry experts and celebrities, from Claudia Schiffer and Karlie Kloss to Sam McKnight and Trinny Woodall. She has also created content for numerous fashion and beauty brands including Liberty of London, Whistles, Kitri, Hush and more.