Our fashion team has fallen for Fearne Cotton's gorgeous jewellery collaboration with notonthehighstreet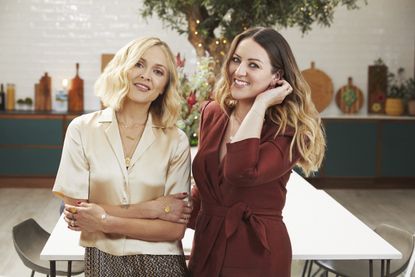 Fearne Cotton, presenter, designer and founder of the Happy Place Festival and podcast has collaborated with notonthehighstreet partner, Carrie Elizabeth, to create the most stunning jewellery collection.
The thirty-one-piece collection is on sale now, exclusively via notonthehighstreet (opens in new tab). It features earrings, necklaces, rings and bracelets, all designed to empower the wearer.
MORE: This new label has the fashion team SQUEALING with delight (opens in new tab)
Fearne explains the meaning behind the jewellery, revealing that she wants to help people feel uplifted with the pieces.
She said, "The Fearne Cotton x Carrie Elizabeth collection is about helping people feel uplifted, supported, reassured or just plain happy – and Carrie and I have put our hearts and souls into every piece. We hope you love it as much as we do."
Artisan jeweller, Carrie Elizabeth adds that, "The emphasis Fearne places on happiness and being in the moment is so important to me and inspires a lot of our collection.
MORE:Figleaves best-selling bra is great for boobs of all shapes and sizes (opens in new tab)
Prices of the The Fearne Cotton x Carrie Elizabeth collection range from £80 to £150. Each piece is made using ethically sourced materials and crafted from either sterling silver or 14 carat gold vermeil. Even more amazing, is the jewellery's incorporation of powerful hand-cut stones, such as labradorite, which symbolises strength and perseverance. Each beautifully designed piece is packed full of meaning – and would make the most special gift.
Our favourite is the Fearne x Carrie 'I Am Enough' Gold Aztec Coin Necklace (£110). The 14 carat gold vermeil necklace is subtly embossed with the words 'I Am Enough' to remind the wearer that they are perfect just the way they are. (We don't need Mark Darcy's to tell us so).
The collection even features a ring modelled on Fearne's very own engagement ring – and it is gorgeous! The £150 ring is made from 14 carat gold vermeil and incorporates opal, known to represent strength and passion, and diamonds which symbolise eternity. The ring is also available in sterling silver for £145.
Notonthehighstreet is 'the home of thoughtful gifts' and The Fearne Cotton x Carrie Elizabeth collaboration showcases the most meaningful jewellery. Empower yourself or a loved one with a beautiful and timeless piece from Fearne's first ever jewellery collection.
Christmas has certainly come early!
Emma White is a freelance fashion and lifestyle writer. She has worked in the publishing industry since she graduated with an English Literature degree from the University of Southampton in 2018. Combining her love of writing and fashion, she started working as part of the fashion team at woman&home in early 2019.
Emma writes about a broad range of fashion topics, from trending seasonal styles, to sustainable fashion, how to get designer looks for less on the high street and timeless wardrobe classics. When she isn't writing she is probably shopping, looking for the latest piece to update her wardrobe.