Where to buy Meghan Markle's jeans, including her fave skinny styles
These are the best jeans to shop - just take it from Meghan...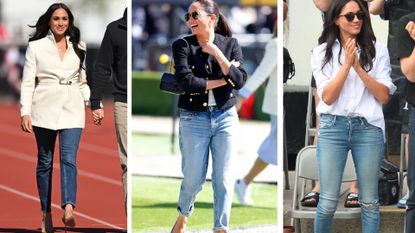 (Image credit: Getty Images)
Meghan Markle's impeccable style is one that many seek to emulate - and one of the most crucial components in her fashion arsenal is her denim collection. Here's where to shop Meghan's favorite jeans.
Jeans are a tough topic of conversation for many. They're always too skinny, not long enough, not comfortable, etc. - and it makes for a rather grueling shopping experience for many. Plus, there are so many different style options (boyfriend jeans, mom jeans, the ever controversial cargo jeans, etc.) to choose from.
One person who has her denim game on lock, though, is Meghan Markle - and if a pair of jeans is good enough for Meghan, we're certainly under the impression they're worthy.
Although Meghan didn't wear much denim during her time as a royal, she's opting for a more casual wardrobe these days since she relocated to California with her husband Prince Harry. Usually, we'd say "good luck" when trying to find a pair of Meghan's favorite jeans due to them usually being sold out - but we've gotten lucky this time around, and found some pairs the Duchess loves that we're positive you'll want to purchase ASAP.
Take a look at the fashion icon's favorite denim styles, plus where you can purchase them. (If you like these, you can also check out our guide for Kate Middleton's favorite jeans.)
Mother - High Waisted "Looker" Jeans
Why you can trust Woman & Home Our expert reviewers spend hours testing and comparing products and services so you can choose the best for you. Find out more about how we test.
At the 2017 Invictus Games, Meghan sported this pair of uber-chic jeans from designer denim brand Mother, making a statement with frayed edges and a light wash. Reportedly, after she wore these jeans, the style almost immediately sold out everywhere, making it virtually impossible to buy a pair for yourself. Luckily, the coveted style is back in stock.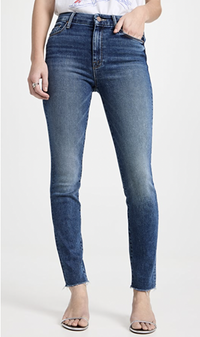 Mother The Looker Ankle Fray Jeans, $228 | Shopbop
Another everyday-ready pair from the denim experts at MOTHER. These high-waisted Looker skinny jeans showcase a classic wash and just-right level of fading for a laid-back look with a lot of versatility.
Mother - "The Looker" Black Jeans
We have reason to believe that Mother just might be the Duchess' favorite denim brand, seeing as she's sported quite a few pairs from the denim house over the years. Fast forward from the 2017 Invictus Games, Meghan wore a similar pair of Mother jeans to the 2018 Games - except this pair was black, which she perfectly paired with a white blazer and black heels.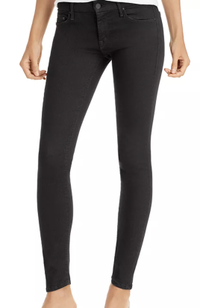 Mother The Looker Skinny Jeans in "Not Guilty," $208 | Bloomingdale's
Another everyday-ready pair from the denim experts at MOTHER. These high-waisted Looker skinny jeans showcase a black wash.
Moussy Vintage - Slouchy Jeans
If there's one image of Meghan Markle wearing jeans that comes to mind for most people, it's probably this look from the 2021 Invictus Games. Although her sunglasses are also a standout for this outfit, her perfectly chic and slouchy jeans really take the cake and complete her look. The jeans Meghan is wearing, which are from Moussy Vintage, are the Edmond style - and are unfortunately sold out everywhere. However, we found a super similar pair from the same brand. We'd recommend sizing up slightly if you want to get that slightly slouchy look Meghan is rocking.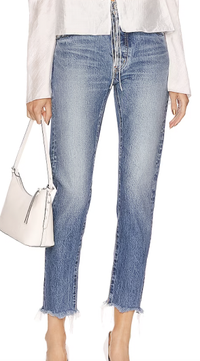 Moussy Vintage Burbank Tapered Jean, $252 | Revolve
Moussy is a denim brand that is high-end casual inspired by both luxury and leading trends. With sights set on being the world's leading denim brand, Moussy pursues this ambition with confidence of made in Japan quality, passion, and focus.
Outland - Black Jeans
Clearly, Meghan loves her skinny jeans - and this stylish pair from Outland is no exception. The Aussie brand was a perfect choice for her as she and Harry did a royal tour around Australia in 2018 - making their rounds and looking stylish as ever doing it.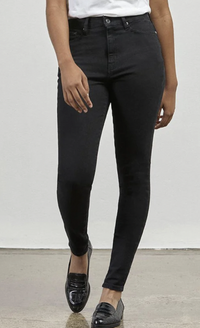 Outland Denim Harriet in Black, $190 | Outland
Harriet is a best seller and soon to be the most flattering jean in your wardrobe. With no gape at the waistband, ankle, or anywhere in between, her premium stretch denim flatteringly tailors to lengthen your legs, complement your curves and lift your bum.
J. Crew - Toothpick Jeans
J. Crew has long been a favorite brand of the royals, known well for the durable quality and well-tailored items the store always boasts. These toothpick jeans are no exception, and the dark blue wash denim truly fits Meghan like a glove. Plus, with a lower price point than the other pairs on this list, they make for a quality investment that will be sure to last for years.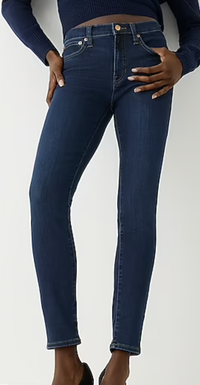 9" mid-rise toothpick jean in Point Lake wash, $128 | J. Crew
Our toothpick skinny + a higher rise = a nipped waist, great stretch and legs for miles—with or without heels. Through a closed-loop production process which recycles water and solvents, it's also naturally sweat-wicking and breathable.
Madeline Merinuk is woman&home's US lifestyle news writer. She covers celebrity, entertainment, fashion, and beauty news but is also obsessed with internet trends - you can find her reciting trending TikTok sounds out loud at any given time.
After winning multiple student journalism awards for her investigative work, she graduated from Hofstra University in 2021 with a B.A. in Journalism. After graduating, she worked at today.com, the digital site for the Today Show, where she wrote pop culture news and interviewed big-name personalities like Emily Ratajkowski, Haley Lu Richardson, Emma Corrin, and more.
Her personal interests, in no particular order, are: cheese, Joni Mitchell, reading, hot yoga, traveling, having multiple chapsticks in every handbag at all times, and dancing to ABBA songs as if she were in the Mamma Mia movies.