Where to buy Meghan Markle's gorgeous initials necklace
Meghan Markle's initial necklace has caught the attention of many over the years - here's where you can get one for yourself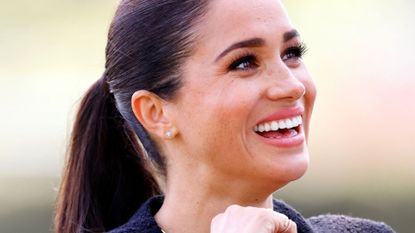 (Image credit: Getty Images)
Meghan Markle's initial necklaces have long been a topic of conversation - and now we know where she got the pretty gold jewelry pieces.
Meghan has been spotted wearing various initials necklaces over the years. The first, a gold 'M' and 'H' initial necklace that she frequently wears in honor of her relationship with Prince Harry is by The Right Hand Gal, who customized the necklace, especially for Meghan.
---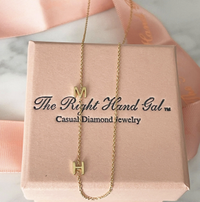 The Meghan Mini Initial Necklace, $230 (£184) | The Right Hand Gal
Available in solid yellow or white gold, this is Meghan Markle's exact initial necklace. This necklace actually landed her in some hot water with the Palace when her and Harry were still active members of the Royal family. It is reported that the Palace saw thought this intimate necklace only served to encourage the photographers and new headlines.
Although Meghan's personalized necklace is a little pricy it is great quality and checks off some of the jewelry trends for 2023.
What's more, folks can customize their own necklace to fit the two initials they'd like to add - so whether it's to symbolize you and a spouse, or perhaps a friend or family member, you can commemorate your bond with them with this chic jewelry piece. Meghan has also been known to sport an initial necklace with the letter 'A' for her firstborn child, Archie.
Meghan wore the 'A' necklace back in 2019 at a Wimbledon match supporting Serena Williams. The gold initial necklace is from Verse and cost $478. She paired it with a white trilby hat, a pair of her trademark sunglasses, and a smart blazer.
Luckily, we've tracked down a few retailers that sell similar necklaces for a fraction of the original price.
---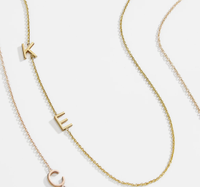 Maya Brenner Asymmetrical Custom Initial Necklace, $325 | Baublebar
This custom designer piece is a best-seller for a reason! A dainty 14K solid gold chain is the perfect home for a bevy of customization options. Select two initials or characters to truly make this layering piece your own. This everyday essential wears beautifully on its own and also pairs well with other layering necklaces.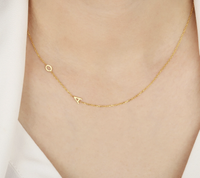 Custom Letter Necklace - Sideways Initials Necklace, $25 | Etsy
This handmade item can be made to order, perfect for any special occasion, such as Mother's Day, for a bridal party, or for a special someone. Up to 10 letters can be added to this yellow gold plated chain.
Madeline Merinuk is woman&home's US lifestyle news writer. She covers celebrity, entertainment, fashion, and beauty news but is also obsessed with internet trends - you can find her reciting trending TikTok sounds out loud at any given time.
After winning multiple student journalism awards for her investigative work, she graduated from Hofstra University in 2021 with a B.A. in Journalism. After graduating, she worked at today.com, the digital site for the Today Show, where she wrote pop culture news and interviewed big-name personalities like Emily Ratajkowski, Haley Lu Richardson, Emma Corrin, and more.
Her personal interests, in no particular order, are: cheese, Joni Mitchell, reading, hot yoga, traveling, having multiple chapsticks in every handbag at all times, and dancing to ABBA songs as if she were in the Mamma Mia movies.