Vintage Fashion Hub: why eBay's new sustainable hub will make vintage shopping a lot easier
Hooray!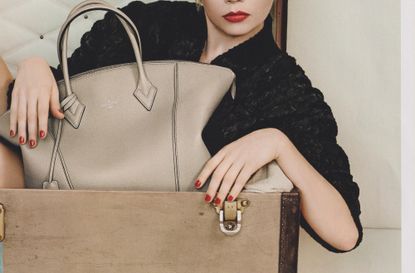 (Image credit: Alamy Stock Photo)
eBay has just launched a new Vintage Fashion Hub on eBay UK and we are very excited!
Sustainability has been the buzzword on everyone's lips for quite some time and it isn't news that people are changing the way they shop.
eBay, the popular online re-sell website, has already saved the equivalent weight of 68 double decker buses from landfill thanks to purchases of second-hand women's fashion items in 2020 so far - a huge 50% increase on 2019!
Since 2017 there has been a 31% increase in the number of second hand items listed on eBay, with 70% of consumers now looking to shop more sustainably. Becoming a vintage-loving nation, over a quarter (24%) of shoppers now own four to eight second hand items and a fifth (19%) have more than nine pre-loved items in their wardrobes.
And while you could already snap up some steals on the website, they're now launching the Vintage Fashion Hub to help vintage hunters.
eBay's Vintage Fashion Hub: how does it work?
The new vintage hub will make finding pieces a lot easier, thanks to the many filters that will help you sift through the 27-million pre-loved listings.
From Levi's to Laura Ashley, Chanel to Gucci, this is your one-stop shop to add some vintage pieces to your wardrobe.
You can narrow down your search terms by selecting categories such as Vintage Dresses, Vintage Bags, and Vintage Sunglasses. You can then further narrow down your search by decades - from the 1920's and 1930's all the way through to 1990.
Emma Grant, head of pre-loved at eBay says, "The trend of sustainability is something we've seen increase dramatically over the past year, particularly when it comes to fashion. In 2019 alone, the word 'used' when looking for clothing items was searched for 160 million times.
"At the moment there are over 27 million pre-loved fashion listing on eBay, a figure we expect will increase year-on-year. eBay, which is turning 25 this year, is launching The Vintage Hub as it continues to champion buyers and sellers who choose to shop responsibly and remains a universal place to shop vintage. From those who are interested in brands such as Jaegar and Laura Ashley, right through to Gen Zs who use eBay to get their hands on pre-loved Nike and Supreme items – eBay vintage really is for everyone".
And some sellers even go the extra mile to make the experience even more sustainable.
eBay seller Ruby says that as well as selling pre-loved items, she's also started opting for eco-friendly compostable bags for packaging.
She says, "Selling vintage fashion on eBay has now become my primary source of income, and in just four years my annual turnover has amounted to nearly £30K. The majority of my stock is fashion from the 60s and 70s, with the most popular items often being Laura Ashley or Mary Quant dresses.
"Sustainability is obviously important to my customers, it's the reason why many shop for pre-loved items, so I've also recently changed my packaging to eco-friendly compostable bags, to ensure I'm being as sustainable as I can be too."
So what classic pieces should you look out for?
Burberry trench coats, Chanel ballet pumps and Levi's jeans are some of the items you should keep an eye on. But there's plenty of other brands to choose from...
Top 10 luxury brands & average selling price of pre-loved items
Dolce & Gabbana - £47.07
Mulberry - £136.25
Vivienne Westwood - £44.15
Prada - £85.43
Louis Vuitton - £285.41
Versace - £56.08
Christian Louboutin - £180.60
Rolex - £1,445.13
Jimmy Choo- £73.74
Dior - £112.74
Happy (second-hand) shopping!
Becky Joiner-O'Riordan is a Senior Fashion Stylist & Writer. With 10 years experience in the fashion industry, she currently works across woman&home, womanandhome.com, Woman, Woman's Own, Woman's Weekly, Chat, goodto.com, and has previously worked on Harper's Bazaar, Notion and Now Magazine.
After graduating from both the University of the Creative Arts and The Fashion Retail Academy with first-class honours she dipped her toes into the world of television styling working on This Old Thing, hosted by Dawn O'Porter and Channel 4's live tv show series Gok Live: Stripping for Summer.