Sleeping bag shoes are the ugly but comfortable winter footwear trend you should be taking advantage of
Sleeping bag shoes are the only winter shoes you need in your life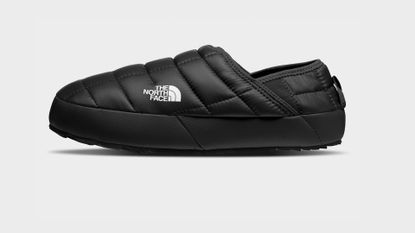 (Image credit: The North Face)
Another unlikely shoe trend has entered the fashion sphere: sleeping bag shoes.
Shoe trends go in and out like the seasons - especially the "ugly" ones. We see shoes like Crocs cycle through fashion all the time, and then there are those chunky "dad" shoes that seem to be a hit or miss for most people. And let's not forget the latest craze: frog shoes.
Other popular shoe trends include mini UGG boots, the UGG slippers, and the Birkenstock Boston clogs - but now another slipper shoe has made its way into the fashion world, and it's what folks are calling the 'sleeping bag shoe'.
Imagine, if you will, a sleeping bag: big, puffy, insulated, and always comfortable. Now imagine a slipper-like shoe, made with sleeping bag material, or even that of a puffer jacket. That, my friends, is what the kids are calling sleeping bag shoes.
Yes, we know it sounds a tad "ugly" - why would anyone ever wear that out? But we all said that about Crocs and UGGs, and here we are. Not to mention, the likes of Jennifer Lawrence are stepping out in the non-shoe shoes.
TikTok is also flooded with people sharing videos of themselves wearing sleeping bag shoes to go outside and brave the cold. One TikToker, Melissa Martin, showed a video of herself getting ready for her day, and completing her outfit with a pair of sleeping bag shoes from The North Face. Someone commented, "I've been thinking about getting the Northface shoes and now I'm convinced I need them. They look SO good on you!"
So, clearly, we're not the only ones endorsing the sleeping bag shoe.
---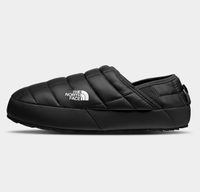 (opens in new tab)
Women's ThermoBall™ Traction Mules V, $59 | The North Face (opens in new tab)
Your feet work hard, so they deserve the warmth and comfort of the Women's ThermoBall™ Traction Mules V.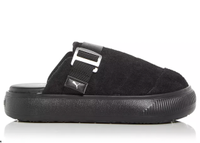 (opens in new tab)
PUMA Women's Mayu Platform Mules, $49 | Bloomingdale's (opens in new tab)
These comfy mules fit true to size and have an adjustable strap to help you customize a fit that's perfect for your feet.
You might (understandably) be asking "where do I wear these shoes???" Jennifer Lawrence wore them while pushing her son, Cy, in his stroller. You could also wear them while running errands; perhaps getting coffee, en route to a workout class, etc.
And let's be real - besides a warm pair of pajamas or the best thermals, there's nothing better than having a warm pair of shoes for when the weather gets frightening.
According to The North Face's website, these shoes are meant to be good for "base camp, après ski, or shuffling out to grab the morning paper." Sounds like a winner to us!
Madeline Merinuk is woman&home's US lifestyle news writer. She covers celebrity, entertainment, fashion, and beauty news but is also obsessed with internet trends - you can find her reciting trending TikTok sounds out loud at any given time.
After winning multiple student journalism awards for her investigative work, she graduated from Hofstra University in 2021 with a B.A. in Journalism. After graduating, she worked at today.com, the digital site for the Today Show, where she wrote pop culture news and interviewed big-name personalities like Emily Ratajkowski, Haley Lu Richardson, Emma Corrin, and more.
Her personal interests, in no particular order, are: cheese, Joni Mitchell, reading, hot yoga, traveling, having multiple chapsticks in every handbag at all times, and dancing to ABBA songs as if she were in the Mamma Mia movies.