See pics of the Panera BAGuette bag that was the 'it' accessory of Fashion Week
The Panera BAGuette has been a staple for New York Fashion Week - and those who don't have one are jealous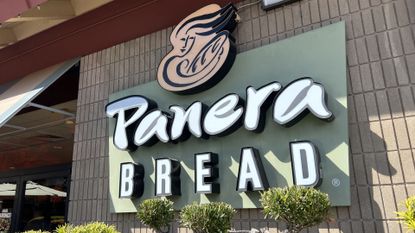 (Image credit: Getty Images)
A Panera BAGuette bag has caused a stir among fashion fans, with the bizarre Fendi-inspired accessory becoming a sell-out.
The formative Fendi baguette bag has been nothing short of a fashion mainstay for many, many years. Celebs and A-listers from all over the world want to get their hands on Fendi baguettes, scouring secondhand sites like The RealReal or even their local consignment stores to get their hands on one. Even early 2000s icon Carrie Bradshaw of Sex and the City sported baguettes wherever she went.
Now, a new baguette has entered the fashion sphere, and is completely taking over - and it's from fast-food chain Panera.
The Panera bag, which the company is calling the BAGuette, launched their fashion item in early 2023 - and it was met with a host of praise from fashion connoisseurs and Panera fans alike.
"Wait I need," someone commented under Panera's original Instagram post, announcing that customers could buy their BAGuette online.
The purse is a lime green color, undoubtedly one of the "it" colors of the last few months, and has small P's patterned across its long body - 100% paying homage to the OG Fendi baguette.
Then, the BAGuette was starting to make its way into the arms of influencers, causing a mass hysteria on Panera's site and effectively made the bag sell out online.
"Why did Panera come out with a purse and why is it so nice?" TikTok user Marwa Elhamasy said in one of her posts with a screenshot of the bag.
Panera then announced a re-stock of the BAGuette on February 14, but they only had 100 bags available - and with that exclusivity came even more of a need to have the bag. It has become somewhat of an "it girl" accessory - something that only the cool people can have, and us laypeople can only hope to have.
When the 100 BAGuettes essentially immediately sold out after their second restock, people were upset they weren't able to secure their exclusive Panera bag.
"Smh, I was already paying then suddenly it said not available. I'm hurt and don't think I can eat Panera again anytime soon," someone commented under one of Panera's Instagram posts.
The bag (when available) cost just shy of $40, making it a very monetarily accessible bag - which likely makes the exclusivity all the more frustrating, seeing a person with virtually any salary could afford it.
TikTokers like Halley Kate and Janneh Konneh can be seen on their accounts styling these covetable purses, which some people on the app (opens in new tab) are also calling the "hottest bag of the season."
In fact, people are vying for these bags so much that you could buy a secondhand (we're using the word secondhand loosely, here, seeing as the bags aren't even a month old) for $300 on eBay (opens in new tab).
At this point, these bags are almost as exclusive as a Birkin - just, ya know, without the scary price tag.
Madeline Merinuk is woman&home's US lifestyle news writer. She covers celebrity, entertainment, fashion, and beauty news but is also obsessed with internet trends - you can find her reciting trending TikTok sounds out loud at any given time.
After winning multiple student journalism awards for her investigative work, she graduated from Hofstra University in 2021 with a B.A. in Journalism. After graduating, she worked at today.com, the digital site for the Today Show, where she wrote pop culture news and interviewed big-name personalities like Emily Ratajkowski, Haley Lu Richardson, Emma Corrin, and more.
Her personal interests, in no particular order, are: cheese, Joni Mitchell, reading, hot yoga, traveling, having multiple chapsticks in every handbag at all times, and dancing to ABBA songs as if she were in the Mamma Mia movies.