Rihanna proves that denim and diamonds is a dynamo combination in latest look
What can't Rihanna do? No, seriously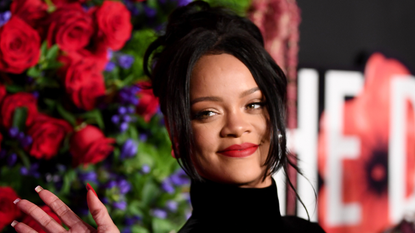 (Image credit: Getty)
Rihanna, who looks good in truly anything, recently proved that denim and diamonds might just be the best sartorial pair you can wear.
Rihanna's style has been praised for over a decade - from her recent maternity wear that broke the internet to some of her more vintage looks from the early 2000s, she always knows how to dress for success. She's a true multi-hyphenate, with cult brands like Fenty Beauty and SavageXFenty lingerie, which both keep on giving her fans exactly what they want. Oh, and did we mention her illustrious singing career?
During CinemaCon 2023 earlier this week, the star showed up to promote her upcoming movie, The Smurfs Movie - but showed up looking anything but smurf-ish.
The star showed up in a floor-length denim dress - which proved to be the perfect maternity outfit for the star, seeing as she's pregnant with her second child with her boyfriend A$AP Rocky. On the carpet, she proudly rubbed her baby bump - just like she did at the beginning of her Super Bowl 2023 performance, where she made her surprise pregnancy announcement.
In a shocking outfit twist, as the star walked across the stage to give her brief presentation, she revealed that there actually were wide-leg, matching denim pants under the dress. Even Rihanna is in on the Y2K wearing jeans under skirts trend (a trend that is controversial and equally tough to pull off).
For accessories, she chose some stunning diamond jewelry, particularly a matching set of diamond and sapphire earrings, as well as a necklace and bracelet with identical stones.
At CinemaCon, Rihanna revealed some more information about the upcoming Smurfs movie and let the audience on the part she secretly really wanted to play. This isn't the first time she's lending her voice to a movie, though - the mogul first lent her voice to the role of Tip Tucci in the 2015 DreamWorks film, Home.
---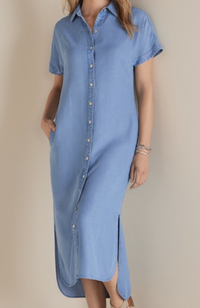 Je Veux Midi Shirtdress, $130 | Soft Surroundings
This easy-going, midi-length dress moves and drapes beautifully with denim-like TENCEL™ Lyocell fabric. In a classic A-line shirtdress style with a button front, collar, and short sleeves. TENCEL™ is a trademark of Lenzing AG.
In the movie, she's set to play Smurfette - but there's actually a part she was more passionate about exploring. "I tried to get the Papa Smurf role but It didn't work out," she joked to the audience. She also noted that she hopes landing this role will score her some extra "cool points" with her kids.
She will also write and sing original music for the movie, which is set to come out at some point in 2025. So, even though we're also *still* waiting for that new album, we'll add this movie to our list of Rihanna media to keep an eye out for.
Madeline Merinuk is woman&home's US lifestyle news writer. She covers celebrity, entertainment, fashion, and beauty news but is also obsessed with internet trends - you can find her reciting trending TikTok sounds out loud at any given time.
After winning multiple student journalism awards for her investigative work, she graduated from Hofstra University in 2021 with a B.A. in Journalism. After graduating, she worked at today.com, the digital site for the Today Show, where she wrote pop culture news and interviewed big-name personalities like Emily Ratajkowski, Haley Lu Richardson, Emma Corrin, and more.
Her personal interests, in no particular order, are: cheese, Joni Mitchell, reading, hot yoga, traveling, having multiple chapsticks in every handbag at all times, and dancing to ABBA songs as if she were in the Mamma Mia movies.