OK, we're calling it - Kate Middleton's billowing summery yellow dress is one of her absolute best
Kate Middleton's yellow dress will be eternally in style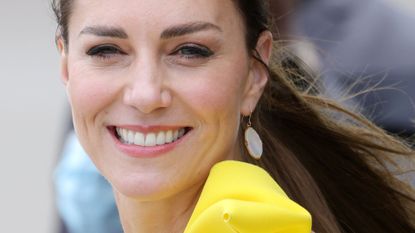 (Image credit: Getty Images)
Kate Middleton sported a super chic and summery yellow dress while in Jamaica, and we're of the mind that it's one of her best looks yet. Here's where to buy a similar style.
Let's face it, Kate always looks amazing. From her powder blue coronation look, to her spring outfit with Boden flats, and even her camo cap that she rocked while doing outdoor activities with Prince William, she always looks truly amazing. We're constantly stealing inspiration from the Princess' looks, and when we came across this stunning yellow dress, we had to find a similar one to purchase for ourselves.
Kate wore this dress back in 2022 while visiting Jamaica with Prince William as part of their Platinum Jubilee Tour, on which they visited a handful of countries together.
Kate wore the yellow number while getting off the plane at the airport in Kingston, Jamaica, and honestly, we just have to commend the fact that she was even spotted near a plane in anything other than sweatpants.
While this A-line, yellow dress is certainly flattering in itself, we also love that she styled it with chic white heels with gold accents and a matching white leather clutch purse.
This dress, which is nearly $900 and comes from the designer brand Roksanda, is unfortunately sold out (which makes sense, considering virtually everything the Princess is spotted in almost immediately sells out) - but luckily, we found some similar styles that are a.) way less expensive and b.) more wearable for day-to-day use.
---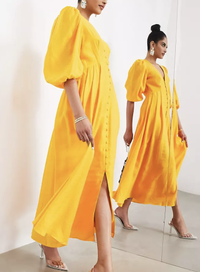 ASOS EDITION button front midi dress with puff sleeve in marigold, $129 (£103) | ASOS
This chic dress is perfect for a garden party, a summer gathering, or any other fun, warm-weather occasion - just pair it with heels and you're good to go.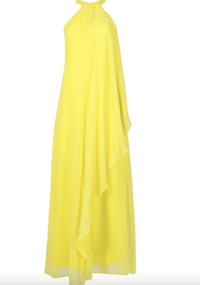 APHRODITE dress, $119 (£95) | Meghan Fabulous
This gorgeous and versatile maxi dress has a high, halter neck with a center front keyhole opening, making it a perfect cut for any body shape.
This isn't the only time she's sported this incredible dress, however - the Princess also wore the vibrant yellow dress to Wimbledon in July of 2022. As opposed to how she styled the dress while in Jamaica, she took the opportunity to give a new edge to the look with classic white stiletto heels, and a pair of amber earrings while keeping her long chestnut hair sleek and shiny as opposed to in a ponytail.
The outfit could be seen in all its glory when Kate emerged from the Wimbledon Royal Box to present winner Elena Rybakina with her trophy, the Venus Rosewater Dish, before moving on to award runner-up Ons Jabeur her second-place prize.
Madeline Merinuk is woman&home's US lifestyle news writer. She covers celebrity, entertainment, fashion, and beauty news but is also obsessed with internet trends - you can find her reciting trending TikTok sounds out loud at any given time.
After winning multiple student journalism awards for her investigative work, she graduated from Hofstra University in 2021 with a B.A. in Journalism. After graduating, she worked at today.com, the digital site for the Today Show, where she wrote pop culture news and interviewed big-name personalities like Emily Ratajkowski, Haley Lu Richardson, Emma Corrin, and more.
Her personal interests, in no particular order, are: cheese, Joni Mitchell, reading, hot yoga, traveling, having multiple chapsticks in every handbag at all times, and dancing to ABBA songs as if she were in the Mamma Mia movies.