Nike just launched period-proof shorts and we're intrigued
The athletic brand just announced their new product - here's when they'll be available to purchase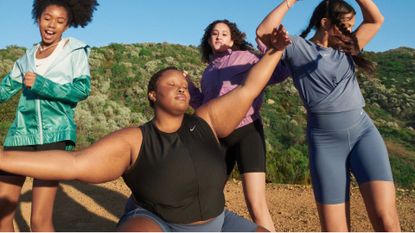 (Image credit: NIKE)
Nike recently launched a pair of leak-proof period shorts - and you'll be able to see them in action at the next World Cup.
Periods can seriously get in the way of day-to-day life, point blank. Between cramps, rogue tampon strings, different-sized menstrual cups, pads that never quite sit where we need them to, sore muscles, and so forth, periods can be a nuisance - especially when doing activities that involve a lot of movement. Nike knows this, and that's why they recently launched their first-ever, leak-proof shorts for those athletes who want double the protection while working out with their periods.
This menstrual innovation from the athletic brand promises to be helpful toward protecting against leaks, using an ultra-thin liner within the shorts that is sweat-wicking and leak-proof.
According to Nike's website, the shorts will include an "ultrathin liner that helps prevent leaks when worn as a backup to your usual protection" - so, while the shorts will certainly help prevent that dreaded leakage, it's important to note that you should have a primary method of period protection in addition to the shorts.
The shorts also use the ever-effective Nike Dri-FIT technology, which "moves sweat away from your skin for quicker evaporation, helping you stay dry and comfortable," according to Nike's website.
Although the shorts aren't available *yet* (right now only Nike members have access to them) - they're "coming soon," says the Nike site.
The new shorts come in a trendy bike shorts style, a la Princess Diana - perfect for enjoying the benefits of walking, cycling, pilates, or whatever other workouts you might be indulging in that day. They also will come in two colors, a dusty blue color, and black, which will both match perfectly with whatever workout gear you likely already own.
What's great about bike shorts is that you can wear them for a variety of needs - so whether you're at a workout, running errands, or even working from a coffee shop, these leak-proof shorts might be just what you need for those weeks when your period creeps back into your life.
Apparently, Nike's leak-proof material has been in the works since 2019, Lisa Gibson, senior apparel innovation project manager for the Nike Advanced Innovation Collective, told Popsugar. The idea that spiked this innovation came from the surprising findings about drop-out rates from women in sports - particularly young women.
"We learned that by age 14, girls are dropping out of sport at twice the rate of boys. And by age 17, an age at which most have gone through puberty, 51 percent will have quit," Lisa said. "We know periods aren't the only reason she drops out of sport, but it is a critical component . . . that fear of bleed-through is very real; it doesn't just last when you're a teenager, it really lasts your entire adventure with menstruation."
So, needless to say, if you're an athlete worried about working out with your period, Nike has you covered.
Madeline Merinuk is woman&home's US lifestyle news writer. She covers celebrity, entertainment, fashion, and beauty news but is also obsessed with internet trends - you can find her reciting trending TikTok sounds out loud at any given time.
After winning multiple student journalism awards for her investigative work, she graduated from Hofstra University in 2021 with a B.A. in Journalism. After graduating, she worked at today.com, the digital site for the Today Show, where she wrote pop culture news and interviewed big-name personalities like Emily Ratajkowski, Haley Lu Richardson, Emma Corrin, and more.
Her personal interests, in no particular order, are: cheese, Joni Mitchell, reading, hot yoga, traveling, having multiple chapsticks in every handbag at all times, and dancing to ABBA songs as if she were in the Mamma Mia movies.