Cycling for beginners—expert advice for kickstarting your cycling journey
Our expert guide to cycling for beginners will have you on the road in no time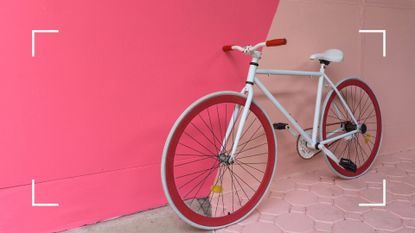 (Image credit: Future/Getty Images)
With cycling for beginners, there's a lot to consider before you even get on the bike—from road safety to investing in the right equipment. And, if you haven't been on a bicycle since you were a child, it's understandable if you're feeling a little apprehensive.
Yet, more women than ever are falling in love with cycling, e-bikes, and spin classes. "Being out on your bike is thrilling and exciting, and a great form of exercise," says Nicole Allan, professional duathlete and triathlete. "You might go [cycling] alone for a bit of mindfulness. Or use it as a good replacement for a long run or a contact sport." You'll stick rack up the numbers on your fitness tracker—despite being low impact compared to running, it's a challenging workout so don't be fooled!
Why is cycling a great workout for women?
Embarking on a journey into fitness for women over 50 can be daunting. But, cycling is a great alternative to running or other high-impact sports. It's easy on joints, while still serving up all the benefits of a great cardio workout, supporting a healthy heart, and aiding weight loss if that's your goal. As well as the physical benefits, there are also the social and wellbeing benefits of cycling for women. Joining a cycling club or getting to know the locals in your area who enjoy a bike ride can be a great way to meet new friends in adulthood.
That's not to mention the mental health benefits of getting outdoors and working up a sweat, boosting feel-good endorphins. "You're creating space for yourself, you're spending time outdoors, taking in some fresh air," says cycling instructor and Founder of Keep It simpElle, Elle Linton.
It's hard to deny the benefits of cycling for women, right? To help you get started, we spoke to the experts.
Cycling for beginners—how to get started
1. Pick the right bike
The first step on your cycling journey is one of the most important—choosing a bike. "Picking a bike is tough, I would recommend looking online and then going to a local shop to get fitted first [before purchasing]," says Allan.
Adult bikes can cost anything between $100-$2000 (£150-£1000), even a basic road bike can set you back $200 (£300). Be sure to check that the bike you've chosen is suited to the terrain you intend to explore, too. If you want to do off-road trails get a mountain bike, otherwise invest in a road bike, hybrid, or e-bike.
If you're not looking to invest too much into this new hobby yet, you could look for a second-hand bike. "Once you get confident and committed to cycling, you can look at the more aero (road) bikes online," Allan points out.
Common types of bikes include:
Road bike—best for everyday cycling, cycling workouts and commuting.
Touring bike—similar to road bikes they work well for everyday cycling and long-distance rides in particular.
Mountain bike—best for tackling off-road terrain, rocks and trails.
Hybrid bike—a hybrid of road, mountain and touring bicycles, best for those who want a bike that can do it all.
E-bike—best for those who want extra support as they ride or commuters going long distances. E-bikes often give newbies the confidence to ride and help them fall in love with cycling.
2. Invest in the right clothes
When you're on the bike you want to be two things—comfortable and safe. And, the right clothes can provide just that. "My first purchase of kit would always be a good pair of bib shorts. Padding is key and you'll wear them all the time," says Allan.
Bib shorts are cycling shorts without a waistband and with the addition of straps that are pulled up and over the shoulders. They stop clothing from bunching up during your rides and have padding for extra comfort and protection on the saddle.
"Dress as best as you can for the weather you're leaving in and the weather that can happen while you're out on the bike," says Linton. Look for lightweight and breathable clothing so you can add and remove layers as needed during your ride.
3. Consider your safety
Staying safe on your bike is so important, here's what you need to consider before every ride, according to the experts:
Always wear a helmet—get fitted for a helmet at a sports store or specialist cycling store to ensure it fits you correctly for protection. Make sure it fits your head shape and has a secure strap. Allan suggests adding safety lights to your helmet or bike to give you a better view of the road ahead and increase your visibility to oncoming cars.
Check your tires before every ride—you don't want to start your ride and suddenly realize you've got a flat or punctured tire. Check tire pressure before you ride and invest in an affordable bike pump from places like Amazon so you can manually pump air back into the tires if needed. Search for any visible signs of wear in the tread or any change in the wheel's shape as it might need replacing. If you're in any doubt about how safe your tires are, see a trained tire expert. You should also learn how to patch up a flat tire should you find yourself stuck and in need of a quick fix.
Plan your route in advance—know where you're going and tell family and friends your planned route so someone knows where you are. Aim for quieter routes over high-traffic areas and try to cycle on wide roads or those with dedicated cycling lanes. You can plan your route or track your workout on one of the best workout apps.
Get to know your road positioning—if you're planning to hit the open road, you need to be conscious of your positioning in relation to other road users. "Hold your space in the road by not cycling too close to the gutter or curb," advises Linton. This will protect you as you build up your confidence to ride on busier roads. If you're struggling with this, Linton suggests visiting your local authorities or cycling clubs to learn the ropes. "They will also offer skill sessions too, where you can learn everything you need to know and practice using the skills in a traffic-free environment."
Never rush your rides—never rush to get out the door and squeeze a ride into your day. Linton's number one tip for cycling safely is to never do it in a hurry. "Leave yourself plenty of time, and then some," she advises. It's also worth timing your workouts around rush hour, as the roads will be quieter and safer.
4. Ride with others
One of the simplest ways to build your confidence on the bike is to incorporate it into your social life. "Ride with friends. They won't just encourage you, but they can take the wind for you or drag you up the hills," says Allan. "Always take a quick coffee stop on longer rides and you'll be able to go for longer whilst enjoying it, too."
The key to sustaining any new fitness journey is to find a community. If your friends aren't interested in cycling, find a local group and ride with them. "The best way to build up confidence on the bike is to learn from others," Linton says. "Online communities like those found on Facebook can be a great place to ask questions, too." Find your local cycling group and get other there to ride with like-minded people.
5. Fuel your body
For short rides, Linton recommends you have an adequate meal beforehand (think overnight oats or protein sources like eggs, chicken or tofu) and snacks at the ready for when you get home. If you're planning on cycling for longer than 40 minutes, you'll need to refuel along the way.
"Keep eating every 40 mins, anything small will stop you from having lows of energy," Allan advises. "You can also buy carbohydrate drink sachets which are an easy way to re-fuel whilst cycling."
Snacks to take on long bike rides:
High-carb fruit like bananas, apples, and grapes
Protein balls
Cereal bars
Carbohydrate drink sachets
Trail mix of dried fruit and nuts
Gummy bears or jelly sweets
6. Pace yourself
If you're turning to cycling for fitness, don't expect to be riding 50 miles a week as soon as you hop on the bike. It takes time to build up your fitness and confidence on the bike. "Start off little and often, gradually increasing distance or time," advises Linton.
To build up endurance on the bike, you need to pace the number of workouts you're completing each week. The only way to keep improving is to consistently ride the bike and build up over time. You can even swap between stationary bike workouts and outdoor ones for variety too.
7. Explore new places
Looking back, Allan says her only regret as a new cyclist was not exploring new places sooner. "I only wish I had started exploring on my bike earlier. I've seen some incredible places and met some cool people," she says.
Taking a new route could also help boost your workout motivation—although it will be challenging, cycling should be an activity you enjoy, and discovering new places on every ride is a sure-fire way to keep things interesting.
---
w&h thanks Professional duathlete and triathlete, Nicole Allan and cycling instructor and Founder of Keep It simpElle, Elle Linton for their time and expertise.
Sign up to our free daily email for the latest royal and entertainment news, interesting opinion, expert advice on styling and beauty trends, and no-nonsense guides to the health and wellness questions you want answered.
Jess Bacon is a freelance journalist, blogger and former editor with over six years of writing experience. As a screenwriter and journalist, Jess is keen to tell her own and other people's stories through words, photos and film. She's passionate about discussing young people's mental health, grief and feminism in life and how it's portrayed in the media, film and literature. Alongside her by-lines at renowned publications, Jess regularly speaks at charity events and festival panels about loss, mental health and Marvel. Along with her love of writing, Jess is an avid reader, spin enthusiast and dog-lover.