How does an electric bike work and is it worth the investment?
A rise in the sales of e-bikes signals a new future for cycling – but how does an electric bike work?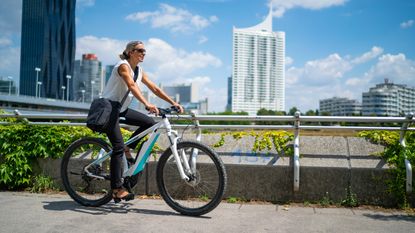 (Image credit: Getty amriphoto)
Electric bikes are set to change the way we cycle forever. In fact, in 2020, searches for e-bikes soared by 47%, and sales grew by 31%, according to Halfords. If you've found yourself wondering, "How does an electric bike work?" and are weighing up making the big investment, we've got everything you need to know about e-bikes.
If you're new to cycling, you might be a little apprehensive about getting out on the road with your bike. This is where e-bikes come in and could be the solution to your fears, helping you power up hills and gain confidence in your cycling abilities. But is riding an e-bike cheating? Will your trusty fitness tracker still give you as much credit as if you were riding a regular bike? And is it really worth the investment?
As we pedal our way into cycle season, here's everything you need to know about this revolution, including how to use e-bikes, how safe they are, and how you could be helping change the planet for the better, one cycle at a time...
How does an electric bike work?
E-bikes have opened up a whole new world for people who want to start cycling. They're tearing down physical barriers and getting more people in the saddle, but exactly how does an electric bike work?
There has been a little bit of confusion around e-bikes, explains Sam Jones from charity Cycling UK. "Some people think they're almost e-motorbikes, with a bit of pedaling, but that's pretty far from the truth." E-bikes are bicycles with a battery-powered "assist" that is activated when you pedal, or in some cases, use a throttle. When you push the pedals, a small motor engages, which gives you a little boost, so you can power up hills and travel long distances without running yourself ragged.
Are they cheating? "Definitely not," says Sam. "Yes they help you get up hills more easily and with less sweat than a conventional bike, but you still have to put the effort in." This is ideal if you have a recurrent injury or you're new to cycling and fitness. Essentially, it's made cycling much more accessible and is getting people out on a bike, who may normally be sedentary.
They may make cycling easier, but you still get a good workout. Researchers at the University of Colorado, Boulder found that when 20 non-exercising men and women cycled on an e-bike for 40 minutes a day three times a week, they improved their cardiovascular fitness and blood sugar levels in just one month. Like on a normal bike, you still engage your thigh and calf muscles, and the same skills still apply, including balancing and pedaling.
Experienced cyclists can challenge themselves, too, by reducing the power output of the motor, to make them work harder. "The majority of e-bikes have power level settings on the handlebar controls that let you dial down the power, or turn it up if you need more assistance," explains Sam.
Do electric bikes make cycling safer?
"If you've mastered the skills of riding a bike, you'll have no trouble with an e-bike," reassures Sam. You may just have to get used to the extra weight when stopping, starting, mounting and dismounting. They're safe too. Of course, the harder you pedal, the bigger the boost and the faster you ride. However, the motor cuts out at 15.5mph, so you won't break any speed limits while you're in the saddle.
Sam reveals riders often say they feel safer in traffic compared to riding a non-powered bike. "Having a bit of extra pace means there's less of a speed difference with passing vehicles. Plus, quick acceleration off the mark means you can clear stationary traffic more quickly."
While you don't need a special license to ride an e-bike, you could take a cycling safety course to boost your confidence and keep you safe on the road. Also, following these simple guidelines will make you safer on the road:
Be extra vigilant in traffic – drivers can underestimate how quickly cyclists move.
Ride defensively and stay visible using lights and high-vis clothing.
Apply brakes early, as the speed and weight of the bike may mean you take longer to slow down.
Are electric bikes eco-friendly?
E-bikes have made cycling achievable at any level, helping build confidence and fitness. While many people might not be conditioned to ride five to 10 miles at a time, most would now be able to cover that distance easily on an electric bike.
This means they're super eco-friendly. "They're worth considering if you're looking to cut your carbon footprint or make savings from not having a second car," says Sam. "With the right sort of e-bike you could easily do a weekly shop, drop off the kids at school or even do short commutes." And, thanks to the motor assist you don't have to worry about turning up to work with a raspberry coloured glow or sweat streaked hair.
Are electric bikes worth the investment?
The price of e-bikes can range from hundreds to thousands of dollars, but if you're using your e-bike instead of a car, it's great value for money. The cost of running an e-bike is significantly lower than the cost of running a car, and once charged your e-bike can run for less than a dollar per mile.
An e-bike can also give you the confidence to get cycling on the road that you might not feel on a standard bike, while an e-bike is much more eco-friendly than driving a car.
Overall, if you're planning on using your bike to get around instead of driving your own car or taking public transport, then a sturdy e-bike could be the right option for you.
Sign up to our free daily email for the latest royal and entertainment news, interesting opinion, expert advice on styling and beauty trends, and no-nonsense guides to the health and wellness questions you want answered.
Natalia Lubomirski is a health journalist with 14 years experience in the publishing industry. She has worked for a number of well-known magazines and websites including Marie Claire, marieclaire.co.uk, woman&home, Top Sante, Boots and The Telegraph.
She likes to think she practices what she preaches when it comes to health and fitness. She loves the great outdoors and you'll often find her up a mountain somewhere. She's climbed eight major mountain ranges across four continents and hit the summit of Half Dome (in Yosemite) during her honeymoon.