Could an e-bike help you fall in love with cycling?
We tried the Specialized Turbo Vado SL e-bike to find out…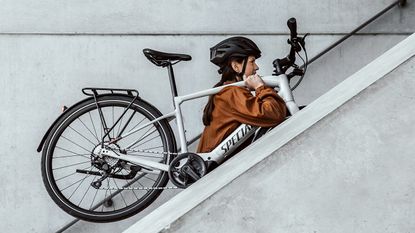 (Image credit: Specialized)
woman&home newsletter
Sign up to our free daily email for the latest royal and entertainment news, interesting opinion, expert advice on styling and beauty trends, and no-nonsense guides to the health and wellness questions you want answered.
Thank you for signing up to Woman & Home. You will receive a verification email shortly.
There was a problem. Please refresh the page and try again.
The new era of lightweight and sleek e-bikes makes cycling more accessible and will have you falling in love with this form of exercise.
E-bikes aren't a new invention, the first model can be traced back to the 1890s before the 1990s saw a resurgence of the e-bike. But, the new e-bike phenomenon features modernized, lighter and sleeker models that promise to make cycling accessible to many, with the bonus of getting around car-free easier than before.
On a mission to discover if e-bikes are worth the investment and the hype, I tested the Specialized Turbo Vado SL. A stylish model that's 40% lighter than the average e-bike but with the same slim look and feel as a traditional bike. It also comes with a handy Mission Control App that helps keep track of battery levels and journeys so you'll never be caught short without any assistance mid-ride.
While I enjoy a bike ride in the park, I would by no means call myself a cyclist. After a year of at-home workouts, however, I was ready to mix up my exercise routine and try something new. The nerves quickly kicked in as I stepped on the bike, my confidence in my cycling abilities lacking. But, I need not worry as this is where the e-bike really came into its own. After just a few spins in my local area, it made me fall in love with cycling all over again and gave me the confidence to get out on the road—here's why...
There is a common misconception that e-bikes will do all the work for you and set you speeding off into the distance. This can be an unnerving image for some, and for those turning to e-bikes for fitness, it can seem like an easy way out. This, however, is certainly not the case, so don't be fooled—you have to put in the effort with an e-bike.
In reality, e-bikes are standard bicycles with a battery-powered assist. To kickstart this assistance, you have to pedal and so you still have control over your ride and your workout. The Specialized Turbo Vado SL can assist up to 15.5mph and doubles your cycling effort, which gave me plenty of confidence to tackle tricky hills and set off at traffic lights beside other vehicles. But, because of the assist set-up, I still felt in control and could challenge myself to work up a sweat on my own terms.
Cycling is a great cardio workout that will help you build and strengthen your muscles. But there's more to it than just the physical benefits. The great outdoors and fresh air can do wonders for your mental well-being, especially after long working days sitting at a desk. The rush of feel-good endorphins from my ride combined with a breeze and beautiful scenery was utter bliss. I felt revitalized. And, it was fun too. E-bikes open up opportunities to explore nearby neighborhoods you might never venture to by car or on foot, and I discovered new local spots that were right on my doorstep.
After a few rides, I was fully converted to the cycling way of life before the realization of the e-bike price tag hit. There's no doubt that in comparison to a standard bicycle, e-bikes are expensive, but they're a versatile piece of kit making them worthy of the investment. As well as improving your fitness and mental wellbeing, there are even more benefits to owning an e-bike.
---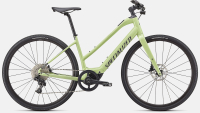 Specialized Turbo Vado SL 4.0 Step-Through | £3,000
The lightweight e-bike is available in two colours, both featuring reflective detailing. It comes with a charging cable compatible with household plugs and charges up in just over two hours—ideal for last-minute rides.
---
The convenience factor is a huge draw for many e-bike devotees and a key consideration for Specialized. The brand creates bikes that will not only change how you view cycling for fitness but how you view using e-bikes as a mode of transport. You can ditch the car, avoid public transport, and whizz about on your bike wherever you're headed.
The lightweight frame of the Turbo Vado SL makes it super easy to move around with, plus the step through feature allows you to hop on and off easily when encountering traffic. Once you have the confidence to get out on the open road, it's a hassle-free mode of transport. No parking tickets or bus timetables to contend with. All you've got to do is charge the Turbo Vado SL up, which takes just over two hours and is done via a charging cable compatible with household plugs. Plus, because you can do most of your day-to-day activities on an e-bike, whether that's your grocery shop, commute, or coffee run, it's an environmentally friendly alternative to other forms of transport. With bright built-in lights on the front and back of the Turbo Vado SL and the brand's wide and durable Pathfinder 38c tires, you're sure to feel safe and ready to take on any terrain on this e-bike.
All in all, an e-bike like the Specialized Turbo Vado SL is a worthy investment for its versatility. It makes cycling accessible to many, whether you're feeling a little rusty on the bike or are a total fitness newbie. You can use it for leisurely rides or work up a sweat, albeit with a little helping hand to boost your confidence to get out and get moving. Armed with this high-tech e-bike, there's no stopping you on your journey to leading a healthier lifestyle.
Sign up to our free daily email for the latest royal and entertainment news, interesting opinion, expert advice on styling and beauty trends, and no-nonsense guides to the health and wellness questions you want answered.
Ciara is the former digital health editor at womanandhome.com and has covered all things health and wellbeing from fitness to sleep to relationships. She's always on the lookout for new health trends, innovative fitness gadgets and must-read wellness books.
Originally from Ireland, Ciara moved to London to study journalism. After graduation, Ciara started her career at Goodhousekeeping.com. Ciara qualified as a meditation teacher with the British School of Meditation in 2020, and outside of her day-to-day now runs her own meditation school called Finding Quiet. She is all about bettering that mind-body connection but believes wellness looks different to everyone.