Mulberry launches a 100% sustainable, ethical leather bag (and it's more affordable than the Bayswater)
We. Are. Obsessed.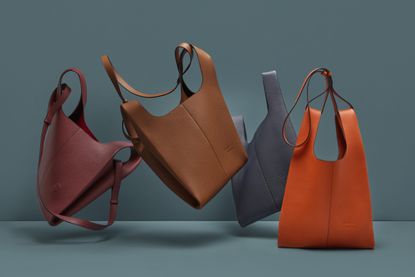 Quintessential British brand, Mulberry is renowned for its timeless designs and traditional quality. For more than forty years they have been designing and manufacturing contemporary and iconic accessories, and now they have launched their first ever fully sustainable leather bag.
New this December is the Portobello Tote, Mulberry's first 100% sustainable leather bag. The bag's design is inspired by the company's commitment to creating positive change and a sustainable legacy. It is priced at £795.
Made entirely in the UK, at Mulberry's carbon-neutral Somerset factories, the Portobello tote uses by-products of food production and leather from a gold-rated tannery. The unlined bag is even stitched with Epic EcoVerde thread, a recycled polyester fibre.
Mulberry's Creative director, Johnny Coca explains the etymology of their new sustainable design.
"Our starting point for this family was the ultimate everyday item, the plastic bag – functional, but throwaway. The Portobello keeps the beautiful utility of this silhouette and elevates it into an elegant tote that is practical and, more importantly, made to last."
We think this contemporary and classic streamlined tote is super versatile. The keep-me-forever bag features double loop handles and a shoulder strap, giving you the choice to carry it or wear it across the body.
The Portobello Tote is available in store and online at Mulberry in a range of signature and seasonal shades.
Shop the collection:
Black
SHOP NOW:Portobello Tote in Black Heavy Grain, £795 (opens in new tab)
Midnight
SHOP NOW:Portobello Tote in Midnight Heavy Grain, £795 (opens in new tab)
Chestnut
SHOP NOW:Portobello Tote in Chesnut Heavy Grain, £795 (opens in new tab)
Nordic Blue
SHOP NOW:Portobello Tote in Nordic Blue Heavy Grain, £795 (opens in new tab)
Crimson
SHOP NOW:Portobello Tote in Crimson Heavy Grain, £795 (opens in new tab)
Tangerine Orange
SHOP NOW: Portobello Tote in Tangerine Orange Heavy Grain, £795 (opens in new tab)
Mulberry Green
SHOP NOW:Portobello Tote in Midnight Green Heavy Grain, £795 (opens in new tab)
To further their sustainable legacy, 100% of net proceeds from the sale of the Portobello will go to the World Land Trust. The conservation charity funds the creation of reserves and provides permanent protection for habitats and wildlife. And, as always, Mulberry offer their globally renowned lifetime restoration service. Customers are encouraged to bring their much-loved accessories into store to be revived, rather than replaced.
Emma White is a freelance fashion and lifestyle writer. She has worked in the publishing industry since she graduated with an English Literature degree from the University of Southampton in 2018. Combining her love of writing and fashion, she started working as part of the fashion team at woman&home in early 2019.
Emma writes about a broad range of fashion topics, from trending seasonal styles, to sustainable fashion, how to get designer looks for less on the high street and timeless wardrobe classics. When she isn't writing she is probably shopping, looking for the latest piece to update her wardrobe.