The new La Redoute x Vanessa Seward collection is French fashion at its best, with prices from £40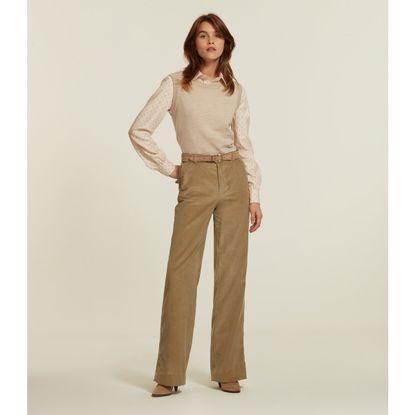 After a successful winter collaboration, La Redoute and Vanessa Seward come together again for SS20 with a cool and limited collection, and the best news: prices start at just £40!
The first drop of the collection launched on 28th January and we can't wait for the following ones, which will be available from 3rd and then 31st March.
If you're not familar with Vanessa Seward, she's a French fashion designer who has worked for Chanel, Tom Ford and Yves Saint Laurent, to name just a few notable highlights from her CV. Safe to say, the woman knows good fashion.
Her collection is inspired by iconic women from the past, such as Princess Caroline of Monaco, and by the summery vibes of La Riviera. Vanessa Seward brings these things together and creates clothes that show us effortlessly chic French style at its best. Think versatile pieces that will become wardrobe staples and will see you through all seasons with a few accessory and layer changes.
Expect elegant and minimalist lines in modern cuts and neutral colours. Every piece should pair perfectly with pretty much everything you already have in your wardrobe. They are super easy to dress up or down accordingly to your needs.
Our top picks from La Redoute x Vanessa Seward SS20 first drop
The beige merino tank top is a classic piece. Wear it over a white shirt or a black roll neck to keep warm on chilly days or by itself when it warms up a little. Looks good with both white or dark denim jeans or trousers.
SHOP NOW: Top, £40, La Redoute (opens in new tab)
Get in the 70's mood with these boot cut cord trousers that are so elegant you'll want to wear them all the time. Pair with trainers, or flats, and a t-shirt for a cool and relaxed weekend look, or with heels and a classic blouse for a chic smart outfit.
SHOP NOW: Trousers, £60, La Redoute (opens in new tab)
Few pieces are as versatile and timeless as a denim shirt. The dark colour and sharp cut give it a sophisticated look. Throw it over a dress on spring nights when it's not-so-cold-but-still-not-so-hot outside or layer up with a wool top and a scarf while you're still waiting for nicer temperatures to hurry up and arrive.
SHOP NOW: Shirt, £60, La Redoute (opens in new tab)
We love jumpsuits and it couldn't be any different with this one. The light blue colour reminds us of denim but it's surprisingly made of soft cotton. It goes with pretty much everything regardless of your style: trainers, flats, boots, heels… and transfers perfectly from day-to-night to. Just add a razzy accessory for an evening out.
SHOP NOW: Jumpsuit, £90, La Redoute (opens in new tab)
If you hadn't guessed, we're just crazy about this collection. The pieces are very wearable and versatile, you can wear them all year long. We just can't wait for the next drops to come. Mark the 3rd of March in your diaries. See you at the checkout.
Manuela Rio Tinto is a freelance fashion and lifestyle writer with experience in both short and long-form articles, as well as copywriting. Brazilian, she moved to London six years ago and since then has worked for brands like Woman & Home, Woman's Own, Chat, Selfridges and Karen Millen, to name a few. Passionate about all things culture, travel and scuba diving-related, you'll find her either reading, travelling or diving in her spare time.