Kate Middleton just stepped out in her favorite Berghaus boots while rock climbing and they're on sale *today*
The outdoorsy boots are perfect for a day spent in nature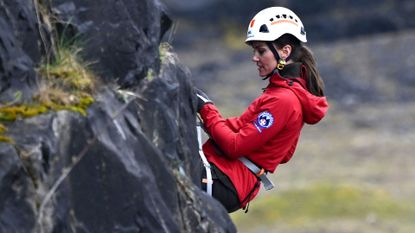 (Image credit: Getty Images)
Kate Middleton wore her favorite walking boots again today - here's where you can buy them...
It's no secret that Kate always looks classy - but sometimes, she has to take a break from her classic pump heels and wear something a bit more suitable for everyday life, like her Superga sneakers.
The Princess appeared today with other members of the Royal Family, including Prince William, to take part in some abseiling (aka, essentially a safer version of rock climbing) while visiting Merthyr Tydfil, Wales.
Of course, Kate had to dress the part - it'd be pretty hard to practice this outdoor sport in pumps. Even so, she still looked chic while she took part in the outdoorsy activity, thanks in part to her favorite Berghaus walking boots.
This isn't the first time Kate has worn these walking boots, though. In fact, the boots are a staple in the Princess' wardrobe, and she actually wears them quite frequently.
She also wore a sturdy red and black puffer jacket, along with a pair of skinny grey jeans and a camouflage cap - which is obviously quite the departure from her usual royal attire.
For those in the UK, you can buy Kate's Berghaus mud stompers for £122.50 directly on the Berghaus site and they're on sale! For those in the US who want to purchase the boots, you can either buy them directly from Berghaus for $152 (they ship directly to the US!), or, for faster shipping, you can find them at an outside retailer like Amazon.
---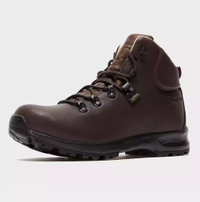 Women's Supalite II GORE-TEX® Walking Boots: (£122.50) $152 | Berghaus
With a waterproof and breathable GORE-TEX® lining, these Berghaus boots will keep your feet cool and dry while the durable full-grain leather upper offers maximum comfort.
Not only are these boots practical for rocky and muddy terrain, but they're also great for all weather conditions. Although summer is upon us, it's still quite chilly in Wales - and these are the perfect option to provide a warm layer as Kate and William take part in touring the Central Beacons Mountains.
Although walking boots are great for colder climates, the Princess has also shown that these Berghaus walking boots work for a range of different weather conditions.
In June 2019, the Princess was seen in these exact same boots as she visited a sheep farm in Patterdale, north-west England - and although the climate was much warmer, the boots still withstood the mud and dirt, and held up for Kate. She's also braved harsh winter conditions, like heavy snow, in these same boots.
Madeline Merinuk is woman&home's US lifestyle news writer. She covers celebrity, entertainment, fashion, and beauty news but is also obsessed with internet trends - you can find her reciting trending TikTok sounds out loud at any given time.
After winning multiple student journalism awards for her investigative work, she graduated from Hofstra University in 2021 with a B.A. in Journalism. After graduating, she worked at today.com, the digital site for the Today Show, where she wrote pop culture news and interviewed big-name personalities like Emily Ratajkowski, Haley Lu Richardson, Emma Corrin, and more.
Her personal interests, in no particular order, are: cheese, Joni Mitchell, reading, hot yoga, traveling, having multiple chapsticks in every handbag at all times, and dancing to ABBA songs as if she were in the Mamma Mia movies.