Gwyneth Paltrow wraps up in forest green coat and chunky rollneck after skiing accident court showdown
The Goop founder and actress has been making some recent appearances in court...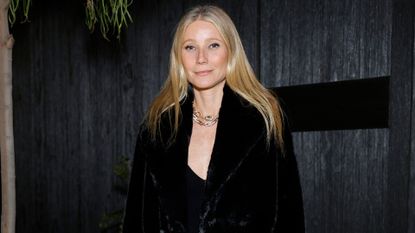 (Image credit: Getty Images)
Gwyneth Paltrow has been under a hot light recently.
In case you missed it, folks have been keeping a keen eye on Ms. Goop recently. Between her rectal ozone therapy, her pantsless posing, and defending her diet that mainly consists of bone broth and other protein-less foods, Gwyneth has been quite the topic of conversation.
On top of all that, she recently had to appear in court on March 21 in Utah for an alleged skiing accident.
In 2019, retired optometrist Terry Sanderson, 76, sued Gwyneth - alleging she crashed into him while they were skiing at Utah's Deer Valley Resort back in 2016. Court documents obtained by CNN state that he alleges she knocked into him, and quickly skied away with her group without offering to call medical assistance. Gwyneth then countersued the man, saying that he skied into her.
Regardless of court details, Gwyneth brought her style game to the courthouse as all eyes were on her lush coat and chunky roll neck.
Let's forget, for a moment, that the Goop founder is walking out of a courthouse in Utah and just focus on the sartorial details of the above image.
On top, Gwyneth debuts a beautiful, floor-length, army green peacoat - a perfect transitional piece that works for that tricky winter-to-spring season we all are in right now. She styles it with a heavy knit cream-colored turtleneck, keeping in line with the theme of chic neutrals she was clearly going for here.
For bottoms, she opts for a pair of baggy (dare we say, flowy) brown trousers, giving a nod to the baggy jeans trend of 2023 - a pair of pants we never knew we needed, but are immediately in the market to buy. Lastly, she pairs the look with a pair of chunky, chestnut brown boots with a platform heels, which appear to resemble DM boots. And she tops everything off with a classic pair of aviators, totally channeling her inner Meghan Markle (who also loves this classic frame).
---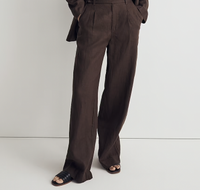 The Harlow Wide-Leg Pant in 100% Linen, $88 | Madewell
Coming in breezy 100 percent linen, these best-selling pants have wide legs and an extended sailor-inspired button tab at the waist.
Over the next few days, jurors on the case are set to hear from witnesses, doctors, Gwyneth's children, Terry, and possibly even Gwyneth herself. While Terry initially sued Gwyneth at $3.1 million for "negligence and emotional distress," he reduced his amount and is now seeking $300,000 in damages. Gwyneth is seeking $1 in damages plus attorney fees.
Madeline Merinuk is woman&home's US lifestyle news writer. She covers celebrity, entertainment, fashion, and beauty news but is also obsessed with internet trends - you can find her reciting trending TikTok sounds out loud at any given time.
After winning multiple student journalism awards for her investigative work, she graduated from Hofstra University in 2021 with a B.A. in Journalism. After graduating, she worked at today.com, the digital site for the Today Show, where she wrote pop culture news and interviewed big-name personalities like Emily Ratajkowski, Haley Lu Richardson, Emma Corrin, and more.
Her personal interests, in no particular order, are: cheese, Joni Mitchell, reading, hot yoga, traveling, having multiple chapsticks in every handbag at all times, and dancing to ABBA songs as if she were in the Mamma Mia movies.