4 wearable fashion trends fresh from the catwalks (and you probably own one of them already!)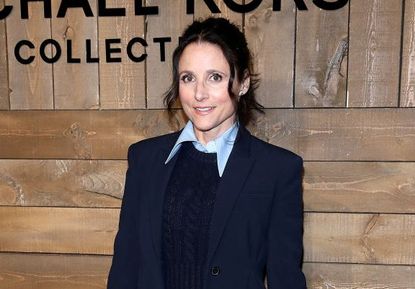 New York and London fashion weeks finished in February 2020, and while it's great fun to look at the whimsical runway designs, what can we actually take from them? Well quite a lot actually. Perhaps not the Marie Antoinette style frocks seen at Gucci and Moschino, but there was plenty that we do want to wear. We've cherrypicked the best trends for quick, easy wardrobe updates...
As we get older most of us find that trends become less relevant. The idea of fashion v style really starts to take play. Fashion is made up of trends, while style is something that comes from your creative personality and experience – and that, as we know is what really matters.
You learn what suits your shape and what colours give you a glow. And yes, we want to look stylish and polished, but comfort and practicality play a big role in our choices more too.
However we do still like to be on the pulse, so here are 4 stylish ideas from the recent catwalk shows that you can work into your wardrobe right now- without looking silly or like a fashionista. You may even already have these items stashed in your wardrobe...
4 wearable fashion trends from the catwalks
Trend 1: Vintage-look jumpers
Knitted applique, lacework and intarsia can make a sweater a piece of art. We adored the Shrimps catwalk show where they styled vintage look knits with checked skirts and beaded bags.
What we love about this trend is that you are likely to have something similar already.
If you don't have any vintage inspired knits lurking in your wardrobe already, here's a few you can buy now. (Though for anyone who loves an excuse to trawl through Etsy, Ebay or flea markets, then this is your moment!)
Shop the trend
BUY IT NOW: Top £44 Banana Republic
BUY IT NOW: Jumper £40 Long Tall Sally (availabale in 3 colours) (opens in new tab)
BUY IY NOW: Lilac jumper £347 (was £496) Temperley London at Farfetch (opens in new tab)
BUY IY NOW: Pink jumper £45 French Connection (opens in new tab)
Trendtip!
Look after your knits and they'll last a lifetime. Invest in high quality moth sachets for all wardrobes and drawers. Acana, Colibri and Modelli are all good brands.
Trend 2: Balloon sleeves
We'll always love the cover up aspect of a sleeve, and we've written about the fabulous puff sleeve trend recently. So the balloon sleeve trend is right up there on our hit list. Add more drama by choosing a stiffer fabric like cotton or leather, or a fluid silker fabric will give a more subtle effect.
Of course we're not going to be dipping £1000s worth of Carolina Herrera sleeve into our dinner, so we've found these affordable high styles that will suit every day life.
Shop the trend
BUY IT NOW: Shirt £39 Topshop (opens in new tab)
BUY IT NOW: Jumper £29.99 Zara (opens in new tab)
BUY IT NOW: Top £44 Banana Republic
BUY IT NOW: Leather dress £229.99 H&M (opens in new tab)
Trendtip!
Balloon sleeves can really widen your body so be sure to highlight other slimmer parts of your body by tucking in, belting or choosing clever styles such as the Topshop and Zara tops above, which show off slimmer parts of the arm.
Trend 3: 70s collars
Victoria Beckham show London Fashion Week (Photo by Estrop/Getty Images)
Victoria Beckham, Coach and Michael Kors all championed the seventies pointed collar in their autumn 2020 collections. Comedy actress Julia Louis-Dreyfus wore Michael Kors to the catwalk show, illustrating just how chic these collars can look when mixed with classic tailoring.
Worn in the right way these exaggerated collars will not make you look like an Austin Powers extra, trust us! Cos and Hobbs have both done high street versions, with Hobbs' 100% silk beauties coming into stores in April.
Shop the trend
BUY IY NOW: Shirt £59 Cos (opens in new tab)
Pastel blue & yellow 100% silk shirts, £110 Hobbs available instore from April
Trendtip!
Pair your shirt with clean unfussy seperates. Avoid anything too retro- no bootcut jeans, platforms, or patterned knits please.
Trend 4: Woven bags
Thanks to Bottega Veneta the leather weave bag is having huge moment, and its just been seen on the Burberry runway too. If you can't fathom spending thousands on leather arm candy then there's some beautiful styles on the high street.
Shop the trend
BUY IY NOW: Weave grab bag £285 Russell & Bromley (opens in new tab)
BUY IY NOW: Bag £25 Topshop (available in 3 colours) (opens in new tab)
Trendtip!
For quality second hand designer bags (including Bottega Veneta) head to Vestiaire collective (opens in new tab) and Cudoni both sites check the stock before its sold to make sure its authentic and in mint condition.
So now you're armed and ready with Autumn 2020 fashion knowledge, you can keep you eyes peeled for items you know will work for you and your wardrobe.
Hannah Hughes is Group Fashion Editor at Future Publishing. Her work appears in woman&home, Woman, Woman's Own, and Woman's Weekly magazines.

She is a fashion creative with over fifteen years of solid experience in editorial, commercial, and celebrity styling. She has an in-depth knowledge of the luxury, mid and high-street fashion sectors, which she developed over a decade spent as Fashion Director at some of the UK's most widely read women's magazines, including You Magazine and Look Magazine.