F&F's new sportswear range starts at £5 and the leggings are not see through!
Look and feel good on a small budget!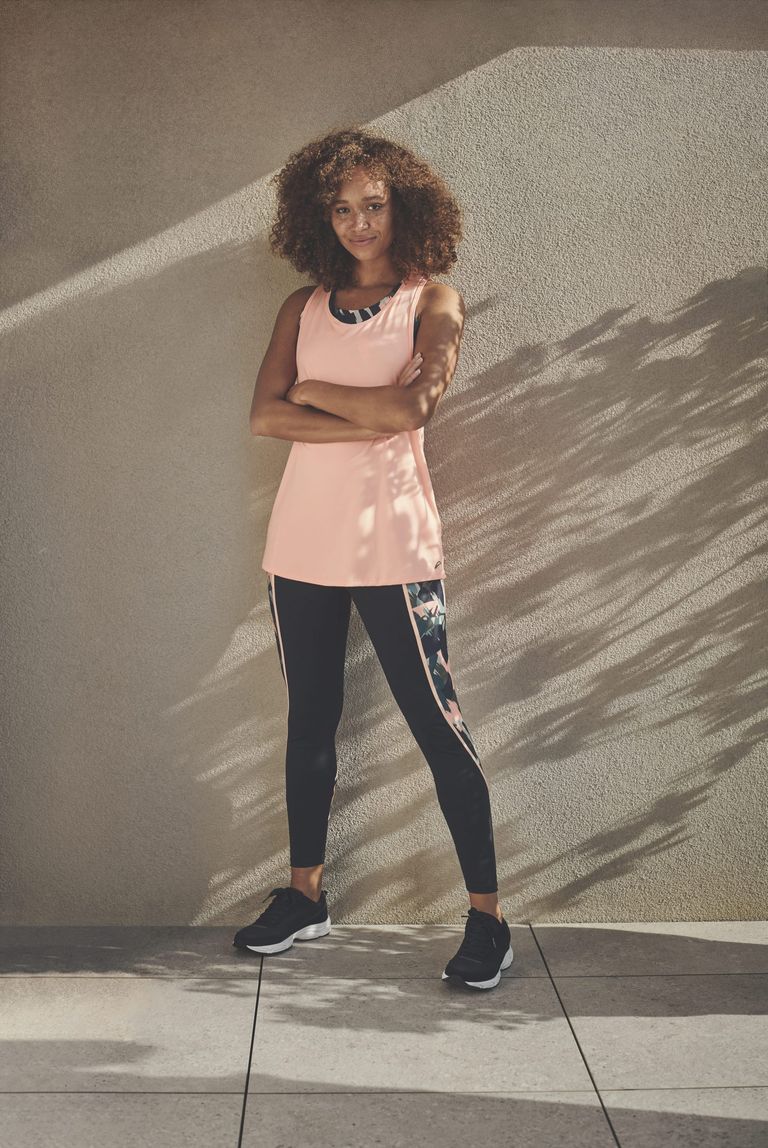 January is the month when everyone's trying to be good. Gyms are packed with people trying to be healthier. And while it's really about actions and not aesthetic, we'd be lying if we didn't admit that wearing something nice makes us feel better and motivated. Which is why we are interested to hear that F&F has launched a new sportswear range.
Ranging from £5 to £18, F&F active wear is functional, feminine and modern, and comprises of t-shirts, supportive brad and sculpting leggings. And trust us when we say that they're some of the best leggings (opens in new tab) we've tried.
Its key features are the fabrics: they've developed a compression fabric that slims the silhouette and apparently helps muscle soreness and fatigue.
In addition, the fabrics are also quick dry and 4 way stretch, useful characteristics when it comes to gym clothing!
The range comes in plain and neutral colours, with contrasting bright prints and details, making the pieces quite easy to mix and match with the ones you already own.
Besides their main active wear range, they're also partnering up with Wicked Workout, on an 8-piece sustainable collection of organic tees and sweats paired with recycled polyester leggings.
The colour palette is monochrome with pops of bright colours such as violet and pink, featuring reflective fun slogans in high gloss and puff prints.The bras are made from a breathable mesh fabric and are designed to give a better support and make you feel secure when doing high impact activities such as running.
The woman&home fashion team has tried some of the pieces and absolutely loved them. The recycled polyester tops are lightweight and super comfortable, just what you need when you're at the gym burning all those Christmas calories. Some of the tops and leggings have ruched details so you can wear them however you want: shorter or longer, loose or tighter.
Last but not least, we've tried on the recycled leggings to make sure they didn't go transparent and… they didn't, which was such a surprise for the price point (£14)!
It's a good feeling when you find cheap but good quality clothes - just what we need to stick to our New Year fitness goals. Now please excuse us, we're off to the gym...
The collection is available in all F&F stores now.
Manuela has worked for Woman & Home since June 2019, when she joined as a Freelance Fashion Assistant to help compile the magazine's shopping pages and to write on-trend, fashion-focussed features for the web. She has worked in the high street and luxury markets for brands including Woman, Woman's Own, Woman's Weekly, Chat and MailOnline as well as Woman & Home.
Manuela is fluent in two languages and describes herself as a 'Brazilian in London'. She currently writes celebrity-driven fashion content for the Fashion Finder section at MailOnline.