These wardrobe organisers and storage solutions will make choosing an outfit a breeze
There has never been a better time for a spring clean!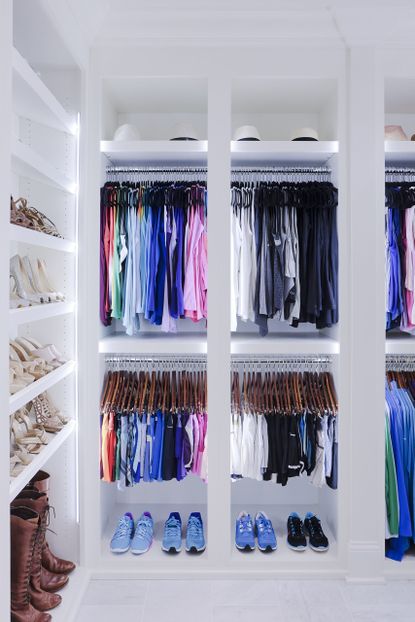 Do you often find yourself staring into a crammed wardrobe struggling to find something to wear?
You're not alone. It's estimated that, on average, we only wear a small percentage of what we actually own (opens in new tab) and for some it doesn't seem to matter how much space you have, there never seems to be enough for your growing collection of clothes. But this could all change with some simple reorganisation and clever storage solutions, helping to make those nothing-to-wear days a thing of the past.
Wardrobe reorganisation is one of those tasks that is all to easy to put off, but there has never been a better time to tackle it head on than during a nationwide lockdown.
First up, it's important to edit what you have. Work out exactly what you wear and what you'd like to keep. Once this is done you might find it's worth investing in some of these clever storage solutions to help you stay organised and make the most of the space you have.
Storing bags, shoes and accessories
Smaller modular storage is ideal for accessories, from shoes and bags, to jewellery and scarves. John Lewis & Partners have seen a significant increase in sales of this type of storage since lockdown began as customers are starting to reorganise their wardrobes as a result of spending more time at home. We love their exclusive collection from The Home Edit – a selection of functional and stylish storage solutions bought to you by the home organisers to the stars. Well if they're good enough for Gwyneth Paltrow…
The Home Edit & iDesign Divided Turntable Storage Container
Operating like a Lazy Susan, this turntable container is the key to effortless organisation and is ideal for storing smaller accessories and jewellery.
SHOP NOW:£22, The Home Edit at John Lewis & Partners (opens in new tab)
The Home Edit & iDesign All Purpose Storage Basket
Keep clutches and evening bags stored away safely. The clear design ensures the contents are always visible.
SHOP NOW:£16, The Home Edit at John Lewis & Partners (opens in new tab)
Solutions for hanging clothes
There are plenty of innovative solutions out there that will help you maximise your closet space. From expandable rails to hanging shelves, a bigger wardrobe is only moments away and more affordable than you might think!
Neatfreak! Expandable Closet Bar and Rail
Simply hang over your existing wardrobe rail to give you two levels of storage and double the amount of hanging space in an instant. It extends from 60-106cm.
SHOP NOW:£15.99, neatfreak! At John Lewis & Partners (opens in new tab)
Ikea SKUBB Storage with 9 Compartments
Increase your shelf space with this organiser that hangs from the rail. Great for jeans, jumpers and t-shirts, the SKUBB storage system from Ikea comes with either 6 or 9 compartments and is also available in white.
SHOP NOW: £4, Ikea (opens in new tab)
The Holding Company Swing Arm Multi Hanger
Hang up to eight lightweight skirts and save up to 10cm of hanging space with this clever multi-hanger. You can also slide the clips off and use it as a trouser hanger too.
SHOP NOW: £15.95, The Holding Company (opens in new tab)
The Holding Company Multi Shirt Hanger
Reduce the bulk without having to throw anything away with this 6-shirt hanger. Think how much space you could save by hanging all of your tops with these!
SHOP NOW: £10.95, The Holding Company (opens in new tab)
How to tackle drawers
Drawers can quickly get out of control, especially after a moment of rummaging to find a specific top or your favourite jeans. Help keep them neat and tidy with dividers and compartmentalised organisers. Combine these with the infamous KonMari folding method and you'll never spend a morning trying to find matching socks again!
Amazon Large Drawer Organisers, set of 12
You'll have endless organisational opportunities with this set of 12 dividers. Mix and match to find the best solution for you. The larger sizes mean you'll have plenty of room to store bulkier items of clothing, not just underwear.
SHOP NOW:£23.99, Amazon (opens in new tab)
Amazon Plastic Drawer Organisers
They might not be the prettiest, but these are an easy and cost effective way to tidy drawers of all sizes. Simply cut the dividers to size and arrange in whichever way you wish.
SHOP NOW:£11.77, Amazon (opens in new tab)
Eloisa is a fashion stylist and deputy fashion editor working across eight Women's Lifestyle publications at Future, including womanandhome.com. Her previous styling projects include contributions to Condé Nast Brides, Now, Essentials, and online commercials for brands, including Strongbow and Nivea, organizing the logistics of both UK and international shoots.
While building up experience in the fashion industry, Eloisa assisted stylists and art directors on shoots for brands including Elle US, Harpers Bazaar, M&S, Miss Vogue Australia, Next, Samsung, and Vogue Australia, to name just a few.