This organic sweatshirt is launched in partnership with Great Ormond Street Hospital Children's Charity
Here's where you can get your hands on it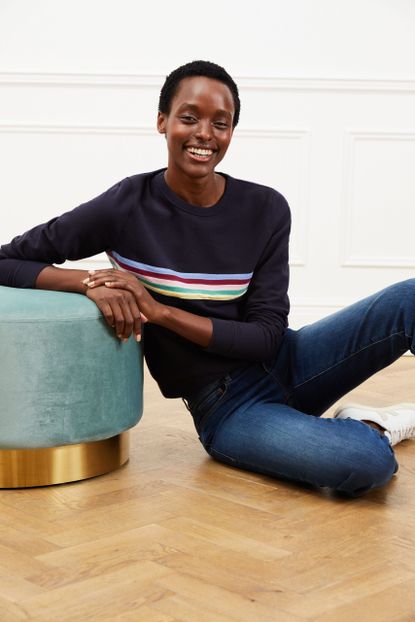 Fashion favourites, Baukjen and Isabella Oliver have partnered with Great Ormond Street Children's Charity to launch a beautiful organic sweatshirt, honouring their commitment to giving back.
Collectively known as the House of Baukjen, the two UK-based premium fashion brands offer sustainably conscious womenswear and maternity clothing. A firm favourite here at woman&home, their stylish pieces also boast versatility and longevity. Helping us to move away from fast fashion and curate wardrobes with pieces we will wear time and time again. If you're wondering where to find the most lust-worthy sustainable fashion, we have rounded up all the best sustainable fashion brands (opens in new tab) you need to know about.
Baukjen x GOSH Charity 'Hope Organic Sweatshirt'
SHOP NOW: Hope Organic Sweatshirt, £79, sizes 6-18, Baukjen (opens in new tab)
For their latest partnership with GOSH Charity, Baukjen & Isabella Oliver have produced an organic sweatshirt in a knitted rainbow design, aptly named 'Hope'. The colourful knit is available in both non-maternity and bump friendly versions. 50% of net proceeds from the sales will be donated to GOSH Charity, supporting seriously ill children across the UK.
'At House of Baukjen we are always looking for ways to do our bit and give back to the community, from donating 10% of our profits each year to charities, to our enduring commitment to sustainability. So, it's fantastic to support such an iconic charity like GOSH Charity, honouring the fantastic work the staff at the hospital do in treating seriously ill children' House of Baukjen Creative Director & Founder Baukjen de Swaan Arons.
Great Ormond Street Hospital is one of the world's leading children's hospitals. Their pioneering research and treatment gives hope to children from across the UK with the rarest, most complex and often life-threatening conditions.
Support the amazing work of GOSH with Baukjen's charity sweatshirt. The cosy rainbow knit is a great way of adding some sparkle to your wardrobe, perfect for the upcoming festive season!
Emma White is a freelance fashion and lifestyle writer. She has worked in the publishing industry since she graduated with an English Literature degree from the University of Southampton in 2018. Combining her love of writing and fashion, she started working as part of the fashion team at woman&home in early 2019.
Emma writes about a broad range of fashion topics, from trending seasonal styles, to sustainable fashion, how to get designer looks for less on the high street and timeless wardrobe classics. When she isn't writing she is probably shopping, looking for the latest piece to update her wardrobe.