According to Americans, Kate Middleton isn't the most stylish royal - but who is?
The results are in...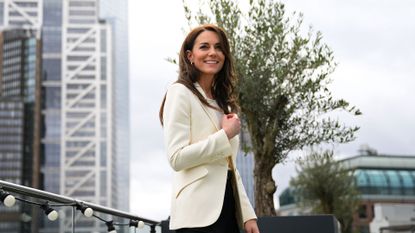 (Image credit: Getty Images)
Kate Middleton has long been regarded as one of the most stylish royals, but the results are in from the American population - and they have a different opinion about which royal takes the top spot for most stylish in the family.
According to a recent study, there are quite a few celebrities who have a style that remains influential in the American eye - and we were quite surprised to see which royal took the cake.
Although, undoubtedly, every royal is stylish in their own way, we were interested to see which royal was deemed "most stylish" by Americans - and it's none other than Meghan Markle.
Meghan Markle is already one of the world's most famous faces. Although we're constantly praising Kate for her exquisite wardrobe (see: timeless cigarette pants and blazer, Kate's jeans, and her pearl earrings), we would be remiss if we didn't also agree that Meghan has equally impeccable style.
According to a study by Boohoo, though, Americans agree that Meghan just might be the one to look out for at the next royal public appearance.
After analyzing Meghan's public fashion moments (ahem, her amazing wedding dress), we really can't argue! The study reads that Meghan's fashion is the most googled in seven states, including Colorado, Indiana, Wisconsin, and Massachusetts. Across the US as a whole, she gets around 49,700 searches every month based on her style alone.
Kate, though, comes in just shy of Meghan with almost 45,000 searches happening per month across the US in regard to the Princess's style. She also receives searches about her style in six states, just one less than Meghan's seven.
A spokesperson from Boohoo discussed why they think some women rank higher in regards to who's "most fashionable," and it likely is due to one major component - social media.
"Social media has revolutionized fashion, making it instantly more accessible to find out what your favorite celebrity has been spotted wearing. Therefore, this study offers a fascinating insight into which celebrities cause the most interest in fashion as a result of their style," the spokesperson said.
While Meghan Markle doesn't have an open Instagram account she used to post regularly to her old blog The Tig with fashion featuring prominently. Other celebrities that featured in the most influential study included Billie Eilish, Taylor Swift, and Ariana Grande.
Madeline Merinuk is woman&home's US lifestyle news writer. She covers celebrity, entertainment, fashion, and beauty news but is also obsessed with internet trends - you can find her reciting trending TikTok sounds out loud at any given time.
After winning multiple student journalism awards for her investigative work, she graduated from Hofstra University in 2021 with a B.A. in Journalism. After graduating, she worked at today.com, the digital site for the Today Show, where she wrote pop culture news and interviewed big-name personalities like Emily Ratajkowski, Haley Lu Richardson, Emma Corrin, and more.
Her personal interests, in no particular order, are: cheese, Joni Mitchell, reading, hot yoga, traveling, having multiple chapsticks in every handbag at all times, and dancing to ABBA songs as if she were in the Mamma Mia movies.