Cutest Christmas sweaters for dogs 2021
We've found the very best Christmas sweaters for dogs this year to get your pooch holiday-ready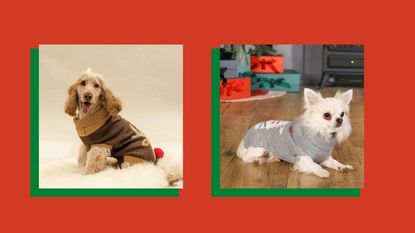 (Image credit: Etsy/Not On The HighStreet)
These Christmas sweaters for dogs are so adorable that you'll be reaching for that camera pronto!
Our furry friends are part of the family so get them involved in the festivities by getting them their own festive wardrobe to wear when you don your best Christmas jumpers this year.
Wearing a novelty knit has certainly become a yearly tradition and if they happen to be matching Christmas jumpers then even better. Christmas sweaters for dogs are a great way to get your pups in on the festive fun.
From pun-tastic slogan sweaters to cute reindeer prints, there's a holiday-ready sweater for every hound.
The best Christmas sweaters for dogs 2021
1. Target Snowflake Cat and Dog Sweater
If you don't want to take the novelty route, this classy snowflake print will work for the holiday season and beyond. Featuring a cute turtleneck design, it's simple and easy to pull on. Plus, thanks to a slit in the back for easy lead-attaching access, it's a dream for those brisk Christmas walks. Grab your best winter coat and furry friend and be the envy of all your fellow dog walkers.
2. Hotdog Petwear Reindeer Dog Jumper
Rudolph who? Turn your pampered pooch into Santa's favourite reindeer with this cozy handmade knit. Expect many compliments to roll in, especially on the gigantic pom-pom nose. There's a gift box packaging option too, making it the perfect gift for dog lovers.
3. Love my Hound FabDog Nutcracker Jumper
Specifications
RRP: $43.57
Sizes: 10"-22"
Have you seen anything so smart and cute at the same time? Nope, us neither. We love the little tassel details for an adorable touch. All you need to do now is teach your dog how to ballet dance!
4. Nacoco Christmas Elf Jumper
Specifications
RRP: $10.99
Sizes: 9.4"-11'
Santa's little helper just got fluffier. This convenient pullover even comes embellished with pom-poms for an extra dose of Crimbo cuteness. Super soft and with plenty of room so your furry friend isn't restricted and can get back to making—or chewing—toys!
5. Frisco Dog & Cat Cable Knitted Sweater
For all the fashion-conscious pups out there is this rather chic cable knit design sweater. Another one that can easily be worn all winter long, the material is super soft and snug, guaranteed to keep them warm during a cold spell. Cute and stylish, it's available in a festive red and four other colors.
6. Hotdog Petwear Santa Jumper
Take inspiration from the main man himself. This Santa sweater comes complete with fluffy trim and ear holes so that your dog can hear when it's Christmas dinner time. The company offers gift boxing and packaging too if you're buying for a furry family friend.
7. Noah's Ark Fa La La Llama Christmas Jumper For Dogs
Specifications
RRP: $14.16-18.42
Sizes: XS-L
We wouldn't say llamas are a Christmas staple but they've certainly been working their way in over the last few years. So 'tis the season to invest in them and grab this jumper whilst it's hot. A fun take on the usual festive tradition and something a little different.
8. Love My Hound Fabdog Fireplace Jumper
Specifications
RRP: $40.83
Sizes: 10"-22"
Now that's one hot dog! This perfectly ugly sweater will keep your dog warm and cozy on those snow-covered winter nights. The 3D stockings are beyond adorable, shame your can't stuff them with treats for your pooch pal. Perfect for curling up on the sofa and watching the best Christmas movies on Netflix.
Millie Gooch worked at woman&home as a fashion writer and stylist and has worked on numerous shoots for the brand. As a freelance journalist, Millie has written for a range of publications, including, ELLE, Stylist, the BBC, and the Evening Standard.
Millie is also the founder of Sober Girl Society, an online collective of women who don't drink alcohol. Millie's debut non-fiction book, The Sober Girl Society Handbook, is a bestselling manual to navigating life as a young and sober woman. Millie gave up alcohol back in February 2018 and has since dedicated her career to changing perceptions around sobriety.