Lululemon leggings vs Nike leggings: We put their best-selling pairs head-to-head
It's Lululemon leggings vs Nike leggings in the battle for the best workout wear.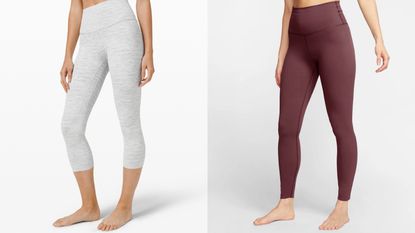 There are thousands of brands out there vying for the title of making the best leggings (opens in new tab), but for us, two names top the bill: it's Nike leggings vs Lululemon leggings. Widely regarded as the go-to for clothing that delivers on form and function, both have garnered a dedicated fan club.
Founded in 1998, Canadian brand lululemon Athletica initially made its name for producing luxe yoga leggings. They quickly gained an A-list following, with their leggings worn by the likes of Giselle Bundchen, Rosie Huntington-Whiteley and Reese Witherspoon. Now, they're diversified their offering, producing some of the best workout leggings (opens in new tab) to cater for all manner of sports, from running and cycling, to pilates and training.
Heritage by comparison, Nike (originally named Blue Ribbon Sports) was founded in 1964 with the aim of producing high-performing running shoes. Fast forward 50 years, and it's one of the world's most valuable fashion brands across all types of sportswear. They're worn by top sportspeople too, including Serena Williams.
With both boasting impressive credentials, the question is, which brand's leggings are best? We've put different types of leggings (opens in new tab) from each label through their paces, comparing key factors to find out.
Lululemon leggings vs Nike leggings: Which pair are best?
High-intensity performance
Lululemon offers a huge range of leggings specifically made for high-intensity workouts, such but the best are widely considered to be the All The Right Places Pant (£118, lululemon.co.uk (opens in new tab)). Crafted from an innovative Full-On Luxtreme fabric, they're soft, sweat-wicking and boast four-way stretch – for flexibility and superior fit. Even better, zoned compression helps to support your muscles. The fabric is super soft, and they also feature a flattering high waistband that stays put. The concealed pocket in the waistband is perfect for storing valuables, while the reflective stripe on the ankle cuff will keep you safe in low light.
Regarded as the best all-rounder for high level exercise, Nike's One Leggings (£39.95, nike.com (opens in new tab)) are made using intelligent Dri-FIT technology. This means they provide total dryness even during the sweatiest of workouts. The smart V-shaped waistband works with the contours of the body for maximum comfort and non-slip, and sits on the natural waistline for a stomach-smoothing silhouette. Like lululemon's All The Right Places Pant, they're also crafted from soft-touch fabric with hidden pockets for keys. However lululemon do have the extra benefit of squat-proof fabric, providing ful coverage in all positions.
Low-intensity performance
With its origins in yoga, it's no surprise that lululemon comes up trumps for leggings perfectly suited to low-level activity. The Align Pant (£88, lululemon.co.uk (opens in new tab)) is the style to know about. Made from the brand's signature Nulu fabric, which boasts supreme flexibility to allow maximum movement and stretch, the leggings feature a wide, high-rise waistband that keeps you feeling secure. Even better, it lies flat against the skin for maximum comfort. This design is also available in a variety of leg lengths so you can find the perfect crop. It's no wonder these are one of the brand's bestsellers.
Not to be dismissed are Nike's Yoga Luxe leggings (£64.95, nike.com (opens in new tab)) which are made from Infinalon; a super-light, super-thin and super-strong fabric, which feels at once flexible, secure and very comfortable. Though stretchy, they have a gentle amount of compression that hugs the body for a pleasant sense of hold. They are also breathable (thus good for hot yoga classes) and opaque, so won't flash your pants when you're in Downward Dog.
Style-factor
Looking good in your leggings is just as important as feeling good, so as well as performance, style-factor is a key consideration. If your taste errs on the side of simple, Nike's predominantly black-and-white offering will be up your street. However, if you're after something a little more fashion-forward, lululemon's palette of chic shades is perhaps a better option. They can be worn as part of non-workout leggings outfits (opens in new tab) too. Most legging styles come in a range of sophisticated block colours; think olive, burgundy, navy, grey and, of course, black. There's also a selection of subtle prints such as tone-on-tone camo and graphic florals.
Sizing
Finding the perfect fit is key to comfort, and will stop your leggings from sliding around during workouts. lululemon have criticised in the past for not producing an inclusive range of sizing, but now offer a UK size 4 to 18. However for sizes to fit all, Nike comes out on top. In addition to their usual sizing, which ranges from UK 4-6 to 24-26, the brand has also just launched a range of maternity leggings suitable for every stage of pregnancy.
Price
There's no getting around it, lululemon is pricey. Prices start at £49 for the Wunder Under Crop High-Rise (opens in new tab), and rise to £148 for the LAB Varsa tight (opens in new tab). So, whichever way you look at it, these are an investment best suited to those who exercise regukarly. Nike, on the other hand, is much more purse-friendly. Prices range from £21.95 for the basic Women's Swoosh leggings (opens in new tab) to £109.95 for the technical Nike Epic Luxe Run Division leggings (opens in new tab). If you're starting out, this is the brand to go for.
Which ones get your vote?
Frankie Graddon is a fashion and beauty journalist and co-founder of @thewingwoman (opens in new tab), a weekly podcast and newsletter about thirty-something life, honestly.
Frankie has over a decade of experience working as a writer, editor, podcaster and consultant. She has been a regular contributor to a number of high-profile publishers including The Telegraph, The Times, Grazia, You Magazine, Glamour and woman&home.
Frankie has interviewed numerous industry experts and celebrities, from Claudia Schiffer and Karlie Kloss to Sam McKnight and Trinny Woodall. She has also created content for numerous fashion and beauty brands including Liberty of London, Whistles, Kitri, Hush and more.