Mary Berry Wins Top Prize At The National Television Awards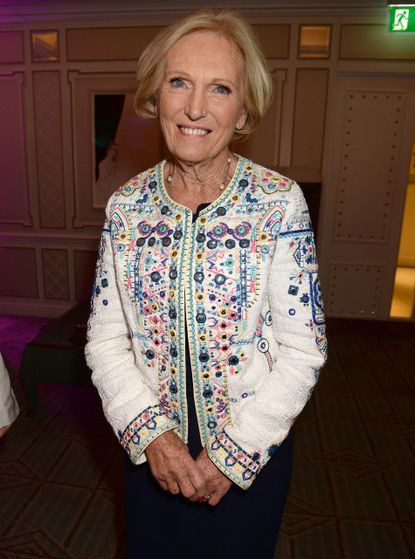 Mary Berry last night triumphed at the National Television Awards, winning the Best TV Judge category award. The Bake Off star looked emotional as she collected her prize from two of the pint sized stars of Gogglesprogs, before giving a heartfelt speech thanking the crowd. In the adorable moment, William and Molly from Wales, who are just 8 and 5, couldn't contain their excitement at presenting the award, with Molly exclaiming that Mary was the person she most wanted to see and meet. Mary then spoke about how much of a honour it is to judge a baking show - and how thrilled she was to be inspiring a new generation of bakers.
http://www.youtube.com/watch?v=bPBnSVWAKhg
Mary Berry has a signature style (away from the red carpet) that is instantly recognisable - her bootleg jeans paired with a jacket or blazer on top as well as her pink lipstick and matching nails. However we also know that she's not afraid to shake things up a bit and experiment with colours and textures as she steps out every week on Bake Off dazzling viewers with a new stylish look.
Every single one of the outfits she wore during her final series sold out in the shops, from her French Connection botanical biker jacket to her M&S diagonal zip jacket!
We take a look back to deconstruct Mary's iconic look and pay a closer attention to her styling rules...
You don't have to splash out to look great
Although Mary Berry is partial to a bit of designer once in a while, (lets not forget her Hermes 'H' belt that pops up from time to time), it's clear she's a huge advocate of affordable high street pieces. Her favourite retailers include Zara and M&S and all of the jackets featured in the last season all fell under the £200 mark - including this aztec jacket from H! by Henry Holland at Debenhams, (opens in new tab) which is on sale for just £32.50!
Incorporate trends into your own signature style
Mary's iconic jeans and jacket combination work for her every time, but each week she reinvents it by stepping out with a different style! She's not afraid to experiment with colours and textures and also incorporates on-trend looks into her signature look. The mirrored embroidered blazer from this season caught the public's attention, and although it's still unclear where the jacket exactly came from, it's apparent that Mary Berry was one step ahead of the embroidery trend.
Don't be afraid to wear bright colours
Mary Berry's wardrobe demonstrates that anyone can wear bright colours - no matter what your age! Mary's jacket collection is colourful and extremely playful, like her M&S stork-print orange and pink bomber that she wore last year - which sold out soon after the show aired! Although she's partial to experimenting, the colours she goes back to time and time again are blue and pink tones.
Zara is your high street go-to - at ANY age
Just because your daughter might be wearing a Zara blouse or jacket doesn't mean it's off limits for you! Mary sent the fashion world in to a frenzy when she wore a floral Zara bomber jacket on the Bake Off. Teaming it with jeans and a simple tee, predictably the jacket was an instant sell-out.
Match your outfit to your eyes
We can all agree that Mary's piercing blue eyes are captivating (and her sidekick Paul's for that matter!) but what is Mary's trick for really making those pools of azure blue pop? Matching her outfit of course. At the National TV Awards in 2013 Mary chose a sapphire blue gown from Damsel in a Dress - a chic, but affordable boutique label stocked at John Lewis. And didn't it look fabulous?
Experimenting With Florals Can Pay Off
First it was the Zara bomber jacket, then the Whistles blazer and this season it was that eye-catching floral blazer she wore for Botanical Week. Mary has proved time and again that florals work all year around and can be styled in so many ways. According to Mary her aim is to look 'positive' and 'encouraging' on screen. She certainly achieves that, but by teaming her floral pieces with sleek separates like skinny jeans.
Go to a dressmaker to get the very best fit
We all know that high street sizes can vary enormously so Mary visits a dressmaker to alter 'just about everything'. The extra tailoring means her outfits fit like a glove - and perhaps more importantly for the baking queen, shortened sleeves don't get covered in flour!
M&S boot cut jeans have the best fit
Mary's figure is astonishing - especially with so much temptation in the kitchen! For casual dressing Mary swears by M&S boot cut jeans, which accentuate that sleek silhouette. Mary is quite a traditionalist though, explaining: 'I never wear trousers when outto lunch or dinner, and, above all, I dress to please my husband, Paul. He does love a dress on a woman.' Charming? We thought so!