10 Styling Tricks To Hide A Tummy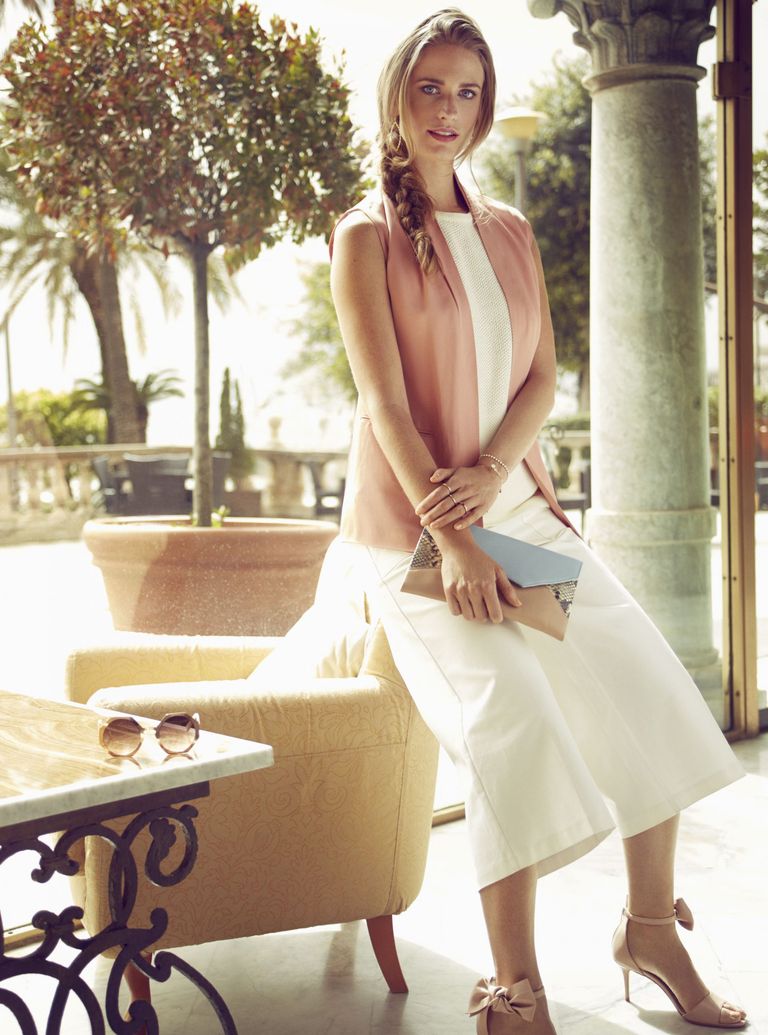 Fed-up of lacking confidence? These clever style tricks to hide a tummy will give you the body boost you've been looking for...
Struggling to shift that extra weight around your abdomen? You're not alone - as we get older, losing the extra pounds can become more and more of a struggle, and it can leave your confidence at an all-time low. But that stubborn weight shouldn't have to affect your style. With some clever tricks, you can learn to dress in a way that disguises your problem areas and leaves you brimming with confidence - and looking fabulous!
No longer should you have to feel that the high street is awash with beautiful styles that are out of bounds for you. Want that gorgeous skirt? Get it, and pair it with a statement neckline to draw the eyes upwards. Think you can't wear anything high-waisted? Think again. Some clever pleats and a darker colour around your middle will leave you with the shape you've always dreamed of.
You may have picked up some tricks for body confidence over the years, but our failsafe fashion choices will ensure an instant uplift. From the jacket that no apple shape should be without to the high-waisted skirt you can wear, we've got the sartorial styles that you'll turn to time and time again.
Click through to see our tricks, and give yourself the body boost you've always wanted...
Blouse, £39.50, Twiggy for M&S
A shirt suits all shapes In some cases, oversized is good - and a baggy shirt ticks all the boxes (button strain on a too-tight shirt is never flattering). Vertical stripes slim the torso, while the oversized pockets on the bust draw eyes upwards and away from the tummy. Choosing semi-sheer material is a clever option as you'll need to put a top on underneath - choose a fitted one that shows off your shape. Blouse, £39.50, Twiggy for M&S
Draped dress, £169, Jigsaw at John Lewis
Draping is like contouring for your body Strategically-placed draping is the fashion equivalent of a tummy tuck! Opt for a style that will accentuate your waist and skim over the tummy area, leaving you with an hourglass shape and the confidence you've always dreamed of. Draped dress, £169, Jigsaw at John Lewis
Midi skirt, £250, LK Bennett at John Lewis
Try box pleats A skirt that sits on the waist doesn't have to be a no-no - just choose one with a thinner waistband so that it doesn't accentuate a tummy bulge underneath. This LK Bennett option has clever box pleating that will draw eyes to the hips rather than the tummy, and lengthen your legs in the process. Midi skirt, £250, LK Bennett at John Lewis
Jeans, £160, Vanessa Seward at Net-a-Porter
Choose high-rise jeans and trousers. A high-rise waistband is not only more comfortable to wear, it means you won't spend all day pulling your jeans up to avoid overhang. Choose a classic, tailored paired of jeans that will balance out your figure. Jeans, £160, Vanessa Seward at Net-a-Porter
Dress, £89, Warehouse
Play with prints You may feel intimidated by prints for fear of drawing attention to yourself, but it's worth noting that clever patterns can actually draw attention away from your less favourable areas. An all-over print promts the eyes to continually skim over your shape and avoids highlighting the parts you want to hide. Dress, £89, Warehouse
Sleeveless jacket, £48, Next
Layer up to cover up Never underestimate the power of layering. A jacket or cardigan that you can wear open will draw the eye to the small section of under layer that is visible, seemingly taking inches off instantly. Alternatively, belt up to create a wrap-around effect that smoothes over your tummy. Sleeveless jacket, £48, Next
Miracle dress, £150, Winser
Try the miracle dress A wrap dress will always be a figure-fixer. But Winser's miracle dress goes one better thanks to its flattering double knit material. A soft cross-over style with a sweeping V-neck is especially great for those wanting to disguise a tummy. Miracle dress, £150, Winser
Jacket, £345, Polo Ralph Lauren at House of Fraser
Know the power of a well-fitting jacket. Don't be tempted to always go for baggy, oversized styles - they can do more harm than good! A fitted jacket will slimline your shape and gently skim over problem areas. The most important rule with this option, though, is to choose a style with more than one button, as just one at the waist could accentuate a tummy bulge. Jacket, £345, Polo Ralph Lauren at House of Fraser
Tunic, £15, Wallis
A tunic will lengthen the body A tunic is perhaps the most flattering style of top for those with a rounder tummy. Not only will it make your body appear longer, and therefore slimmer, it skims over any bulges neatly. Opt for a style with a V-neckline to draw the eyes upwards. Tunic, £15, Wallis
Super higher power panties, £35, Spanx
If in doubt - slip on some Spanx! It might feel like a cheat's way out, but there's absolutely no harm in turning to your trusty Spanx. They'll instantly make you feel slimmer, and give you the one thing you can't fake: confidence. Every woman should own a pair. Super higher power panties, £35, Spanx