The Flattering Cropped Trousers You'll Wear All Summer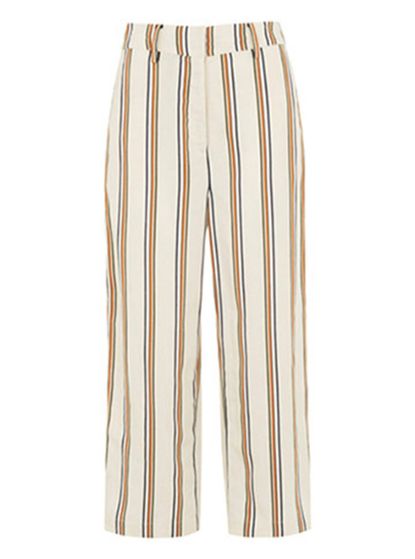 Cropped trousers can often save the day, and they are great for when the weather hasn't quite decided if it is ready to transition from spring to summer.
They come in a variety of materials and styles so, as the weather heats up (which will hopefully be soon), a lightweight pair of cropped trousers can be the right fit for pretty much any occasion. Smart enough to keep cool in the office, while still looking chic and professional and casual enough to go for drinks after work without feeling over dressed. Pair them with some simple trainers for a relaxed look or choose a pair of heels to give your outfit a glamorous lift.
From floaty to fitted, cropped trousers are a winner for any wardrobe. If you are petite, however, it's worth checking out the specialist petite ranges - although many regular fit cropped trousers will still look great at ankle level, you'll get the intended trend if you invest in cropped trousers designed for your height.
Take a look at our round-up of cropped trousers available on the high-street at the moment. There is a mix of classic high-street names and some unexpected items from supermarket brands...
Polka-dot Print, Zara, £29.99
These polka dot print trousers are really fun. They have a zip fastening and are safe pattern to start with if you are testing the waters. The light weight material makes them a winner for the warmer months.
BUY NOW from Zara, for £29.99 (opens in new tab)
Floral Pattern Skinnies, Jigsaw, £110
Jigsaw have given their best-selling cigarette trousers an update for the spring/summer. They have a slim fit and would be perfect with a loose fitting white t-shirt and some trainers for a dressed down look. The print is by illustrative artist Marcus James and we love the teal. (opens in new tab)
BUY NOW from Jigsaw for £110 (opens in new tab)
Bow Detailed Trousers, Next, £30
These simple grey cropped trousers come in at ankle length and are really lifted by the high-waist tie. They would look great with sandals or as part of your work wardrobe with a pair of flats. They come in a variety of colours so they are a great addition.
BUY NOW from Next for £30 (opens in new tab)
Grey Pleated Trousers, Reiss, £125
These Reiss culottes have a subtle pattern and two front pleats. We love the belted detail and the wide leg. They have a matching blazer which would make for a more polished look.
BUY NOW from Reiss for £125 (opens in new tab)
Navy Crop Trousers, Hobbs, £85
Keep it simple with these navy Hobbs culottes, which are super-flattering given the wide-legged design. Pair these with a simple white top and some pumps for a subtle, sophisticated look.
BUY NOW from Hobbs for £85 (opens in new tab)
Striped Trousers, Whistles, £165
These trousers are the perfect pick for summer. Ideal for the warmer weather, these will see you through from beach to bar and back again.
BUY NOW from Whistles for £165 (opens in new tab)
Billowed Trousers, Jaeger, £115
These ones puff out slightly from the waist-downwards, cinching in your midriff. The silk trousers are great for any occasion - work, weekend, or wedding. Grab your pair now.
BUY NOW from Jaegar for £115 (opens in new tab)
Floral Wide-Leg Trousers, Zara, £19.99
Another great item from Zara. These floral cropped trousers are predominantly navy blue but have lots of lovely pastel colours incorporated. This gives you plenty of opportunities to pair them with simple pink or yellow tops or even a classic white t-shirt. Dressed up with heels, they would make a lovely outfit for the races or an evening out on the town.
BUY NOW at Zara, for £19.99 (opens in new tab)
Grey Pin-Stripe, Tu by Sainsburys, £14
These pin-stripe grey trousers are perfect for your workwear wardrobe. We love the simple straight leg style, which are super-flattering.
BUY NOW from Sainsburys for £14 (opens in new tab)
This is just a small snapshot of the selection of cropped trousers available. It is definitely worth investing in a few pairs of staple colours that can be combined with patterned tops or a brighter colour. The only real downfall of the cropped trouser is, with so many to choose from, the final decision can be incredibly hard to reach!
Jessica is a Senior Food Writer at Future and is an enthusiastic, self-taught cook who adores eating out and sharing great food and drink with friends and family. She has completed the Level 1 Associate course at the Academy of Cheese and is continually building on her knowledge of beers, wines and spirits. Jessica writes food and drink related news stories and features, curates product pages, tests and reviews equipment and also develops recipes which she styles on food shoots.