5 reasons why beauty minis are better than full sized products
I love beauty minis, and so should you says W&H Beauty Editor - here's why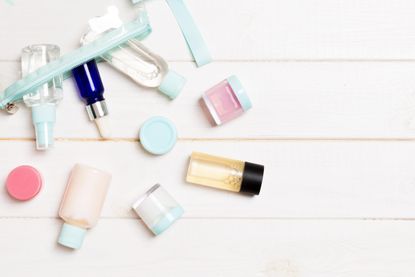 (Image credit: Getty Images/iStockphoto)
If there's one thing guaranteed to get us jaded old Beauty Editors excited, it's beauty minis.
There are many reasons why this is so. Firstly, beauty minis have such positive associations - beauty advent calendars, holidays, the smug feeling of doing your skincare routine from a little pouch after a 90 minute hot yoga class.
Minis are portable, practical and just plain adorable. Plus, to revisit the spoilt Beauty Ed bit, they're also a blessed relief when your house is so stuffed with mascaras and shampoo bottles you suspect they might actually be breeding.
Do you love filling a Boots basket with beauty minis like a hungry child at a pick 'n mix counter? Or are you more of a bigger is better type? Here are five reasons why you should get on board with beauty minis.
1 Beauty minis let you try before you buy
Minis are for life, not just for Christmas (or travel, I should add)
Picking up a miniature size of that pricy product you've been umming and ahhing about means you can give it a trial run and see if it's really worth the investment.
Similarly, minis are a chance to own ridiculously spendy products that you could only dream of buying the full sized version of. A rollerball of luxury perfume smells just as expensive on your skin as a big bottle would.
Tom Ford Private Blend Neroli Portofino Atomiser
SHOP NOW: Tom Ford Private Blend Neroli Portofino Atomiser 10ml, £38, Johnlewis.com
2 They're best friends with your bags
Having just stated that minis are not just for travel, let's be real; these dinky products come into their own when you have to take them somewhere.
Put simply, minis love bags and bags love minis. This doesn't have to be a suitcase or weekend bag, it could also be your handbag or evening purse.
Whatever you're doing just know that these little products have got your back. They won't take up precious shoe space in your case, stop your clutch from closing or make your handbag strap dig uncomfortably into your shoulder.
Travel sized beauty is light, slight and keeps things tight!
Mini MAC Matte Lipstick in Velvet Teddy
Mini MAC Matte Lipstick in Velvet Teddy, £10.20, Boots.com
3 A beauty mini will never turn against you
Have you ever got to the bottom of a nail varnish before it went all gloopy? How about mascara, do you really throw it away after the recommended three months? Or do you use it until it goes all dry, brittle and full of bacterial flotsum and jetsum.
No judgement, all I'm saying is with a mini this never happens. Minis will never start to turn against you and make you feel ashamed of your beauty hygiene.
These little guys go right from their prime to the recycling, no messing about.
Benefit They're Real Lengthening Mascara Mini
Benefit They're Real Lengthening Mascara Mini, 12.50, Lookfantastic.com
4 They (probably) won't be stolen
Large jars and giant aerosols seem to be a big shiny 'use me!' beacon for the hands of other halves, housemates and children.
Ever left an expensive face cream on your dressing table to find it repeatedly interfered with by a mansize paw? That won't happen with your minis because they'll be neatly tucked away from the clutches of others (See: they're best friends with bags)
Even if your dinky product is out on display, only the most flagrant household thief would pinch from a tiny beauty mini. If you live with one of those, you've got other problems.
Kiehls Ultra Facial Cream 50ml, £22.10, Johnlewis.com
5 Travel sized beauty is adorable
Like kittens, dessert plates and tiny baby Converse trainers, small things are just more lovable aren't they?
I suppose we have hardwired genetic coding to thank for that. The same instinct that drove cavewomen to raise their offspring instead of leaving them to the lions makes us gaze adoringly at tiny little containers of blusher and hair oil.
Moroccanoil Original Treatment
Moroccanoil Treatment Original 25ml, £13.45, Lookfantastic.com
On second thought, let's not interrogate it too much. Tiny beauty products are cute and they bring us joy. As far as I'm concerned that's a wholly legitimate reason to pick up one or ten next time you're out shopping.
Beauty Editor, womanandhome.com
As woman&home's Beauty Channel Editor, Fiona Mckim has tried more products than she's had hot dinners and nothing makes her happier than raving about brilliant finds on womanandhome.com or her instagram grid (@fionamckim if you like hair experiments and cute shih-tzus). Fiona joined woman&home as Assistant Beauty Editor in 2013 under industry legend Jo GB, who taught her everything she needed to know (learn about ingredients and employ extreme cynicism). She has since covered every corner of the industry, from interviewing dermatologists and celebrities to reporting backstage at Fashion Week and judging the w&h Beauty Awards.