The beauty benefits of Turmeric in skincare, we sort the facts from the fake news
Which claims are actually proven?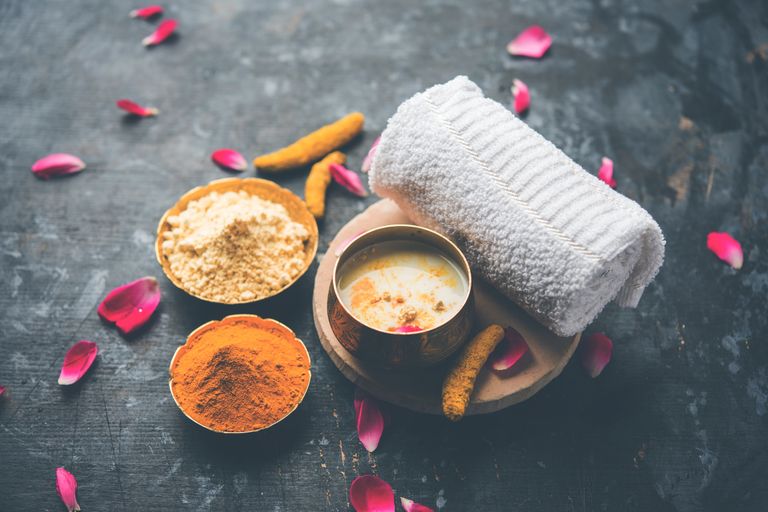 (Image credit: Getty Images/iStockphoto)
One quick Google asking if, 'Turmeric is good for skin?' and you'll be reading articles about 'tumeric benefits' that promise that it can clear up acne, alleviate psoriasis, and even cure vitiligo.
Now, I'm a fully-fledged skincare obsessive, and I personally can't get enough of innovations and discoveries, but it feels like there's a new wonder ingredient popping up every week.There is no denying ginger's cousin turmeric is pretty powerful when it comes to helping our bodies. For thousands of years, it has been used for a multitude of medicinal purposes, aiding everything from heart disease to arthritis. But which tumeric benefits are proven?
Escapada Co-Founder and Traditional Chinese Medical Practitioner, Emilia Herting says, 'In treatments turmeric can also be used topically for a variety of skin disorders, including skin inflammation.'
Mmm, so maybe there's something in these superhero claims? I quizzed the experts on turmeric benefits to find out...
Tumeric benefits: Good or gimmick?
We look at some of the most common questions about tumeric benefits when it comes to skincare and beauty.
Is Tumeric Good for My Skin?
The first thing we need to address is how you are using turmeric. Ingesting turmeric and applying it topically, will deliver different results. The short answer is that it depends on a few factors, so, before you mix a dollop of the orange spice into your moisturiser, read on to find out the best way to reap the Turmeric benefits.
Can Turmeric help with acne?
Applied topically
'Curcumin (the active ingredient in turmeric) is a fantastic anti-inflammatory ingredient', says Marisa Schwab, co-founder of The Chillery.
With its naturally calming properties, Curcumin has been proven to reduce inflammation, which means it may help with the redness of a spot. So, if you've got a pulsing pimple it could be worth dabbing some on. Skincare that contains the active may also be effective at calming spot-prone skin.
Buy now: Neutrogena Clear & Soothe Mousse Cleanser, £5.99, Neutrogena.co.uk
Emilia Herting from Escapada adds, 'In Chinese Medicine and Ayurveda, Turmeric has been widely used for acne. It is known to help fade acne scars by decreasing redness. Not only will the anti-inflammatory properties of turmeric help, but so will its antibacterial properties'.
'At Escapada we love creating this Turmeric Face Mask by mixing fresh lemon juice and turmeric powder.'
Home remedy: Tumeric face mask for acne
Try this tumeric face mask recipe if you're suffering from acne. It will soothe, smooth and reduce redness.
Mix 1 tablespoon of raw honey with 1 tablespoon Turmeric powder
Add a few drops of lemon juice and mix into a thick paste (it will have a similar consistency to a mild scrub)
Apply to the skin, focusing on your T-Zone and breakout areas and use as an exfoliate
Rinse off with warm water after 10-15 minutes
If our tumeric face mask recipe sounds like too much fuss, try The INKEY List Turmeric. It contains Turmeric root extract with a Vitamin E boost to hydrate and calm skin inflammation.
Buy now: The INKEY List Turmeric, £7.99, cultbeauty.com
Taken orally
Turmeric is extremely beneficial for our bodies, so if it is a huge part of your diet, then it is possible it can internally help with inflammation.
The internet claims Turmeric can also regulate sebum production. Could that be true? Pamela Marshall, Founder of Mortar and Milk says, 'I have many clients who ingest Turmeric daily, and they still have acne. I suppose you could say that an anti-inflammatory spice could slow down the production of cortisol, which is responsible for oil production in the sebaceous glands (and what causes spots) but that would be a huge stretch, and it is improbable.'
Is Turmeric a good antioxidant for our skin?
Applied topically
'Is there a possibility that high doses of Turmeric topically could work as an antioxidant? Yes. But it's only working with the outer layer', says Pamela Marshal. She adds, 'EU regulations state no cosmetic can pass the stratum corneum. Most skincare we buy are considered cosmetics, so they only deal with our outer layers of our skin.
Taken orally
Turmeric can work as an incredible antioxidant for our overall body health, says Pamela. 'It is unbelievable at reducing inflammation in the body. However, it's important to note that our skin is not only our largest organ, it's also the last in the queue to receive nutrients. So, for it to truly help with the skin, our gut needs to be in pretty good order.
Pamela adds, 'I have noticed from studying skin in my clinic, those who have a diet that is rich in Turmeric, have less vascular issues in the skin. It is rare for me to see capillary damage or inflammation with clients that have a diet high in anti-inflammatory spices.'
Not sure you'll be able eat Turmeric daily? Try taking Bioglan Superfoods Organic Turmeric Capsules instead.
Buy now: Bioglan Superfoods Organic Turmeric Capsules, £14.99, Bioglansuperfoods.co.uk
How should we take Turmeric?
When Turmeric is ingested on its own, our body rapidly metabolises it, and it is quickly flushed out of our systems so the tumeric benefits are reduced. But when paired with Bromelain *an enzyme found in pineapple, it becomes more absorbent, and the anti-inflammatory effects are increased. This is why you might frequently spot Curcumin and Bromelain paired together in health supplements.
Buy now: Natures Aid Ginger Turmeric and Bromelain, 3-in-1 Botanical Formula, £7.95, Amazon.co.uk
Maria Naskos from Avicenna Wellbeing says, 'To get the full benefit it is advised to use Hydrocurc, which is a water and oil stable curcumin extract, specifically proven to increase the absorption of curcuminoids so that they can disperse in the digestive tract which increases the bioavailability of curcumin for full-body benefit."
Maria also notes it might be worth chatting to your doctor first before popping some pills, 'When taking turmeric orally in the form of food or supplements, care should be taken with the dosage, the type of product used, and how it might react to other medications taken.'
Can Turmeric help with skin conditions like Rosacea, Eczema, Psoriasis and Vitiligo?
Applied topically
It is proven that Turmeric can help calm inflammation, and while this can be a factor linked to many severe skin conditions. 'There's very little clinical evidence to support the use of Topical Turmeric having a strong effect on skin conditions like this', says Maria Naskos so tumeric benefits claims about skin conditions should be carefully reviewed sceptically.
Taken orally
'There are so many other factors involved in skin conditions like psoriasis and rosacea, says Pamela Marshal. she adds, 'While the Curcumin in Turmeric is an excellent antioxidant for our bodies, it would be a stretch to say it helps with conditions like this'.
Pamela adds, 'Vitiligo comes from the destruction of our melanocyte cells. Curcumin alone cannot reverse the melanocyte cells. There are clinical data on trials on the NCBI websites that state that "cucumis" was used topically along with UVB phototherapy to try to re-pigment the skin and they found that "cucumis" was irrelevant to the re-pigmentation'. So that's a no then.
Can we use Turmeric straight from the kitchen cupboard?
There's a strong chance it may stain your skin, but if appropriately mixed, we have found it can be a quick fix for inflammation.
However, Marisa Schwab advises against it, 'Skincare products are deliberately formulated to be best absorbed and most efficacious thanks to other ingredients supporting the main star of the show, which in this case is turmeric'. She adds, 'There are different strains of turmeric to be used for different things, and your turmeric powder from the kitchen is not the same strain that is found in your beauty products - therefore you wouldn't use it straight from the kitchen and expect the same benefits.'
Don't want to risk the staining of your skin? We like: Kiehl's Turmeric & Cranberry Seed Energising Radiance Masque, 100ml, £36
Buy now: Kiehl's Turmeric & Cranberry Seed Energising Radiance Masque, £36, Johnlewis.com
Why isn't all Turmeric skincare yellow?
Regular Turmeric can undoubtedly stain the skin, while Kasturi Turmeric (Curcumin Aromatica) is a different form that will not stain the skin (this form would not be used for cooking) says, Marisa She adds, 'In short, there are many different species of turmeric, and those used for cooking and beauty are very different when it comes to skincare benefits and bioavailability.'
We like Yuyo Botanics Turmeric CBD Salve, Containing 100mg of CBD extract, turmeric, cayenne, menthol, aloe and other essential oils, the ingredients work in harmony to provide a natural anti-inflammatory effect.
Buy now: Yuyo Botanics Turmeric CBD Salve, £30.79, thechillery.com
Can Turmeric help with fighting free radicals?
When ingested 'Turmeric is excellent at increasing our body's ability to fight oxidative stress which can also help neutralise free radicals', says Amanda Griggs Nutritionist at The Khera-Griggs Cleanse Clinic, Urban Retreat. www.urbanretreat.co.uk
'It is fat-soluble, so if eating Turmeric, it is best to take with a meal that contains fat. Fat and also heat increases the solubility of curcumin.'
Amanda says, 'Try eating it in a curry with coconut milk, black pepper, onions and pineapple chunks, which increase the absorption of Turmeric. Or try adding it to a smoothie with coconut milk, avocado and pineapple.
Buy now: Swisse Me Boost Me Mango Energy Blend Smooth, £14.99, swissme.com
Dobn't fancy the hassle of chopping and blending your own smoothie to experience the tumeric benefits? Try Swisse Me Boost Me Mango Energy Blend Smooth, a ready to drink smoothie.
All about beauty, Lydia House has been writing about creams and complexions for over a decade. Contributing to titles such as Women's Health, Grazia, Stylist and The Evening Standard, Lydia also uses her vast knowledge of the industry to consult leading health and beauty brands like Rituals, Tisserand and The Inkey List. Spending her working life obsessing over ingredients and formulas, Lydia believes that feeding your skin from within is just, if not more important, than the lotions you slather on. And even with a busy life and work schedule, she will always find the time to fit in a pampering session (or two).