5 ways to reset your skincare routine for a better complexion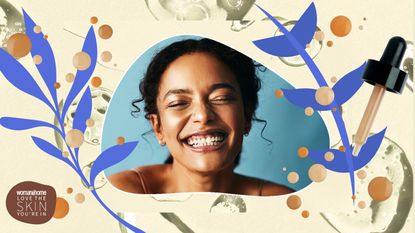 (Image credit: Future)
As we move between seasons it's important that we update our skincare routine to suit the weather outside.
But sometimes it can be hard to know how to reset your skincare routine, especially when there are so many different conflicting skincare tips out there.
So if you've got into a skincare slump or are feeling the effects of the weather change (or life generally), now is the time to reset your beauty routine for fresher and healthier skin.
Here are five beauty editor approved things that will help you reset your complexion...
5 easy ways to reset your skincare routine
1. Strip your products right back
If, like us, you're always champing at the bit to get your hands on the next skincare launch or give the latest wonder ingredient a try, there is a chance you could be overloading your skin. Many dermatologists recommend a 3 product skincare routine.
So instead of introducing lots of active ingredients to your regime all at once, first identify which ones you need based on the skincare concerns that are most important to you.

For example:
Retinol will banish fine lines
Vitamin C will brighten your complexion
A BHA like salicylic acid will banish blemishes
and AHAs like glycolic acid will even out your skin tone
Take the rest of your routine back to basics with a no-frills cleanser and moisturiser for day and night (French pharmacy brands like La Roche Posay and Avene are great for this) and slowly introduce one active ingredient at a time. That way you'll not only be able to see which ingredient is making the biggest improvement in your complexion, but know what to cut out if you suffer a reaction.
Beauty editor recommended shopping list - quick links
2. Match your creams to the seasons
Opt for rich creams in cold weather, and lighter ones in warm seasons. Because while your skin care regime might have rewarded you with gorgeously glowing skin a few months ago, don't be surprised if the same skincare cocktail doesn't work its magic all year around. In particular, many people experience problems in colder months. A combination of plummeting temperatures outside and roasting central heating fuelled temperatures inside can cause skin to become dehydrated.
Different to dry skin, dehydrated complexions are caused by a lack of water which needs to be replaced through your skin care. Up your hydration levels by swapping light, slippy serums for rich creams and heavy-duty hydrators, especially in your skincare routine at night.
Ingredients like ceramides are great for reinforcing your skin's natural barrier, helping it to take on moisture and keep it there. Hyaluronic acid is brilliant too. With a single molecule able to hold up to 1000 times its own weight in moisture, it's a quick-fix plumper and soother for tight, tired skin.
Beauty editor recommended shopping list - quick links
3. SPF is non-negotiable (even indoors)
Prevention is always better than cure, and according to skincare Guru and MD of Ultrasun UK Abi Cleeve, applying a daily SPF is one of the best things you can do for your skin. 'Anyone serious about their skincare will know that UVA & UVB protection is a daily core component,' she explains. 'No serum or moisturisers can reverse UV damage.'
Don't be fooled into thinking the SPF in your make-up is enough - it's applied in far smaller qualities than sun cream so won't provide the same level of protection. Shield your skin with a lightweight broad spectrum SPF (meaning it protects from both UVA and UVB rays) applied after your moisturiser but before make-up each morning. It'll help ward off concerns like fine lines and sun spots – saving you plenty of money on skincare in the long run. And you should even be wearing SPF moisturiser indoors...
Beauty editor recommended shopping list - quick links
4. Cleanse properly, and then do it again
On long days just taking off your make-up before bed can feel like an achievement, but that's no excuse to reach for the face wipes. Not only are they bad news for your skin, transferring make-up and grime around your face, face wipes are wreaking havoc on the environment too. Most wipes on the market are made up of plastic, meaning they take hundreds of years to break down in landfill. The damage is even worse when you flush them, with a report by the Marine Conservation Society finding that the number of wipes washed up on British beaches has increased by 50% since 2013.
Instead, just embrace the double cleanse. Far less complicated than it sounds, it just means cleansing twice – first with an oil or balm to melt away surface-level make-up and grime, followed by a gel, mousse or cream wash for a deeper cleanse. Especially important if you wear heavy make-up or a daily SPF (which we know we all should be!) double cleansing will combat dullness as well as reduce the risk of breakouts and can make a big difference if you want to reset your routine.
Beauty editor recommended shopping list - quick links
5. Exfoliate regularly
While exfoliating your skin might seem like the last thing it needs when it's feeling dry, sore and flaky during the cold weather, winter is actually when your skin most needs a good scrub.
By buffing away dead skin cells, exfoliation not only reveals the fresh, glowing new skin underneath but clears the way for the rest of your products to penetrate deeper and work harder.
Keep it classic with a satisfyingly gritty manual scrub, but look out for smaller grains and avoid anything too sharp and scratchy. Or, embrace AHAs like glycolic and lactic acid. Best applied after cleansing, these chemical exfoliants work in the same way as manual ones to dissolve the 'glue' that bonds dead skin cells together.
Beauty editor recommended shopping list - quick links
Jess Beech is an experienced fashion and beauty editor, with more than eight years experience in the publishing industry. She has written for woman&home, GoodtoKnow, Now, Woman, Woman's Weekly, Woman's Own and Chat, and is a former Deputy Fashion & Beauty Editor at Future PLC. A beauty obsessive, Jess has tried everything from cryotherapy to chemical peels (minus the Samantha in Sex and The City-worthy redness) and interviewed experts including Jo Malone and Trinny Woodall.