Skincare for PCOS: products that help treat hormonal, cystic acne and scarring
Our doctor-approved guide to skincare for PCOS – the common hormonal disorder that affects 10% of women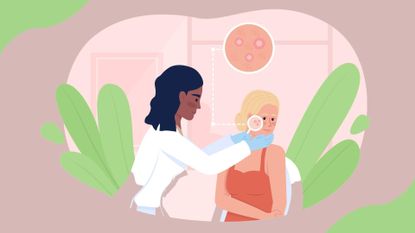 (Image credit: Future/Getty images)
If you are looking for skincare for PCOS, then it's likely you have experience with polycystic ovarian syndrome, a common hormonal issue faced by women and those assigned female at birth during their fertile years.
Choosing the right skincare for PCOS is hugely important. Considering that the skin is the largest organ in the human body, it's no surprise that skin conditions impact those who suffer from them far beyond aesthetic concerns. Just ask anybody who's experienced problem skin throughout their life. And while breaking out may well be something that's associated with teenagers, for many adults, it's still very much an everyday concern – especially those with a hormonal imbalance, such as PCOS.
"PCOS is a complex condition, which causes a constellation of physical and mental health symptoms," explains Dr. Ginni Mansberg (opens in new tab), a GP, skin expert, and founder of ESK Skincare. "Dermatologically PCOS can cause oily skin and acne as well as abnormal hair growth and hair loss from the scalp." This means learning how to get rid of blackheads or whiteheads may be a constant challenge. But by making lifestyle changes, working from the inside out, and choosing the best skincare for PCOS, you can improve your skin's appearance over time.
Skincare for PCOS: our expert guide
How does PCOS affect the skin?
Dr. Ophelia Veraitch (opens in new tab) explains that, with PCOS, it's common for the testosterone-sensitive sebaceous (oil-producing) glands on the skin to be overactive. "So skin can be combination/oily and tends to be affected by acne," says Dr Veraitch.
"Generally, acne-prone PCOS usually appears on the face but can also affect the chest and upper back as well," says Dr Mansberg, who adds that although acne can be a sign of PCOS, it's not something everyone who has it will experience, but generally about 50% of PCOS patients do.
Those impacted by the skin condition need more than your average skincare routine for acne to tackle common symptoms, says Dr Mansberg. "Because it's caused by a hormonal imbalance – an excess of male hormones," she explains, "it can be harder to treat and more resistant to topical products." Yep, that's the very same reason PCOS belly fat is so hard to tackle - hormonal imbalances. But there targeted ingredients and skincare for PCOS that can help.
Ingredients to help clear skin with PCOS
The essential PCOS skincare routine
In the morning...
Cleanse
Serum
Moisturizer
SPF
In the evening...
Cleanse
Serum
Retinol
Moisturizer
Step 1: Cleanse (AM and PM)
Gentle cleansing should be the first part of your daily skincare routine and is an absolute must before bed too. Dr Veraitch says, "avoid soaps and cleansers that have too much AHA. Often cleansers targeted at acne can strip the skin and make the oil production even worse."
"I recommend people with PCOS use a salicylic acid cleanser in the morning and evening before using any prescribed acne-treatment gels or creams," adds Dr Mansberg. If acne on your body is something you're grappling with, use a body wash containing these same active ingredients.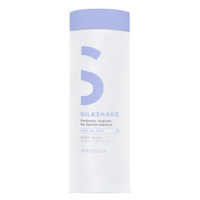 (opens in new tab)
ZITSTICKA Silkshake | RRP: $25/£23
This probiotic Body cleanser is brim-full with pre, post and probiotics, to balance your skin's microbiome; helping good flora thrive while ridding you of those which cause congestion. It smells utterly delicious and contains tea tree and Omegas 3, 6 and 9 to reduce redness and irritation.
Step 2: Serum (AM and PM)
It's important to choose serum including active ingredients that target acne-prone skin. Dr Veraitch says, "over the counter serums include those containing niacinamide, zinc, and salicylic acid." Alternatively, there are prescription options, adds the dermatologist. "I prescribe for my patients a compounded serum which contains niacinamide, zinc sulfate, and salicylic acid."
Step 3/4: Moisturizer (AM and PM)
When considering your routine, moisturizing is an essential part of the process, both in the morning and evening. Your skin barrier needs to be repaired and despite what you may think about acne, moisture is vital. Dr. Mansberg suggests, "apply a vitamin B3 containing moisturizer, which is non-comedogenic." If you don't use a face moisturizer with SPF (broad spectrum, ideally) then make sure you add an SPF afterward.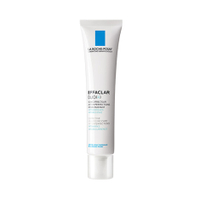 (opens in new tab)
La Roche-Posay Effaclar Duo | RRP: $21/£18.50
There's a reason this fan favorite is often suggested as an option when choosing the best skincare routine for acne (opens in new tab). Its light, gentle formula hydrates without leaving a greasy texture or clogging up your pores. If you want a moisturizer that also has sun protection, you can try the version with SPF 30 on for size too.
Step 4 (AM only): SPF
Using the best facial sunscreen every day is a must in every skincare routine, and experts say you should be wearing it no matter what the weather is and even if you're indoors all day!
The reason SPF is especially important for those of us carrying out an expert-led PCOS skincare routine is that, as we previously mentioned, retinol increases your skin's sensitivity to the sun.
Step 3 (PM only): Retinol
"Every dermatologist agrees that retinoids (Vitamin A) are the most effective acne treatments and should be tried first," says Dr. Mansberg. Retinol is essentially the over-the-counter version of retinoids and is a powerful, active ingredient, made from Vitamin A. It's effective in treating lines and skin texture concerns as well as acne and acne scarring.
Understandably, it's an increasingly popular skincare ingredient, but learning how to use retinol properly is crucial if you want to achieve results, especially as it can cause irritation and increases sun sensitivity.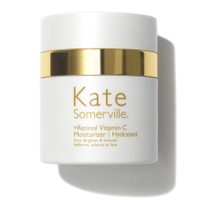 (opens in new tab)
Kate Somerville +Retinol Vitamin C Moisturizer | RRP: $110/£84
This product combines multiple elements, which help save time on your skincare routine while still getting all the benefits of brightening Vitamin C, the acne-clearing power of the best retinol creams (opens in new tab), and deep hydration.
Aoife is Junior News Editor at woman&home.
She's an Irish journalist and writer with a background in creative writing, comedy, and TV production.
Formerly Aoife was a contributing writer at Bustle and her words can be found in the Metro, Huffpost, Delicious, Imperica, EVOKE and her poetry features in the Queer Life, Queer Love anthology.
Outside of work you might bump into her at a garden center, charity shop, yoga studio, lifting heavy weights, or (most likely) supping/eating some sort of delicious drink/meal.