M&S's beauty offering includes these luxury bestsellers from cult beauty brands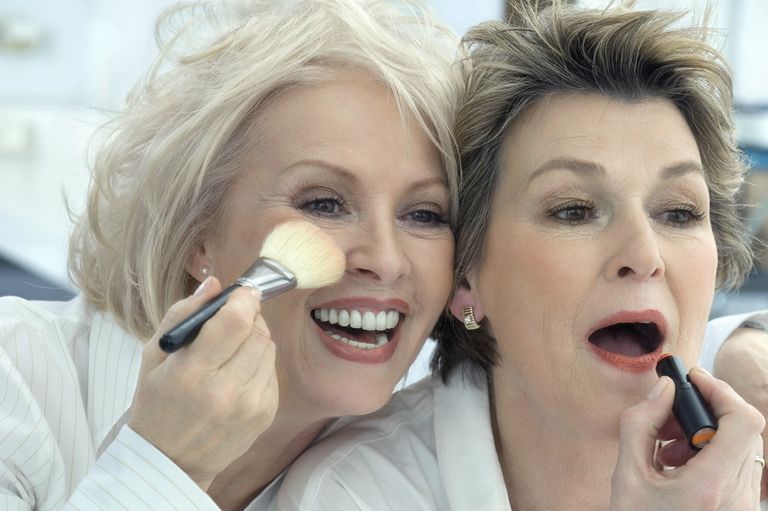 (Image credit: Getty)
The M&S beauty aisles have added a number of must-have products to their shelves including cult makeup and skincare brands that have taken the beauty world by storm. We sought out the wisdom of skincare specialists to review your favourite products...
M&S beauty hall has become a favourite for us all, giving us access to essential magic potions and lotions that were previously only available to purchase online.
But, with M&S beauty aisles now selling a number of cult beauty brands - aka the top buys that sell out time and time again - we have compromised a list of the most sort-after luxury products that you should definitely get your hands on.
When deciding what new M&S beauty brands to add to your makeup, hair and skincare routine it's important to figure out what exactly you want to improve. Do you want to smooth out wrinkles? Want to know how to get rid of puffy eyes? Reduce the appearance of age spots? Or find the best hydrating moisturiser suitable for your skin type?
Typically coming in teeny tiny pots with a whopping price tag and all promising to deliver the best results– finding the right beauty buy to splash out on is sometimes tricky. From hydrating serums, to retinol creams and anti-ageing skincare acids (that on the surface might sound a little scary), M&S beauty aisles are offering a whole range of beauty bag staples.
The best M&S beauty brands to add to your skincare routine
Pestle & Mortar Pure Hyaluronic Serum
Pestle & Mortar's Pure Hyaluronic Serum is the next best thing - it provides just enough glow to your skin without being too shiny. It's a lightweight fragrance-free serum, which is super-hydrating and anti-ageing.
This pure hyaluronic serum combines multi-molecular weight hyaluronic acid with skin-softening panthenol in a formulation that diminishes fine lines & wrinkles. It's a must-have multi-tasker for your skin providing superior hydration and delivering an instant skin-plumping and firming effect. Oh and did we mention, it smells absolutely fabulous!
MORE:This hyaluronic acid serum is so popular it's sold out five times - and has a huge waiting list
Dr Ross Perry, Medical Director of CosmedicsUK, said, "It has multi-weight molecular hyaluronic acid that not only absorbs into the skin more easily but the heavier weights allow for longer lasting results and better lift. It also has panthenol (vitamin B5) which has great hydrating and calming effects on the skin. So it's an overall good serum for sensitive or slightly irritated skin."
Buy now from Mark's and Spencer, £39
Filorga Time Filler
Filorga's expertise in anti-ageing aesthetic medicine comes together in a highly concentrated elixir that corrects all types of wrinkles. It's formulated with botox-like trepeptide to limit muscular contractions in the face and help to recharge your face for visibly younger-looking skin.
Dr. Tiina Meder, founder ofMeder Beauty Science said, "This rich cream contains a powerful cocktail of vitamins and amino acids that are perfect for mature skin. I like this type of modernized emulsion - the 'soft version' of Retinol helps to renew the skin, while the mixture of fatty acids (from plants oils), cross polymers, and dimethicone make a very silky and comfortable texture, that provides pure nourishment to dry skin."
MORE:The best retinol creams, serums and gels to anti-age your skin and prevent wrinkles
Reviewing the product on Filgora's website one user wrote, 'I love this cream. My skin feels soft, smooth and firm. No more dry patches for me. It has visibly reduced the appearance of lines and wrinkles on my face. I could not believe the difference. I would recommend these products to anyone looking to improve the look and feel of their skin.'
Buy now from Mark's and Spencer, £60
PRAI Ageless Throat & Decolletage Night Crème
We are so excited that M&S beauty hall stocks this dreamy product. This super-rich night crème for your throat, low neckline and cleavage incorporates two forms of retinol, the gold standard of vitamin A, and Wellagyl® from Bulgarian roses, to help recharge your skin while you sleep. The cream includes a combination of Mulberry, Saxifrage and Grapeseed Extracts to brighten and diminish discoloration and age spots over time.
Dr. Tiina Medersaid, "This seems to be an intense solution! The high concentration of retinol, alongside Ginger, Grapefruit, and Mulberry extracts creates a powerful rejuvenating and lightening combination, making this an ideal neck and décolleté treatment for use at night! However, when using this product, it's important to protect the skin from UVA and UVB radiation the following morning, as its formulation is very active and can make the skin more sensitive to sun exposure."
To get the best results gently massage the cream into your face and neck using upwards strokes from your cleavage both in the morning and before bed. Rub the cream evenly over your face so excess product doesn't settle around your hairline and clog your pores.
Buy now from Mark's and Spencer, £35
Emma Hardie Super Size Limited Edition Moringa CleansingBalm
A botanical cleansing balm that effortlessly removes all traces of face and eye make-up and deeply cleanses the skin. With moringa seed extract, wild sea fennel, vitamin E and essential oils of orange, jasmine and rose, this balm hydrates and moisturises all skin types.
Moringa Cleansing Balm is a gentle, effective exfoliating treatment used to remove dead skin cells and reduce the appearance of wrinkles. A dual action cleansing cloth can be purchased alongside the balm. It has a gentle microfibre side for removing grime and pollution and a muslin side for polishing the skin.
Cosmetic surgeon,Dr. Jonquille Chantrey, said, "Emma Hardie's Moringa Cleansing Balm performs a deep cleanse, removing eye and face makeup, as well as decongesting and refining the appearance of pores. It also contains a cocktail of Grape Seed and sweet almond oils which are rich in essential fatty acids to help plump and soften the complexion."
She continued, "I would say that the most important ingredient is the Moringa Seed extract, this tiny seed is rich in antioxidants and help to reduce inflammation. Moringa seeds contain oil that is extracted and used in this product. They are said to reduce the damage caused by free radical on the skin. They are also known to contain collagen which helps to reduce the appearance of wrinkles and lessen blemished."
Buy now from Mark's and Spencer, £68
Alpha-H Liquid Gold
M&S beauty hall is pulling out all the stops with this product. Alpha-H Liquid Gold is one of our favourite firming and resurfacing treatments. It'sa must-have for anyone concerned with skin ageing, sun damage and acne scars. It's an award-winning resurfacing treatment that uses a state of the art low pH delivery system to radically improve the texture and appearance of the complexion. By lowering the skins PH from around 5.5 to 3 stimulates cellular activity to accelerate repair and skin renewal processes.
Dr Ross Perry said, " The main ingredient being glycolic acid works well at exfoliating the skin and promoting skin renewal. But, not in a strength that should cause too much irritation. The additional protein complexes maintain some degree of moisture in the skin whilst working to help rejuvenate."
Users are flocking to the internet to proclaim their love for this cult favourite, with many describing how lovely the treatment feels on their skin. One user wrote, 'So happy.I have been using this product for a few months now and my skin feels and looks remarkably better. I used it every other night before bed after my make up removal routine.'
Buy now from Mark's and Spencer, £33.50
Formula Absolute Ultimate Sleep Cream
Distilling the benefits of a good night's sleep into an intensely moisturising product, this sleep cream is an absolute must-have to achieve soft, smooth and healthy looking skin. Apply this night cream before bed and let the magic of peptides and hyaluronic acid nourish and hydrate your skin, giving you a radiant and youthful complexion.
Dr Ross Perry said, "Formula absolute Ultimate Sleep Cream is a light night cream with shea butter and hylaruronic acid that means it's not too heavy on the skin so better for acne sufferers or blemish prone skin."
Dr. Jonquille Chantrey added, "This rich night cream is hailed as 100% intuitive skincare, it is an intensely moisturising product with a light texture. Formula suggests that the benefits are seen within 4 weeks of using this cream. I would say that the peptides have the most potent effect in this cream these are for anti-wrinkle and ageing properties, however there is again hyaluronic acid to moisturise, smooth and brighten the skin."
Buy now from Mark's and Spencer, £23
REN Bio-Retinoid Anti-Ageing Concentrate
A synergistic complex of pure, potent, 100% nature derived Vitamin A and Retinoid Analogue, to combats the appearance of wrinkles, imperfections and age spots and achieve brighter looking skin. Simply apply the product 4 to 5 times a week at night by gently patting into the face and neck.
MORE:How to combat pigmentation and age spots?
Dr Ross Perry said, "Ren Bio-Retinoids Anti-Ageing Concentrate has ingredients that supposedly mimic the effects of retinol without harsh side effects or irritation. With seed, algae and flower extracts the serum has full array of moisturising ingredients."
Fans on social media have also lauded the products benefits too. One user wrote, 'Nice texture, skin feels firmer after rubbing it in. I've used it night and day, I usually use the sensitive range but this is just fine on my skin, no sensitivity, so it's a win!'
Another added, 'This product hydrates my skin fully, soaks in easily and leaves my skin smooth and soft. I recently ran out and didn't have any for a week and the difference in my skin in just a few days was huge.I really recommend for sensitive relatively dry skin. It smooths and plumps as suggested.'
Buy now from Mark's and Spencer, £47
Pestle & Mortar Hydrate Moisturiser
Pestle & Mortar Hydrate is a soft and lightweight skin moisturiser formulated with tri- and tetra-peptide technology to stimulate collagen production and restore skin's elasticity.It also has natural moisturising factors, jobaba and squalane which help hydrate, soothe and soften the skin whilst providing anti-ageing benefits to reduce the appearance of fine lines and wrinkles.
Reviewing the product online, one user admitted, 'I love this moisturiser. I have dry skin that's hyper-sensitive and prone to breaking out when stressed, and it's always a bit of gamble if something will break me out or not. My skin loves this and it keeps my face nice and hydrated. Highly recommend!'
Buy now from Mark's and Spencer, £43
This Works Morning Expert Vitamin C Power Mask
Everyone needs a great exfoliating mask in their skincare routine and thankfully M&S beauty aisles are answering our skincare prayers. This Works Morning Expert Vitamin C Power Mask with 10% Vitamin C and Jojoba smooths and brightens dull, tired looking skin. Water activates vitamin C gel-like granules to exfoliate away dullness, reduce uneven skin tone and tackle signs of premature ageing whilst Jojoba and sweet almond oil nourish and cleanse your skin.
Skincare blogger James Samuel said, 'My go-to mask when I want the brightening effects and antioxidant protection of vitamin C without it sitting on my skin all day. The 10% vitamin C derivative is enough to reap the benefits without any irritation. I always splash my face with water before application to activate the product and gently massage the mask into my skin for some extra glow. Then I allow a few minutes to brush my teeth before rinsing it off.'
Buy now from Mark's and Spencer, £39
L'Occitane Overnight Reset Serum
It's a serum rooted in natural oils to use every night for a youthful reset by morning. At £49 per bottle, it may seem a little pricey. But this is a highly recommended product that could help slow down skin ageing while you're getting your beauty sleep.
Reduce the appearance of stress, fatigue and pollution with this extraordinary serum that is suitable for all skin types. The serum is formulated with Acmella Oleacerawhich is a natural alternative to botox so the appearance of fine lines and wrinkles are slowly reduced over time. L'Occitane promises that after four weeks of use, skin will be be smoother, more radiant and plumped.
MORE:Why we get wrinkles and what to do to combat them
Dr Ross Perry said, "L'Occitane Overnight Reset Serum uses naturally sourced ingredients that tend to be vegetable-oil based. Ethically sourced products and oils have a natural affinity for providing hydration to the skin which for an overnight serum works well."
Buy now from Mark's and Spencer, £49
Which products will you be adding to your skincare routine?