Il Makiage Woke Up Like This Foundation review: has this brand revolutionized shade matching?
Our Il Makiage Woke Up Like This Foundation review reveals if the viral base is worth a buy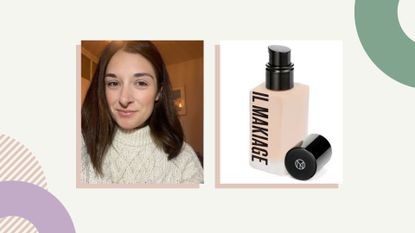 (Image credit: Canva/Future/Jess Beech/Il Makiage)
If shade matching is your foundation bugbear and you can't make it to the shops, Il Makiage makes shopping for base online easier than it's ever been. The long-lasting formula is less heavy and more skin-like than expected, although building it up can result in a pretty full-on look, pretty quickly.
Reasons to buy
+

Reliable shade matching

+

Long-wearing formula

+

Buildable finish
Why you can trust Woman & Home Our expert reviewers spend hours testing and comparing products and services so you can choose the best for you. Find out more about how we test.
I know I'm not the only one who finds the idea of shopping for a new foundation daunting, so writing this Il Makiage Woke Up Like This Foundation review felt like taking one for the team.
You'll either have never heard of Il Makiage before, or you'll feel you can barely move for mentions of them (they're big on social media advertising). The brand is not available to buy in-store, just via its website – which is its key USP. You see, Il Makiage believes you can find the best foundation in a spot-on match without having to leave the house. There's no need to submit photos, no lengthy Zoom consultation with an in-house makeup artist, just an online questionnaire that takes genuinely less than five minutes to complete.
SPECIFICATIONS
RRP: $45/£39
Available shades: 50
Coverage: Medium to high
Finish: Natural matte
Extra ingredients: Vitamin E and hyaluronic acid
I'm generally easy-breezy with foundation. My skin is combination, with oil and blemishes across my T-zone, tempered by drier skin on my cheeks. For the most part, I don't have trouble finding a formula that keeps both sides happy, but shade matching is a bugbear. I'm pretty pale but my skin has yellow undertones and find that shades within my color range skew too pink, which creates a stark (and quite odd-looking) contrast with my neck. You can see why the idea of Il Makiage's seamless shade match from the comfort of home appeals. Here's how I got on…
Our Beauty Editor's Il Makiage Woke Up Like This Foundation review
Il Makiage foundation shades
Let's talk about that shade match first. I found the online questionnaire pretty easy to follow, and a lot of it is looking at different skin tones on a model and clicking the one that you feel is closest to your own skin tone. My advice would just be to make sure you have the brightness turned up on your device, and, if you struggle with this kind of thing, to maybe enlist the help of a friend for a second opinion.
The shade I matched was 40, but that did look a little dark, so I added the shade down (20) to basket too. Both have a neutral undertone. When they arrived, I was glad I ordered both, as 40 was a tiny bit darker than I would have liked. I do wear fake tan (and shade-shift as it fades between applications) so using a combination of both colors has been a great compromise. Ultimately I was really impressed with the shade matching and both were convincing on my skin. I think if you can nail your undertones (yellow, pink, olive, or neutral) then you're onto a good thing with this service.
Il Makiage Woke Up Like This Flawless Base Foundation packaging
Having never tried the Il Makiage Woke Up Like This Flawless Base Foundation (or any of their other products) before, I had absolutely no idea what to expect when it came to the packaging. My only preconception was that at $45/£39, the price is certainly a step up from even the best drugstore foundations, so I assumed the presentation would reflect this.
The foundation comes nestled in an impactful monochrome cardboard box, with a color scheme that's not dissimilar to some of the most popular prestige brands on the market. As for the foundation itself, it's in a glass bottle with a plastic pump. I couldn't find any indication as to whether either element is recyclable online or on-pack, but can't see why the cardboard box wouldn't be, or the bottle if the pump was removed.
The foundation formula
The biggest selling point for this foundation might be the offering of 50 inclusive shades and the matching service, but plenty of consideration has gone into the formula too. There's vitamin E, which the brand says is there for anti-aging benefits, presumably due to its antioxidant abilities and potential to soothe and moisturize the skin. This is supported by hyaluronic acid, added for "hydration, protection and filling wrinkles". A powerful humectant, hyaluronic acid attracts moisture like a magnet to plump the skin as well as keep it supple. Both help to make the foundation comfortable to wear and stop your complexion from looking dull and dreary by 12pm.
How does it look and feel on the skin?
Now for the crux of my Il Makiage Woke Up Like This Foundation review: the look and feel of the formula. The words powerful, uniform, and matte in the product description set me up to expect one of the best matte foundations, or certainly something on the heavier side. So I was pleasantly surprised to find that it was much lighter than I anticipated. I used my fingers to apply on one side of my face, and a brush (which is what I would typically use) on the other. As you'd probably expect, the coverage was heavier and the finish was less flawless on the side where I used my fingers compared to the brush.
One layer did what I would describe as 'taking the edge off' – dialing down imperfections, knocking the redness out of spots, and making my skin look altogether fresher and clearer. I liked that it did this without blurring my features too much, and I would consider it a natural-looking base for every day. It's easy to build to full coverage but the product does feel heavy quite quickly, and when I did build it up I was very aware of it on my skin.
The formula is matte without being too flat (keep in mind that my skin is on the oily side, so this may not be the case for dry skin) but did cling a little around the nose and chin. The consistency is quite thick, so it's a little difficult to spread, and you need to work relatively fast to usher it into the right place before it sets. That being said, when I did need to touch up during the day I found the warmth of my fingertips was enough to melt and merge it where needed.
How about after a day of wear?
This is a proper foundation, the kind that isn't going to have shirked its responsibilities to keep your skin looking fresh and even by 11am. I applied one layer in the morning (building up a little more on blemishes) and it was still very much visible by the time I got in from a post-work dinner. My only gripe would be that it did fade faster in some areas than others, which is relatively noticeable with a medium to full coverage foundation like this. I'd say this is pretty typical with makeup and dehydrated winter skin though, as those thirsty areas can drink up your base.
Another thing to note is that the coverage became less matte during the day. For me, this wasn't a bad thing, as I do like my skin to have an element of dewiness, but if you're in favor of a fully matte finish, you might want to keep some translucent powder or blotting papers to hand.
Il Makiage Woke Up Like This Flawless Base Foundation review: My verdict
Sometimes, we just want beauty to be simple, and that's very much what Il Makiage offers. The idea that you can press a few buttons and have a foundation that's seamlessly shade-matched delivered to your door without having to speak to anyone is kind of the dream. The formula itself didn't blow my mind, but it's definitely the sort of base you can rely on. What I did love was how buildable the finish was, which makes it a good choice for people who love a barely-there base right through to a full-on finish. A crowd-pleaser that makes shade matching simple.
Jess Beech is an experienced fashion and beauty editor, with more than eight years experience in the publishing industry. She has written for woman&home, GoodtoKnow, Now, Woman, Woman's Weekly, Woman's Own and Chat, and is a former Deputy Fashion & Beauty Editor at Future PLC. A beauty obsessive, Jess has tried everything from cryotherapy to chemical peels (minus the Samantha in Sex and The City-worthy redness) and interviewed experts including Jo Malone and Trinny Woodall.