Supermodel Lauren Hutton's must have beauty products
Iconic model and actor Lauren Hutton reveals her all-time beauty essentials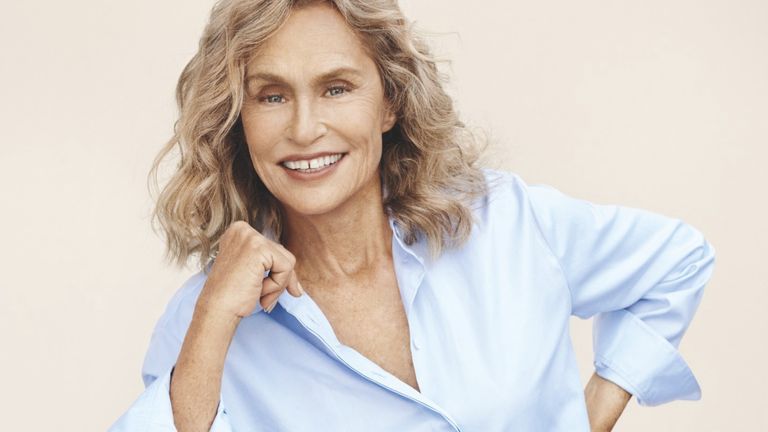 (Image credit: Strivectin)
At 77, Lauren Hutton has never looked more beautiful. Here she shares the secrets of her enduring good looks...
Despite being dismissed by many modeling agents at the start of her career due to her signature gap-toothed smile, Lauren Hutton's career as a model has spanned nearly six decades with numerous Vogue covers, a million-dollar modeling contract with Revlon, and starring roles in Hollywood movies, to name a few of her many successes.
Now, the Hollywood icon and Global Brand Ambassador for StriVectin reveals the secret to her timeless beauty. From the best face cream for nourished skin to the best hair masks for naturally wavy hairstyles and insider tips on applying concealer, Lauren Hutton tells all.
Lauren Hutton's beauty secrets
StriVectin SD Advanced Plus Intensive Concentrate
"I have used soap and warm water to start any beauty routine all my life. For a fast facelift, while I'm working, I will plunge and hold my face in an ice water-filled sink (I learned that one from Paul Newman). Then I moisturize with StriVectin SD Advanced Plus Intensive Concentrate. It feels wonderful–light but visibly effective. I also often put it on to sleep, layered over their serums."
Desert Essence Organic Jojoba Oil
"Looking after my skin is of number one importance. I'd advise everyone to protect their skin with a good sunscreen—I wish I had done that 50 years ago! And I swear by oils. Unfiltered coconut, neem, jojoba, avocado–alone or all mixed together. My favorite is Desert Essence Organic Jojoba Oil. I buy six at a time and use on wet skin after a shower."
Physicians Formula Gentle Cover Concealer
"My beauty essential is a concealer that isn't like a mask. Physicians Formula makes a good one shaped like a lipstick, called Gentle Cover. After applying, I dab over some matte moisturizer for more transparency."
Clinique Almost Lipstick in Black Honey
"I'm below low maintenance! My morning routine consists of washing, moisturizing, applying a bit of concealer, and a touch of Clinique Almost Lipstick in Black Honey. Then I'm ready. For the grocery store, dry cleaners, post office—whatever the day holds!"
Andrea Eye Q Makeup Remover Pads
"I have been using Andrea Eye Q's makeup remover pads since I was 16 years old - they are great at removing make-up and really inexpensive too. They come in both moisturizing and oil-free versions. I like the moisturizing version best, as it gives eyelids a lovely sheen. I wish I could use them on my whole face!"
Christophe Robin Regenerating Mask with Rare Prickly Pear Seed Oil
"When I'm not working, I just brush out my hair, twist it, plop it on the top of my head and pin it in place. I love curl shampoos that really bring out my waves because then I don't have to do anything but let it dry! For serious conditioning, I use Christophe Robin Regenerating Mask with Rare Prickly Pear Seed Oil two to three times a week. But sometimes I just use coconut or olive oil on my hair as a nourishing treatment."
"There are many ways to de-stress, relax and unwind, but finding beauty in nature is mine. Going to a park or being by the water is fine if you can't get into the wild. At home, a relaxing bath infused with orange peel, cold cucumber, or lemon is my favorite way to switch off."
Emma North is a Beauty Writer who works for digital titles including woman&home, Woman, Woman's Weekly, Woman's Own, Chat and GoodtoKnow. Emma's career in beauty journalism began with internships at publications including Vogue, Elle, The Telegraph and Glamour. She was then taken under the wing of Funmi Fetto, Contributing Beauty Editor at Vogue where Emma assisted with Funmi's debut beauty book, Palette.