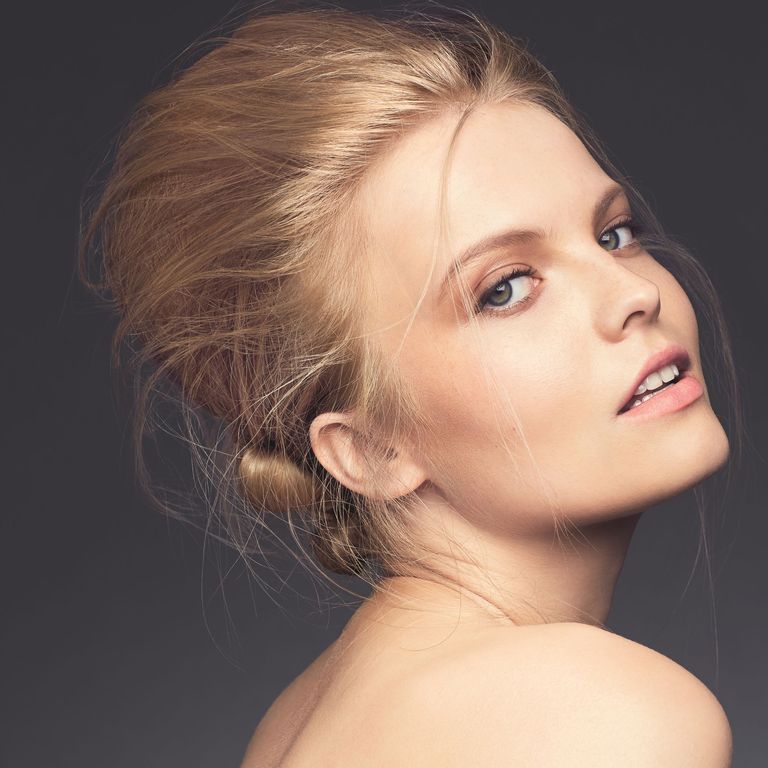 Create a new look with one of these on trend updos
Whether it's a wedding celebration, dinner party or just a day out shopping, an updo hairstyle is always in fashion.
The wonderful thing about updo hairsyles is that they're so versatile. Whatever your hair length or texture, there's a perfect updo to suit you. But our favourite feature of an updo look is that it's the ultimate choice for a bad hair day! Whether that's because it's raining outside or your hair is looking more shabby than chic, an clever updo is the perfect solution. Have a look through our updo hairstyles gallery and you'll never have to suffer a bad hair day again or be short of inspiration!
And if you're feeling the heat in the summer months, then a no-fuss updo is the perfect solution! The easiest way to stop feeling sticky on hot days is by putting your hair up, and our collection of updo hairstyles will leave you looking stylish and cool - in the literal sense of the word!
Easier to create than you think, an updo hairstyle is a simple way to instantly look glamorous and sophisticated. Whether you want something super elegant like a neatly-coiffed twist or something a little more relaxed, like a loose braid, an updo hairstyle is perfect for any festive fete. But there are plenty of great updo hairstyles that work for everyday looks too, with no-fuss styling that can be created when you are short on time in the mornings.
Whatever your hair type, we have an updo hairstyle to suit you, from ponytail hairstyles for long hair to plaited updo hairstyles for evening events and tousled updo hairstyles for curly hair to new twists on the classic bun updo hairstyle.
Browse our favourite updo hairstyles to inspire you to shake-up your current cut...
Hair by Regis
Long straight ponytail hairstyle
Find more hair tips here
The messy bun updo hairstyle
Find more hair tips here
The french twist updo hairstyle
Find more hair tips here
The messy ponytail updo hairstyle
Find more hair tips here
The relaxed updo hairstyle
Find more hair tips here
The sleek bun updo hairstyle
Find more hair tips here
60s ponytail hairstyle
Find more hair tips here
The side ponytail updo hairstyle
Find more hair tips here Hair by Rae Palmer
Modern French twist hairstyle
Find more hair tips here
The messy chignon updo hairstyle
Find more hair tips here
The loose sweep updo hairstyle
Find more hair tips here
Short Back Combed Hairstyle
Find more hair tips here
Plaited bun hairstyle
Find more hair tips here
Classic ponytail updo hairstyle
Find more hair tips here
Plaited updo hairstyle
Hair by Lockonego Find more hair tips here
Dramatic updo hairstyle
Find more hair tips here
Updo hairstyle
Find more hair tips here
Romantic updo hairstyle
Find more hair tips here
Voluminous updo hairstyle
Find more hair tips here
Strawberry blonde hairstyle
Find more hair tips here
Quiff updo hairstyle
Find more hair tips here
Demure updo hairstyle
Find more hair tips here
Plaited updo hairstyle
Find more hair tips here
Short Back Combed Hairstyle
Find more hair tips here
Up do Hairstyle
Find more hair tips here
Up do Hairstyle
Find more hair tips here
Short Hairstyle with twist
Find more hair tips here
Short up do hairstyle
Find more hair tips here
Up do Hairstyle
Find more hair tips here
The beehive updo hairstyle
Find more hair tips here
The new French twist updo hairstyle
Find more hair tips here
Up do Hairstyle
Find more hair tips here
Up do Hairstyle
Find more hair tips here
The slick pony updo hairstyle
Find more hair tips here
Up do Hairstyle
Find more hair tips here
Up do Hairstyle
Find more hair tips here
The messy updo hairstyle
Find more hair tips here
The elegant updo hairstyle
Find more hair tips here
The beehive updo hairstyle
Find more hair tips here
The wavy updo hairstyle
Find more hair tips here
The french plait updo hairstyle
Find more hair tips here
The high ponytail updo hairstyle
Find more hair tips here
The sleek bunches updo hairstyle
Find more hair tips here
The romantic updo hairstyle
Find more hair tips here