Spring twist hair—get inspired to try this DIY protective style
Our expert round-up of spring twist styles, perfect to switch up your look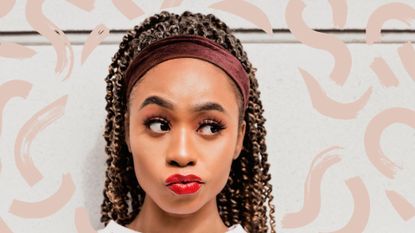 (Image credit: Getty images)
Spring twist hairstyles are a great choice for coiled hair if you want a fresh, protective take on the classic twist. The spring twist can be used as an alternative to braids and, brilliantly, with a little patience, you can actually create spring twist hairstyles at home.
As braided or twisted styles go, spring twists are relatively easy hairstyles that work with various lengths, giving you the chance to create a bespoke look. "Spring twists are a great option for DIY protective styling," says Lorraine Dublin, co-owner of My Hair Bar Salon. They are a good option for anyone who finds braided styles like box braids too heavy to wear for long periods of time.
Feeling inspired and want to know more? If you're ready to take your at-home protective styling to the next level, a spring twist might just be the route to take.
What to consider when choosing spring twist hair
Wondering if spring twist hair is your next protective look? Here's what you need to know:
Braiding hair: For this style, you will need to buy some curly braiding hair extensions to achieve the springy, bouncy texture that characterizes spring twists.
Tools: Apart from extensions, you will need sectioning clips, a comb, and hair gel handy for doing your spring twist style at home.
Time: Twists can take several hours to achieve. If that fills you with dread, you can fake the look with crochet hair: Simply cornrow your hair back and use a crochet needle to weave in ready-made spring twists for a quick and simpler version of the look.
Care: Similar to any protective style, scalp care is paramount with spring twists. Knowing how often to wash hair and keeping your scalp and hair nourished helps prevent hair loss from tension alopecia on the hairline, as well as keeping the scalp and twists looking fresh.
Upkeep: If well-maintained, there's no reason this style can't last as long as any twisted or braided style. "If twisted properly, this style can last up to eight weeks before the twists will need to be removed or redone," says Lorraine.
Spring twist hairstyles: the looks we love
1. Ombre spring twists
Face shape: any, especially oval or square
The subtle graduation of color in this spring twist look adds interest and dimension.
---
2. Spring twist bob
Face shape: heart or oval
A shorter bob hairstyle spring twist like this one is perfect for a heart or oval face shape, as it accentuates a neat jawline.
---
3. Natural spring twists
Face shape: oval or heart
If you have long enough locks, you can forgo the extra braiding hair. If you have tight coils, stretch your hair prior to twisting by using the best hair dryer with a smoothing brush.
---
4. Spring twist lob
Face shape: any, particularly oval
This long bob is a manageable length for creating spring twists, especially if you're twisting them at home.
---
5. Dip-dye spring twists
Face shape: any
If you don't fancy going down the balayage hair route, experiment with color in a hassle-free way by using pre-lightened spring twist braiding hair.
---
6. Auburn spring twists
Face shape: any, particularly square
A perfect color choice no matter the season, this warm brown hue complements all skin tones and amplifies the texture of the twists.
---
7. Voluminous spring twists
Face shape: round, oval or heart
A style like this requires smaller sections for more twists.
---
8. Side parting spring twists
Face shape: square or oval
If you have the dexterity to both braid and twist, you can create a side-parted look by doing a small cornrow at the start of each twist along the parting.
---
9. Short bob spring twists
Face shape: round or square
How short can you go? If you prefer a more stylized finish to your short hairstyles, make sure you do fewer sections for a less voluminous finish.
---
10. Firecracker spring twists
Face shape: any
To replicate this gorgeous look, mix in a few pieces of red curly braiding hair for a fiery accent.
---
11. Spring twist fringe
Face shape: heart, oval or round
Even if you haven't got bangs and you have a short style, you can create the look by twisting a few sections at your hairline.
---
woman&home thanks Lorraine Dublin of My Hair Bar Salon for her time and expertise.
Keeks is a London-based beauty writer and content creator. She has worked with titles including Cosmopolitan, VOGUE, Refinery29, Red, Elle, OK! and woman&home. While she has a well-rounded beauty obsession, her specialism is all things hair.
When she's not testing the latest hair tool on camera or waxing lyrical about styling tips, you'll find her re-watching old episodes of Real Housewives of Beverly Hills (or New York or Atlanta). She loves a social scroll as well as a romantic book, but nothing beats Sunday afternoon lunches with her friends and family. You can catch Keeks on all social platforms @keeksreid.