A hair expert reveals why shampoo could actually be terrible for our hair
There could be a better alternative...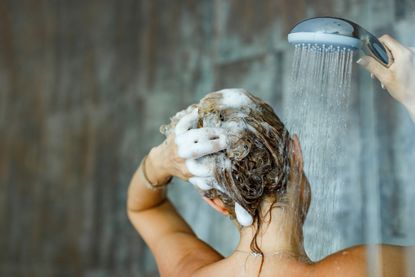 (Image credit: Getty Images)
For most of us, washing our hair with shampoo almost every morning (or every night) is as every day as cleaning our teeth, eating breakfast, and putting our shoes on for the day.
But it seems that actually, doing so could be damaging our locks in ways we hadn't even considered before.
Why might shampoo be damaging our hair?
Eli Halliwell, CEO of Hairstory (opens in new tab), spoke to The Sun's Fabulous magazine (opens in new tab), and revealed that shampooing our hair could be one of the worst things we can do to it. The hair expert revealed that whilst we rely on shampoo to clean our locks - it can often be the case that it's far too strong for our delicate strands of hair.
He confessed, "The reality is that shampoo is a product that was made to be too strong for its use.
"When people first invented shampoo, they decided the cleaner we can be, the better. And that made perfect sense for your hands, for your dishes...but it doesn't make sense for your skin or your hair.
What should we use instead?
Eli instead advised that rather then regular shampoos, we should actually be washing our hair with an oil-based cleanser - which he says is far better.
The hair expert went on to reveal that shampoo can be far too stripping for our hair, explaining why it might feel greasier, faster than normal. He explained, "When you use shampoo what happens on your hair and scalp is you end up stripping away you body's natural protective barrier.
"Your body responds by fixing itself and reproducing those oils in that barrier, and you end up in a vicious cycle, where you over clean and you over-produce oil.
He explained that his company, Hair Story have instead come up with a more natural product, New Wash, which he claims won't strip away that protection your hair needs.New Wash launched in the UK in 2018.
Eli said, "So when you rinse, the bond with the water is only strong enough to pull away from your scalp things that are loosely attached. That would be any product in your hair, any dirt, any excess grease, all the stuff you want to get rid of, but it's not strong enough to pull away your body's natural protective barrier."
SHOP NOW: New Wash original shampoo, £44 (opens in new tab)
The company also claims that the product can help undo damage done to your hair over the years, saying, "over time, it revives hair abused by detergent, damaged by bleach, and fried by heat styling."
So far, the products have won rave reviews, with one customer saying, "I was skeptical but I absolutely loved Hair Wash right from the first wash. My hair looks amazing, great texture and no grease."
There is also a New Wash (Rich) (opens in new tab), and a New Wash (Deep) (opens in new tab) too, both on sale for £44.
While another agreed, saying, "my hair has never felt as strong and healthy as it does now."
However, if you notice your hair getting greasy quickly, there are also other things you can try to prevent it.
Hair experts suggest that washing your hair too regularly could be particularly damaging, and could be making it look greasier faster than normal. Try reducing your hair washes to three times a week, and see if there is any noticeable difference.
Overbrushing your hair, and touching your locks too much, can also make your mane look much greasier much faster too. Cut back on both these things to avoid it.
Amy Hunt is an experienced digital journalist specialising in homes, interiors and hobbies. She began her career working as the features assistant at woman&home magazine, before moving over to the digital side of the brand where she eventually became the Lifestyle Editor up until January 2022. Amy won the Digital Journalist of the Year award at the AOP Awards in 2019 for her work on womanandhome.com.