A Chic Side-Parting: The Quickest Way To Look 5 Years Younger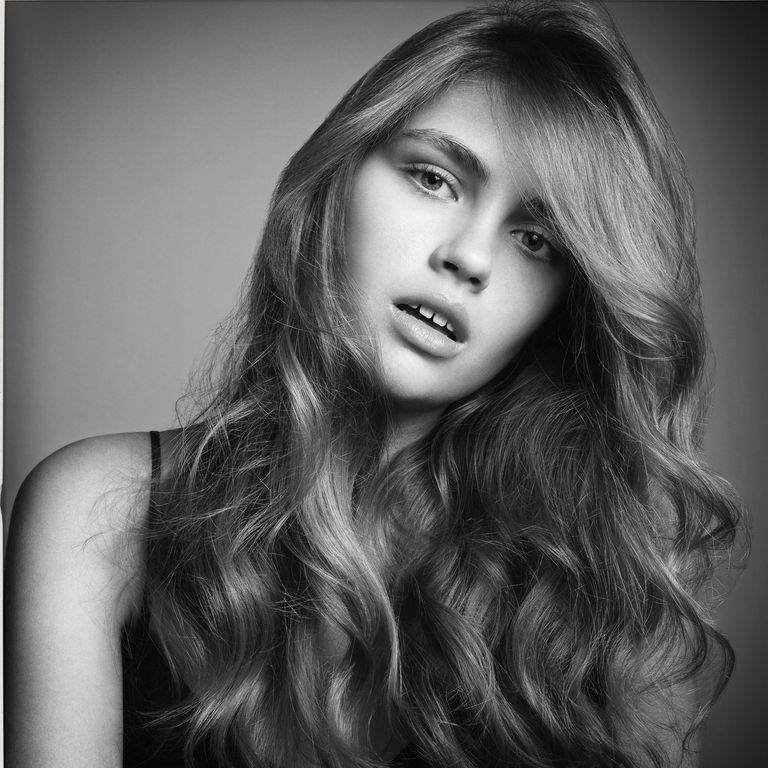 Update your look instantly with an easy-to-wear side-parting hairstyle
Want to update your look but don't feel like going for a drastic cut or new hair colour? Get inspired by these side-parting hairstyles. A side-parting is youthful, flattering and easy to wear. An instant style shake-up, side-parting hairstyles will breathe new life into an old cut.
It's the ultimate style update, as whatever you hair length or type, you can incorporate this new style into your look. A side-parting hairstyle will work on curly locks, poker straight tresses and will add a new dimension to old school waves, bardot-style updos and short bobs.
And the best part is that you don't need a trip to the salon or to buy any new haircare products to achieve this stylish look. There's also no risk of ending up with a look you hate for weeks (we've all had terrible haircuts that take ages to grow out) – with side-parting hairstyles, you can afford to experiment without any dire consequences. Simply scroll though our pick of the best side-parting hairstyles and find a look that will suit you.
Not sure how to find the best look for you? For a simple side-parting style that's both low maintenance and flattering, simply trace an imaginary line up from the inner edge of one of your eyes and then part your hair at that point. It's easy! If you want more of a polished look, style your hair when it's when to get a neater parting and use a bit of product to keep your tresses smooth. Voila – instant glamour!
Try a side-parting hairstyle and see how much more youthful, thick and full your hair appears - this quick and easy style change will instantly knock 5 years off anyone who tries it.
Glamorous side-parting hairstyle
If you're wearing your tresses curly, make sure your side-parting is in keeping with your relaxed style and resist the urge to set it in a straight line. Instead, using a comb, part the hair from the centre to the eyebrow arch and then back towards the centre again.
Blonde side-parting hairstyle
Add a touch of glamour to your locks by adding a deep side-parting. Take the hair from near the crown and pull into a side-parting from here, giving a natural-looking finish and a flattering fringe effect.
Long curly side-parting hairstyle
Old Hollywood curls are a great evening option for any hair type. Parting your tresses on the side is most flattering past 40 - a centre-parting with these dramatic waves will be ageing.
Straight side-parting hairstyle
If you have naturally straight hair, an unforgiving centre-parting is not only ageing, but will remove any sense of style from your chosen cut. Instead, move your parting to one side, going as deep as you dare - we recommend to stay in line with the eyebrow arch for a flattering look at any age.
Curly side-parting hairstyle
Naturally curly ladies so often make the mistake of parting their hair in the middle. An off-centre or side-parting will give new depth to your locks and a youthful edge to your features. Try tipping your head upside down and finding your new parting with your fingers - this way, your hair will part naturally and look less 'done'.
Sleek side-parting hairstyle
The ultimate in high glamour, this super-sleek hairstyle is our go-to look for any big event. The deep side-parting gives the illusion of thicker, fuller hair and creates a sexy side-fringe that will complement anyone, of any age.
Curled side-parting hairstyle
Whereas a centre-parting can make hair look flat and lifeless, a side-parting will lift your locks and give the illusion of thicker hair. Build extra body with the Redken Thickening Lotion for long-lasting volume and strength.
Short side-parting hairstyle
A short bob will be much improved by a side-parting. Keep it sleek and straight to give a retro vibe to your already chic style.
Blow-dried side-parting hairstyle
Lived in hair is perfect for summer, especially when you are on holiday. Give your tresses a sexy Bardot-style makeover with a deep side parting, some undone curls and teased volume.
Bob side-parting hairstyle
An easy way to mix-up your style at any age is to change your parting. Flip the front section of your bob over to one side, for a directional take on this classic cut.
Long side-parting hairstyle
A side-parting doesn't have to be structured and part of a 'done' look. Give your hair a relaxed edge with this up and down style. Pulling the top section back is another way to give your style an instant makeover.
Curled bob side-parting hairstyle
Give your short bob a new lease of life with a deep-set side-parting. Pull the hair to one side all the way to the crown for a statement style that will work for every day.
Updo side-parting hairstyle
Pull your tresses into a chic low pony with a side-parting twist. Tease hair up to add volume and flatter your face shape and features - whatever your age.