8 Hi-Tech Brushes That Will Transform Your Hair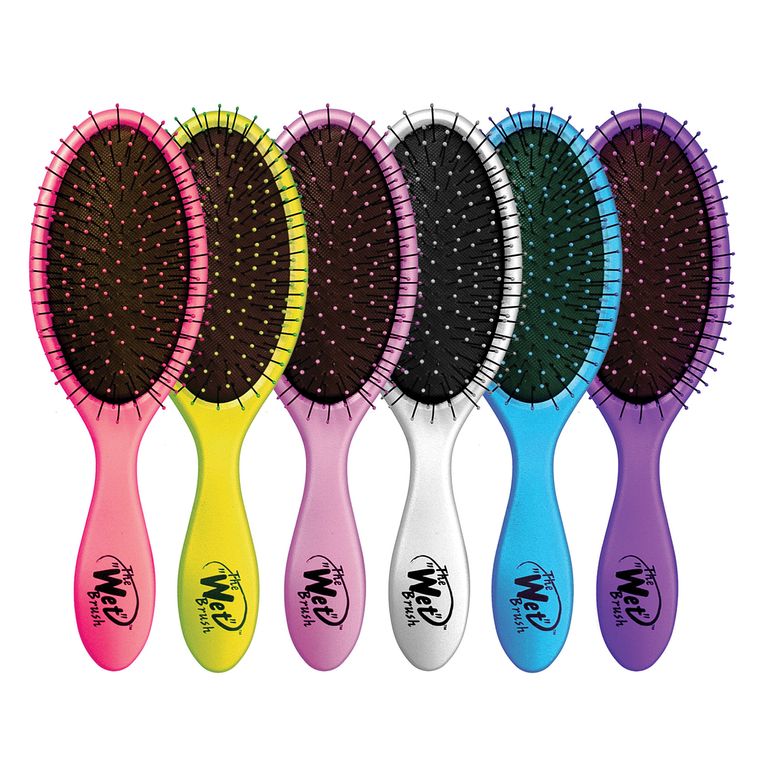 The space-age hairbrushes that will cut down on salon visits...
Knotty hair can be hard work and painful. If your lengths regularly get tangled try spritzing on a leave-in conditioner after every wash and brushing it through with The Wet Brush, £7.50.
Designed with flexible, widely spaced bristles this professional detangling brush effortlessly glides through fragile wet hair with minimum fuss. Making it the number one hairbrush in the United States.
The straightener
The vented ceramic-coated plates of Denman D79 Brush, £10.99 glide through hair to naturally straighten it. Clamp down during blow drying and the interlocking rows of natural boar bristle will gently smooth your hair's cuticle for sleeker straighter locks in an instant.
The volumizer
Want envious volume but can't get the hang of electric hair tools? You need Mark Hill's WonderBall 6 in 1 Styling Sphere,£9.99. The unique sphere shape surprisingly detangles and speeds up drying time. There are six exciting ways to style your hair from subtle curls to voluminous lift. Simply roll it under roots whilst blow drying to add height or twist it downwards through the lengths for a subtle Hollywood wave.
The growth accelerator
Reboot lazy hair follicles with Lifemax Hair brush, £12.99. This space-age hair brush uses infrared heat technology and a vibrating massage function to gently kickstart circulation. The surge in blood flow to the scalp is said to increase hair growth. Try it out if you want tumbling locks.
The shine provider
Healthy mirror shine doesn't have to be limited to salon visits. BaByliss Brilliant Shine Hot Brush , £29.99 uses innovative ionic technology to release frizz fighting ions directly into the hair shaft. Smoothed and replenished, hair appears more manageable and shiny after just one swipe.
The selfie helper
In a society obsessed with selfie taking, the Selfie Brush £16.99 will make sure you look picture perfect at all times. This quirky phone cover has a hair brush on one side and a mirror on the other to ensure you never get caught by surprise. More of a novelty than an everyday must-have, it will make a fun stocking filler for younger relatives.
The root lifter
Hair trends have taken a serious swing towards the sixties this season. Cue exaggerated body and neatly swept back beehives. To try the trend at home gently tease your hair backwards using Kent Back-Combing Brush, £8.99 staying as close as possible to the roots. Repeat in small sections across the T-section of your hair until you are happy with the amount of volume. Next pick your usual brush and lightly sweep it over the top of your back-combing to disguise the ruched up hair and give the appearance of natural lift.
The smoother
Blowdrying long hair can be challenging, all those whirling bursts of hot hair can play havoc with your lengths causing knots and tangles. Sweep GHD Paddle Brush, £20 through the ends as you dry, it will stop your hair from flying all over the place and smooth the delicate hair cuticle as it goes. Frizz-free hair can be yours for the taking.