Queen Elizabeth's nail polish color of choice is currently on sale—for just $6.66!
Queen Elizabeth's nail polish color is as demure as you would expect—and the Duchess of Cambridge is also a fan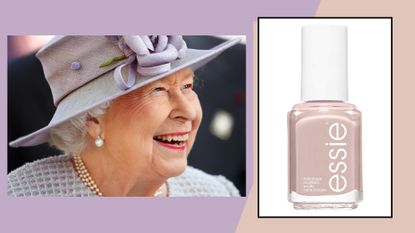 (Image credit: Future/Getty/Amazon)
The Queen's nail polish has been her fallback beauty buy for decades—and now you can get your hands on this iconic nail color for less.
The Essie nail polish that's become one of the Queen's beauty essentials is currently on sale for just $6.66.
Essie's Ballet Slippers is now a fraction of its original price for Amazon Prime Day.
---
The royal family typically shy away from bold colors and eye-catching nail art, preferring a much more demure look when it comes to their manicures. In fact, many of the women within the Monarchy choose a similar light pink shade that is both classic and neutral—the perfect finishing touch for the royal wave.
Which nail polish does the Queen wear?
Essie's Pink Nude Ballet Slippers Nail Polish has been well documented as the polish of choice for Her Majesty herself and right now it's on sale for just $6.66—a saving of 40% on the usual price. Queen Elizabeth II has worn the very subtle (and also very chic) Ballet Slippers shade since 1989 and has remained loyal to the American brand throughout her lifetime, reports Hello! Essie's Ballet Slippers is described on their website as "an iconic color for all the seasons"—and rightfully so.
The Queen's hands are rarely on show, as she often chooses to wear a set of gloves. However, when Her Majesty's bare hands are on view, you can pretty much guarantee that you'll never see a bright nail color.
---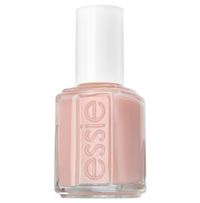 (opens in new tab)
Essie Ballet Slippers Nail Polish $6.66 $11.11 (save $4.45) | Amazon (opens in new tab)
Essie refers to the Ballet Slippers shade as one of their essential iconic colors that are appropriate for all seasons. The brand says that the pale pink polish has a subtle sheer finish for a classic finish.
There are two camps when it comes to nails. There are plenty of people who opt for bold summer nail colors and intricate nail art to express their creativity—after all, 'nail designs' was one of the top beauty-related Google searches last year, according to recent statistics.
Then there are those who prefer a more minimal approach, showing off healthy nails with a more natural finish (if you want to get your own nails in better condition, we recommend checking out our nail care tips guide).
It's no wonder that the women of the Royal Family, with their refined tastes and demure dress code, would choose a much more understated color palette for their manicures. In fact, the Queen's rule has become somewhat of a tradition for all female members of the royal family since then, with Catherine, Anne, Beatrice, and Eugenie usually veering away from bright or dark nail colors.
Essie was created in the '80s by Essie Weingarten and has sold thousands of different colors and types of polish over the decades. Ballet Slippers was one of the brand's original shades and—over 40 years later—its popularity has stood the test of time, so much so that Essie now offers a number of spin-off shades of this iconic color.
Ballet Sneakers is a less neutral shade with a brighter hue. Essie explains on its website that the shade is, "a twist on our classic shade Ballet Slippers, this full-coverage pink nail polish with blue undertones and a soft matte finish is for the modern fashionistas who wear sneakers with whatever outfit they choose."
Essie has also created Ballet Slippers Remixed which is another shade of the same color. Essie says, "whether, for dance class or every day flats, this graceful classic pale pink nail polish with a sheer finish is always on pointe."
But it isn't just the Queen who loves this pale pink color—the Duchess of Cambridge is also a fan of subtle shades. Duchess Catherine's manicurist, Marina Sandoval, blended two shades to make the perfect wedding day color for Kate, with a result that was very similar to the Queen's staple Essie polish.
"Manicurist Marina Sandoval blended Essie's ultra-wearable Allure shade with Bourjois' So Laque Nail Enamel in 'Rose Lounge ' (a pastel pink hue) to create a lovely, timeless color," reported My London.
So if you want to get that classic royal look for your nails, you can either head for the classic Ballet Slippers shade from Essie, or pick a similar subtle hue that still exudes that classic royal glamour.