Estée Lauder virtual makeovers will brighten up your weekend during isolation
We asked Estée Lauder's UK Pro Makeup Artist Emma Tillman to select her top three looks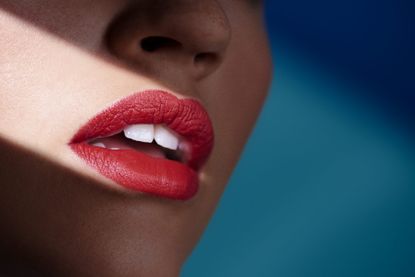 It was Elizabeth Taylor who once said, 'Pour yourself a drink, put on some lipstick, and pull yourself together'.
But she's not alone in recognising the power of a bold lip. Everyone from Taylor Swift to Coco Chanel has paid homage to the most transformative of make-up tools.Right now, during the era of isolation, it's a good day if I make it out of my pyjamas for the bedroom to living room commute. Hair is in a top knot, makeup remains tucked away, reserved for the day when, in the words of Her Majesty, other humans and I "will meet again". In all honesty, I'd be lying if I said I wasn't enjoying the hiatus.
However, that doesn't mean I don't yearn for the excuse to crack open the mascara every now and again, especially when it gets to the weekend. As a beauty writer, I love trialling new products and trends, but, right now, is there much point? Well yes, actually. While there's no pressure to don a full face daily, there's something to be said for the positive psychology of still adhering to your usual grooming routine - or getting completely dolled up - at least now and again.
If you want to try a new look, now is the time to test the waters. And if you want to try a new look before actually investing in a new product, Estée Lauder has the perfect solution. If you're going for a new shade, you'll want to check it out against your skin tone. But with makeup counters closed while the country is in lockdown, a virtual lip try on session could be your answer.
Estée Lauder virtual lip makeovers
Back to bold lips and how much we love them. This iconic makeup brand has a new section on their website where you can virtually try on every single shade in their Pure Color Envy range (opens in new tab), from the summery Power Grab shade, to the iconic Carnal.
We asked Emma Tillman, Estée Lauder UK Pro Makeup Artist, what her must-have three Pure Color Envy shades are, for Zoom catch-ups, virtual cocktails and - one day - life on the outside. It was only right that we put the Estée Laude virtual lipstick function to the test - can you tell the difference?You can have a play yourself and try a virtual lip here (opens in new tab).
Disclaimer: the below includes pictures of myself pouting and making eyes at the camera from my bedroom, and it was the most fun I've had all day.
Carnal, £27
First up is Carnal, the most badass of reds. This shade oozes confidence. "If you're catching up with friends on face-time in the evening, why not invest in a red lip in the shade Carnal? " Emma told us. "It's okay to stay at home and wear red lipstick!"
MORE:This is Estée Lauder's bestselling lipstick across the globe - and it suits all skin tones
Power Grab, £27
Power Grab is a bold pink shade that has us dreaming of summer. "Power Grab is a great multitasker – I like to gently press into the lips and then apply a little to my cheeks for a flushed natural glow – perfect for that work zoom call," Emma told us.
Naked Desire, £27
For a more natural makeup look, Naked Desire is the one."A subtle nude such as Pure Color Envy in Naked Desire is great for when you want something a little more than your natural lip colour," said Emma.
If you want to try any of these shades - or another from the 45-shade strong range - for yourself, here's the link (opens in new tab).
Estée Lauder deliveries
Deliveries are taking a little longer than usual, but rest assured, should you find your perfect shade, the brand are doing their best to ensure deliveries arrive in 5-7 working days.
Lauren is the former Deputy Digital Editor at woman&home and became a journalist mainly because she enjoys being nosy. With a background in features journalism, Lauren worked on the woman&home brand for four years before going freelance. Before woman&home Lauren worked across a variety of women's lifestyle titles, including GoodTo, Woman's Own, and Woman magazine.