Caroline Hirons' skincare routine is a no-nonsense approach to beauty
Caroline Hirons book, Skin Care, is the bestselling UK skincare book of all time.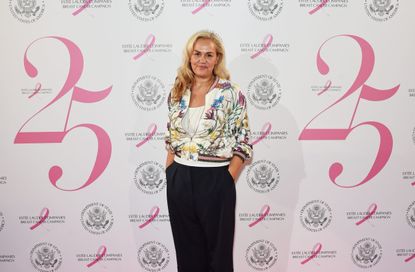 (Image credit: Getty Images)
It can feel like you need a qualification in cosmetic chemistry to work out modern day skincare.
12-step skincare routines and complicated ingredients lists play their part in overcomplicating things, leaving many of us questioning what products - and in which order - you should be putting on your face.
Beauty-blogger-turned-author Caroline Hirons has captivated the masses with her no-nonsense attitude to skincare; the Caroline Hirons skincare routine is simple and effective. It's clearly an approach that is working, considering her debut book, Skin Care is the bestselling skincare book in the UK of all time.
So what is the perfect skincare routine, according to Caroline Hirons?
Caroline Hirons' Skincare Routine
First up, you'll need the right tools:
You're going to need to buy some flannels (washcloths) No wipes unless you have no access to water (hospitals, fannies, flights, festivals – emergencies only, you get the idea)
The morning routine:
Cleanse
Exfoliating (acid) lotion
Hydrating mist
Eye cream (use a gel if you have puffy eyes)
Serum/oil
Moisturiser
SPF
A hotly debated topic is whether we should cleanse our skin in the morning too, or just at night, to remove makeup, dirt and grime from the day. For Caroline, it's a firm yes.
'Taking care of your skin in the morning is no different to having a shower before you put clean knickers on. You may think this is obvious, but I am contacted regularly by people who say, 'Do I really need to cleanse in the mornings?' she writes. 'Yes. I don't know about you, but I wake up with a lovely glow in the mornings – maybe you do too? It's called sweat. Please wash your face.'
The evening routine
Double cleanse
Exfoliating (acid) lotion (unless you are using a Vitamin A product)
Hydrating mist
Vitamin A product (if using)
Eye cream
Serum or oil
Moisturiser (if needed)
So why do we double cleanse in the evening?
'The only time I don't double cleanse is if I have been indoors all day and have applied neither SPF nor makeup,' Caroline writes. 'If you wear SPF you need to double cleanse. A lot of people who think they are allergic to SPF because it breaks them out are simply not taking the time to wash it off properly. (Please don't take it personally if you genuinelyareallergic to SPF – I'm clearly not talking to you.)
SPF is designed to stay on your face. Take the time to remove it. Makeup is designed to stay on your face. Take the time to remove it.'
According to Caroline, a good facial oil or serum is the product we should be spending the most money on. 'Serum, or a treatment, is my favourite step, she writes. 'This is where you can really go to town. This should be your main expense skincare-wise.Again, try and have at least 3 products you can mix up and use depending on your skin's needs.'
VIEW NOW: Caroline Hirons Skin Care, £10
How should we adapt our skincare routine for the colder months?
Battling with the elements isn't brilliant for our skin; nor is the transition from a blustery autumn day into drying central heating. But a few small swaps can make all the difference.
"When you change your coat, change your skincare," Caroline told Ruth Langsford on This Morning. "It's at least twice a year, but if you want more, it can be four times a year. But we should all now be looking at amping up hydration.
'But the biggest mistake you can make is going out and buying a really thick moisturiser, as all that's going to do is sit on your skin.' Instead, Caroline recommends layering on the product.
https://www.youtube.com/watch?v=YfO3PGxIZ8Y&feature=emb_title
She also suggests switching to a more nourishing cleanser, like the Inky list Oat Cleanser, £9.99 and using a trusty favourite from the brilliant Dr Jart range, the Dr Jart Cerimidin Cream Mist, £13 as your hydration saviour throughout the day. Caroline advises spritzing morning and night, as well as throughout the day.
Lauren is the former Deputy Digital Editor at woman&home and became a journalist mainly because she enjoys being nosy. With a background in features journalism, Lauren worked on the woman&home brand for four years before going freelance. Before woman&home Lauren worked across a variety of women's lifestyle titles, including GoodTo, Woman's Own, and Woman magazine.