Carole Middleton's Top Health And Beauty Tricks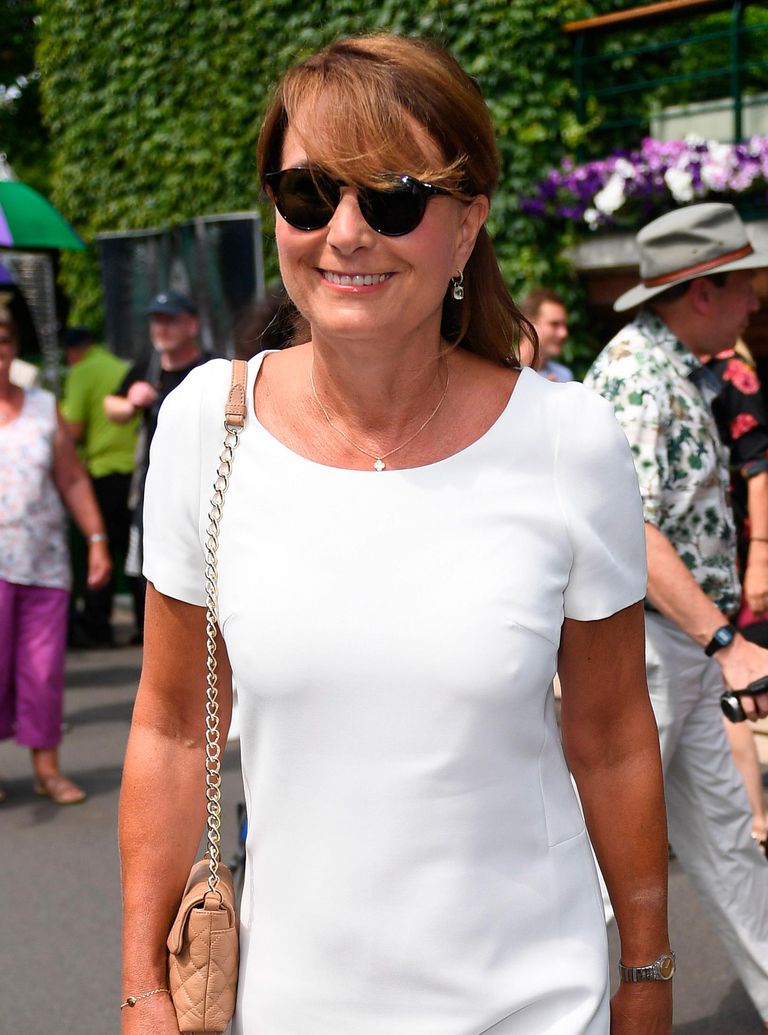 (Image credit: Rex Features (Shutterstock))
Carole Middleton always looks effortlessly stylish. Catherine and Pippa's mum's fashion choices are always elegant, and her hair and make-up are always polished.
With all eyes on the Middletons earlier this year for daughter Pippa's wedding day, it's no wonder Carole wanted to look her best. Rumour has it that Carol had a rather specific health and beauty plan in the build up to the big day - and we want in!
These are the health and beauty tricks that Carole Middleton is said to swear by, especially before a big occasion...
Hair
The Middleton sisters are blessed with beautiful, voluminous and shiny locks - and we can see where they get their good genes from!
Carole is said to be a devoted fan of celebrity hairdresser Richard Ward, and he was the hairdresser that was entrusted with styling Carole's hair for Pippa's wedding. Richard recommends soft blonde highlights around the face to soften any fine lines and wrinkles. These are paired with chocolate brown and ash brown low lights, to ensure the lighter tones never look brassy.
It's been reported that Carole is regularly uses deep-conditioning treatments to treat drying locks. We recommend using an oil-based deep conditioning mask and sleeping in the hair masque to reap the benefits of the formula.
L'Occitane (a brand that Carole is rumoured to be a fan of!) do a deeply nourishing repairing hair masque, which includes five essential oils.
BUY it here for £26, L'Occitane
Beauty
Carole's make-up style is usually minimal and understated, so if you want to give your make-up bag a Carole Middleton style makeover, think pretty nudes, soft eye and brow pencils and a natural base that will give a dewy finish.
Carole is often seen sporting a nude lip. To get the look yourself, we recommend using an anti-feathering lip pencil like the Laura Mercier Anti-Feathering Lip Pencil, £16.50. Start by drawing around the natural lip line, then fill in and top with clear gloss. Choose a subtle level of shine and apply minimally.
BUY it here for £16.50, Laura Mercier (opens in new tab)
Carole is also a fan of regular facials and visits Linda Meredith beauty salon in London's Knightsbridge to give her skin a boost. Carole swears by the brand's V-Tox cream, but it's rather expensive to try at home at £99 a pot!
Health
For Carole, 'you are what you eat' is more than just an expression. She is said to be very careful about what she consumes and is very clued up on the health and beauty benefits of certain foods.
Her all-time favourite superfood is said to be avocados. Insiders say she has one each day to provide her skin, hair and nails with essential fatty acids.
Like daughter Pippa, Carole is said to have an interest in the Sirtfood diet, which is meant to slow the ageing process and speed up the metabolism with a diet rich in active protiens.