The 9 best makeup organizers to tidy your vanity in 2022
Our edit of the best makeup organizers will keep your cosmetics, brushes, and other beauty essentials neat and sorted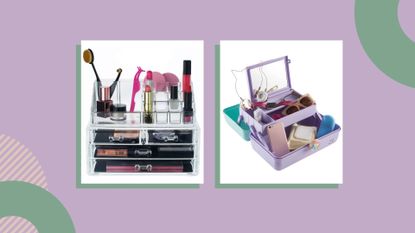 (Image credit: Future)
The best makeup organizers will transform your vanity or dressing table from a cluttered mess to a pristine dream. Plus, you'll be less likely to lose or misplace your favorite items, which can be truly heartbreaking.
Reorganizing your beauty products as part of a spring cleaning makeup declutter is the perfect time to evaluate how orderly your makeup area is (or isn't). If you can't seem to keep track of your cosmetics whilst putting on your face, it's time to invest in a new makeup organizer or two.
We've picked nine of the best makeup organizers you can buy right now based on functionality, value, and our own testing. Whether you want an organizer that sits right on top of your makeup table or a carrying case you can tote anywhere, our list has just what you need for carefully sorting your best makeup brushes, best makeup palettes, and tubes of long-lasting lipstick. Several options are even large enough to accommodate your skincare products and everyday jewelry, too.
How to find the best makeup organizer
Why you can trust Woman & Home Our expert reviewers spend hours testing and comparing products and services so you can choose the best for you. Find out more about how we test.
When shopping for a makeup organizer, there are a few key considerations to make:
Portability: The first thing to look into is whether you need something fixed or portable. For instance, if you want to place an organizer on a vanity or desk, measure the area so you don't end up with a piece too big for your intended space. For a cosmetics carrier, you can take on the go, find a model that's easy to transport with enough room for all of your travel essentials.
Space required: Meanwhile, consider how much (or little) you have to store. Naturally, if your cosmetics collection rivals your local Sephora, opt for something with plenty of drawers and slots. One suggestion is to find a modular organizer that expands or will allow you to stack multiple components so your organizer can grow as you procure more products. Also think about if you'll need storage for other beauty items—like makeup brushes, hair styling products, nail polish, or skincare.
Cleaning: Inevitably, makeup organizers will get dirty over time so you'll want something that you can easily clean. Most organizers are made of plastic, which is simple to wipe down. (We have a list of expert tips for cleaning your makeup organizer below)
Cost: Finally, mind your budget. Most makeup organizers are affordable, but there are also premium models with added bells and whistles that are quite pricey. Only pay for what you need.
The best makeup organizers, chosen by our beauty team
1. Kryllic Vanity Makeup Organizer
Best makeup organizer overall
Specifications
RRP: $16 / £16
Type: Free-standing vanity organizer
Construction: Acrylic plastic
Dimensions: 9.5x5.5x9 in / 24x14x23 cm
Reasons to buy
+
Made from durable plastic that's easy to clean
+
Top slotted tray and bottom drawers detach
+
Small footprint so it'll suit most vanities easy
Reasons to avoid
-
Drawers might be too shallow for some
For most people, the Kryllic Vanity Makeup Organizer will be your best bet when it comes to keeping your cosmetics and beauty supplies nice and neat. On top is a tray with multiple open slots for easy access to lipsticks, brushes, mascaras, and other cosmetics you reach for often. Underneath that is a set of four drawers that measure 1.5 in/3.8 cm deep—ideal for storing eyeshadow palettes, blushes, and compacts.
The Kryllic Vanity Makeup Organizer is made from sturdy acrylic plastic that's simple to clean—just use a damp cloth to wipe it down. The tray and drawers also detach, so you can place them separately on your vanity or dressing table if it makes more sense for your setup.
We would give this high praise for its small footprint, durable build, and modular design. If you are storing bulky items you may find the drawers a tad too shallow. And because it's on the smaller side it may be wise to buy more than one of these if you have a lot of items you need to store. Fortunately, at under $20/£20 it's not totally unreasonable to buy several.
2. Ameitech Rotating Makeup Organizer
Best rotating makeup organizer
Specifications
RRP: $35 / £26
Type: Free-standing vanity organizer
Construction: Acrylic plastic
Dimensions: 9.8x9.8x14.2 in / 25x25x36 cm
Reasons to buy
+
Takes up minimal vanity space
+
Shelves are adjustable
+
Has top-side storage as well
Reasons to avoid
-
It's somewhat pricey for what it is
The size of the Ameitech Rotating Makeup Organizer is deceiving because it doesn't seem like it'll hold a whole lot. But as it's 14in/36cm tall and features eight adjustable shelves, you can make it as high or low as you want. That way, you can keep large bottles of foundation in one area and your smaller eyeshadow pots in another one.
This acrylic plastic organizer rotates 360 degrees so you merely have to spin it to get to your desired items. There's also storage on top, with slots for your favorite brushes, lipsticks, and fragrances. Some assembly is required but it's fairly straightforward and you won't need any tools.
One of the best things about this is that it's a real space saver—it's capable of fitting so much stuff yet won't take up too much room on the counter. We also love being able to adjust the height of the shelves, making this a cleverly bespoke option.
3. Caboodles On-the-Go Girl Case
Best Caboodles makeup organizer
Specifications
RRP: $23 (US only)
Type: Carrying case
Construction: Plastic and glass
Dimensions: 13.9x8.9x6.5 in (closed)
Reasons to buy
+
Opens up to a raising tray with a mirror
+
Great to take on a road trip or train ride
+
Good for anyone getting started with makeup
Reasons to avoid
-
Plastic construction seems flimsy
-
Too bulky for air travel
This one is for the 1980s babies who remember Caboodles cases from their adolescence. Thirty-five years after its initial release, the Caboodles On-the-Go Girl makeup organizer is still going strong. Unlock the latch to reveal a raising three-compartment tray—one of which includes a lid with a mirror on the underside. Beneath the raising tray is additional space for larger items.
The top handle makes it easy to tote it from one location to another—whether it's from your bedroom to the bathroom or whilst you're traveling on the road for a weekend. And we'd be remiss to overlook the deliciously retro color scheme. Does it get any more eighties than sea foam and lavender?
Unsurprisingly, we love the nostalgia factor—but we also find it practical in the current day. Parents may also wish to buy this Caboodles case for teens and younger tweens who are just getting started with makeup.
4. Abrams Rolling 4 In 1 Cosmetic Trolley Makeup Case
Best makeup organizer trolley
Specifications
RRP: From $145 (sold out in UK)
Type: Trolley
Construction: Metal and plastic
Dimensions: 39.5x13.4x10 in
Reasons to buy
+
Has four spacious tiers that also come apart
+
Telescoping handle plus 360-degree wheels
+
Comes in four different colors
Reasons to avoid
-
Latches don't always close properly
Keep your vanity free of makeup products altogether by storing them in the Abrams Rolling 4 In 1 Cosmetic Trolley Makeup Case. It's over three feet high and features four tiers that you can take apart should you only need to use a few items at a time. The upper tier features a cascading fold-out tray for small items, while the 15in base tier is suitable for a makeup mirror and other bulky items. The middle two tiers have built-in compartments for easy organization. Everything locks via two metal latches.
Hauling this makeup organizer trolley won't be any hassle thanks to a telescoping handle and 360-degree swivel wheels. It's available in four colors, from a cheerful pink to a sleek black with silver accents. And because it's so spacious you'll be able to fit your whole beauty routine within it—including hair tools, facial brushes, daily vitamins, and much more.
Those who have limited bathroom space will find this a suitable storage solution, while beauty industry workers such as makeup artists will love how seamless it is to bring on jobs. Although our feelings about this makeup organizer are overwhelmingly positive, on the odd occasion we did experience the latches not closing properly.
5. iDesign Small Expandable Organizer
Best in-drawer makeup organizer
Specifications
RRP: $13 / £11
Type: Tray
Construction: Plastic
Dimensions: 11.2 to 18.8x7.7 x1.31 in / 28.6 to 47x19.7x 3.2 cm
Reasons to buy
+
Expands to fit most drawers
+
Contains multiple compartments
+
Can also sit on a vanity or dressing table
Reasons to avoid
-
Doesn't always stay expanded
If you're inclined to keep your cosmetics in a drawer, the iDesign Small Expandable Organizer will be the best makeup organizer for you. It measures 11.2 in/28.6 cm wide and expands up to 18.8 in/47 cm—giving you a custom fit within your drawer for all of your items. It has six compartments of varying sizes so you can fit everything from brushes to beauty blenders inside, keeping them neat and tidy.
Though it's made to fit inside a drawer, this iDesign makeup organizer can also sit atop a vanity or dressing table for unobstructed access to your most-used products. A non-skid bottom helps to keep it in place, no matter where you place it. Naturally, we loved being able to customize the width of this makeup organizer to fit their space. However, it doesn't always stay expanded (some canny buyers solved this issue by taping either end of the organizer to their drawer.) At less than $20/£20, you can buy several and easily organize every drawer in your home—even beyond cosmetics and beauty products.
6. Beautifect Box
Best luxury makeup organizer
Specifications
RRP: $322 / £279
Type: Carrying case
Construction : Molded acrylic polymer and glass
Dimensions: 11.5x9.7x3.9 in / 29.3x24.6x9.8 cm
Reasons to buy
+
Has a built-in 5-LED light with 3 brightness levels
+
Features a pair of brush holder flaps
+
Made of durable plastic with a plush quilter outer
Reasons to avoid
-
May be cumbersome for air travel
The Beautifect Box is a premium makeup organizer that doubles as a lighted mirror with five color modes plus three brightness settings. This will enable you to get ready anywhere you feel most comfortable, whether it's your bathroom, bedroom, or even your living room. It's super convenient for travel as you won't have to be beholden to subpar lighting in your hotel room or Airbnb.
The main storage area of the Beautifect Box contains four separate compartments plus a couple of flaps for storage of makeup brushes. There's also a 5x magnifier mirror that attaches to the primary mirror. On the outside is a luxe quilted exterior with a couple of mini clasps on either side.
The Beautifect Box has an internal battery that you can charge via the included USB-C cable. A single charge will last for up to a month. Yes, you'll be paying quite a lot but what you'll get in return is a well-made product that can go just about anywhere with you so you can achieve a flawless look every time.
7. byAlegory Acrylic Makeup Brush Organizer
The best makeup brush organizer
Specifications
RRP: $22 / £33
Type: Free-standing vanity organizer
Construction: Acrylic plastic
Dimensions: 5.1x5.1x13 in / 13x13x33.1 cm
Reasons to buy
+
Fits 12 brushes of various sizes
+
Also serves as a drying rack
+
Small footprint convenient for most spaces
Reasons to avoid
-
Silicone hole plugs can be fiddly
The byAlegory Acrylic Makeup Brush Organizer is an excellent way to keep your brush collection orderly. This 13 in/33cm tall stand organizer has 12 slots with silicone plugs that'll secure everything from large powder brushes to slim eyeshadow brushes.
This plastic stand has beveled edges so you won't risk pinching your fingers against any sharp edges when reaching for what you need. In addition to a crystal clear finish, it's available in sheer pink if you're looking for a pop of color.
If your brush collection is huge, you can buy several and still save quite a bit of counter space. We also like that this organizer can serve as a drying rack for just-washed brushes, plus its small footprint allows it to seamlessly fit almost anywhere. Beware of the silicone plugs in each hole, though, as they can be somewhat fiddly.
8. iDesign The Sarah Tanno Collection Palette Organizer
Best makeup organizer for palettes
Specifications
RRP: $15 / £15
Type: Free-standing vanity organizer
Construction: BPA-free PET plastic
Dimensions: 8x4x3 in / 20.5x10.2x9.3 cm
Reasons to buy
+
Raised dividers keep everything in place
+
Made from BPA-free PET plastic
+
Designed by Lady Gaga's makeup artist
Reasons to avoid
-
Slots aren't wide enough for larger palettes
Sarah Tanno is Lady Gaga's makeup artist, and she designed this seven compartment palette organizer exclusively for iDesign. If you collect makeup palettes like nobody's business, grab a couple of these and sort out or show off your entire collection. The raised dividers keep everything in place so your palettes aren't toppling over like dominoes. We love that this allows us to organize our palettes while also showing them off.
This iDesign x Sarah Tanno palette organizer not only looks good, it's sturdy and well-built plus it's also good for the environment. It's made from BPA-free PET plastic, which can be recycled if you ever decide you no longer have a need for it. But we trust you'll rely on this nifty makeup organizer to keep your palettes sorted for many years to come.
9. SONGMICS 2-in-1 Wall-Mounted Storage Organizer
Best wall-mounted makeup organizer
Specifications
RRP: $116 / £78
Type: Wall-mounted organizer
Construction: Engineered wood, acrylic plastic, and glass
Dimensions: 3.8x14.8x42.5 in / 37.5x9.7x108 cm
Reasons to buy
+
Holds beauty products and jewelry
+
Mount it on a wall or hang it behind a door
+
Has a full-length mirror on the front
Reasons to avoid
-
Magnetic latches lose power over time
The SONGMICS 2-in-1 Wall-Mounted Storage Organizer will hold all of your makeup in addition to your jewelry collection. This 42.5 in/108 cm unit contains four shelves plus two removable acrylic plastic trays for easy retrieval of your brushes, lipsticks, foundations, and more. On the opposite side is ample storage for all of your jewelry—including 36 necklace hooks and 39 ring holders. There's even a full-length mirror on the outside so you can do one final check of your hair, outfit, and makeup before heading out.
There are magnetic latches on the door to keep it closed but you can further protect your valuables from dust and prying hands with a side lock and key. We do wish the shelves could be height-adjusted, however. Plus, the latch magnets become weaker with time according to some accounts—chances are you'll need to keep it locked whenever you're not using it.
If you're not keen to mount this makeup and jewelry organizer on your wall, hang it on the back of your bedroom door instead, using the included brackets. It's pricey and will require some assembly, but this is a convenient way to keep your vanity and wall units free of clutter.
---
How to declutter your beauty products for storage
Marie Bateson, APDO's Volunteers Director and Owner of Cut the Clutter advises giving your makeup bag and cupboards a good clear out before sorting your favourite products and pieces into a brand new makeup organizer:
Gather everything together, all your makeup bags, hair sprays, perfume, from all of your handbags and drawers.
When you have it all together, remove expired products and ask yourself if you have used the remaining items in the last six months. Are you really a pink eyeshadow person! Be realistic and if unused add to a donate bag.
Decide on the right place to store most of your products. This could be in more than one place if for example, you put your makeup on in the bedroom as you have a great mirror, then it needs to be kept close to the mirror, but all of your body products might be better stored in the bathroom.
Keep hand cream and lip balm on the bedside table so you don't forget to apply each night.
If you have spares, as we often do from receiving gifts or buying a 2 for 1, a nice vanity case, fancy box or another drawer might be needed. If all of your products are spread around the house in different places you will forget to use them, buy them unnecessarily, and probably let them go out of date.
How to keep your makeup organizer clean
Makeup organizers are prone to getting dirty over time. In addition to looking unsightly, this can also breed bacteria—which will transfer to the products you use on your face and possibly lead to troublesome breaking out. However, with regular cleaning and sorting, you can avoid these issues altogether.
We asked several experts to share their top tips for effectively cleaning makeup organizers...
Clean organizers once a month, or any time they're visibly dirty: "Usually this involves wiping away any makeup on the organizer with a makeup removal wipe, then cleaning the interior of the organizer with a damp cloth and some dish detergent or other mild disinfecting soap."—Grace Baena, Interior Designer of Kaiyo
Be sure to remove thoroughly remove dust or other debris: "Empty your organizer and use a compressed air duster to blow away dust — especially the kind that's stuck in the corners of the compartments. We like using a compressed air duster because it's fast and easy."—Diana Rodriguez-Zaba, President of ServiceMaster Restoration by Zaba
However, don't treat your makeup organizer like a bin: "[We] tend to use our makeup organizers to sharpen our makeup pencils. Why? It's not a bin. Start sharpening them in your room dustbin so that you don't have to take the whole [organizer] and empty it out to clean it."—Alicia Johnson, CEO of Cleaning Green LLC
Remember to regularly clean your brushes and applicators, too: "Brushes and sponges can carry bacteria if not routinely cleaned. Immerse brushes in soapy water and gently use your fingers to massage and remove old makeup. Then rinse in clean running water until the water runs clear. Blot them dry with a towel taking care to keep brush bristles in line and allow them to air-dry."— Nancy Traylor, Organization Expert
Once you've successfully organized your cosmetics, head over to our list of the best skincare fridges. Not only are they super cute, but they're also very practical—especially since chilling your favorite skincare items can make them more effective and help them last longer.
---
woman&home thanks Grace Baena of Kaiyo, Diana Rodriguez-Zaba of ServiceMaster Restoration by Zaba, Marie Bateson of Cut the Clutter, Nancy Traylor,and Alicia Johnson, of Cleaning Green LLC for their time and expertise.